Toyota hiace camper van for sale – ex-hire campervans for sale Sydney REF: 619
Toyota Hiace camper van for sale in Sydney – ex-rental bargain!
Travelwheels used campervan sales have just received some new stock for sale!  Therefore if you are looking for Toyota Hiace camper van for sale, then we only have a few limited ex-rental campervans for sale available to the public directly.  You can call our team on 0421101021 or email us at [email protected] to arrange a test drive.  These are really lovely vans and drive so smooth!
Ex-hire Toyota hiace campervan for sale – Main Features
You will fall in love with this great used Toyota campervan at our Sydney branch.  These are the same vehicles we use for campervan hire in Sydney business. Together with a full deep industrial clean, stickers removed, fully serviced and tested, it is really to go! Just think about experiencing the wonder of exploring Australia in this great campervan we have for sale!
Toyota hiace campervan – day time configuration
This is what the campervan looks like during the day.  For instance it has two comfy benches and a table to relax.  At night it quickly folds down into a big double bed!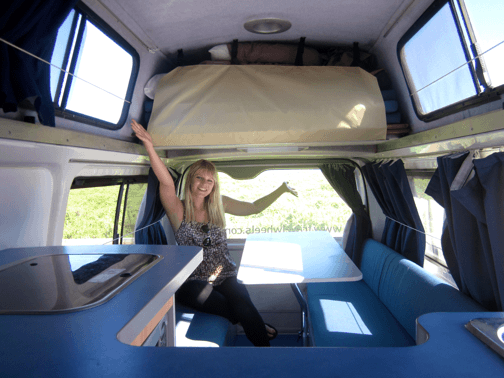 Toyota Hiace Campervan Kitchen layout
As you can see the kitchen is a really practice design.  Easy to clean, comfortable and enough space to make a good meal on the road!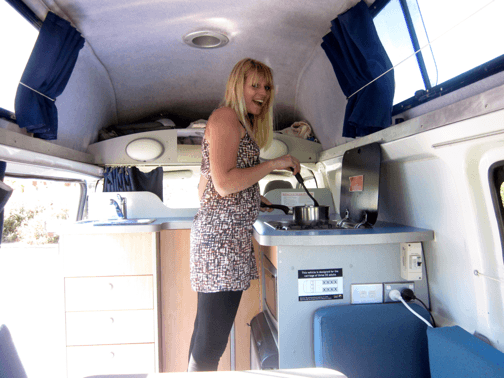 Night time confirguation
At night the two benches quickly fold down into a nice big double bed!  Plenty of space for two in the bed and if you are lucky three!
Test drive Toyota Hiace camper van for sale in Sydney
Travelwheels really recommends all potential buyers looking to buy used Toyota hiace campervan to test drive it first!  As we own and service our own vehicles, we will let you get the campervan up on the ramp for inspection.  This will, for example, allow you to inspect underneath the Toyota hiace camper to make sure it is right for you.   All you have to do is call Shaun on 0421101021 or email [email protected] to arrange a test drive.
Here is our address in Sydney, 11-15 Clevedon Street, Botany, 2019, Sydney. You are more than welcome to pop by our office and test drive as many of these great campervans before you make the right decision.
Have a question about buying a used Toyota Hiace campervan – ask us anything!
If you have a burning question or questions, just fire away!  We are here to help and our team, for example, have over 2o years experience in buying and selling campervans in Australia.  Simply write your questions below and we will do our very best to give you a straight answer!  If you have an urgent question, then call Shaun on 0421101021 for more info anytime.