Used Toyota Hiace Campervans for sale Sydney – Test Drives Welcomed – REF:1842
Used Toyota Hiace Campervans for sale Sydney + warranty
Travelwheels campervan sales in Sydney have recently released some great used Toyota Hiace Campervans for sale.  Without a doubt, this is our number one seller, and everyone loves to buy these campers! Furthermore, these Toyota's comes with 12 months unlimited kms engine and gearbox warranty.  Therefore this will give you peace of mind to buy an ex-rental Toyota campervan from us.  Call Shaun on 0421 10 10 21 for more details and to arrange a test drive here in Sydney.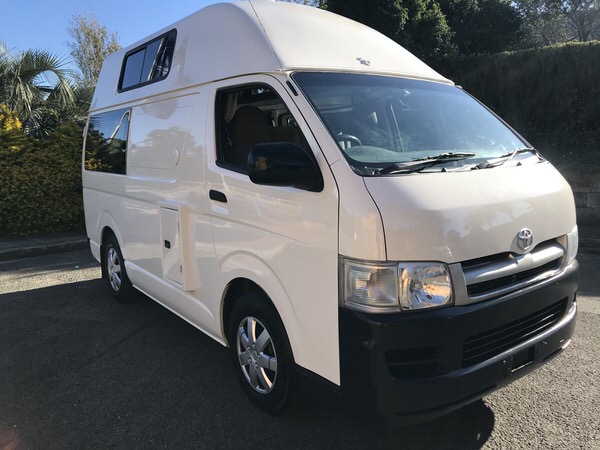 Used Toyota Hiace Campervan for sale – main features
This ex-rental used Toyota Hiace Campervan for sale comes ready to travel around this amazing country.  These Toyota campervans have been professionally built here in Australia and have everything you need to have a great trip!  Travelwheels campervan sales often sell off about thirty ex-hire Toyota campervans each year to freshen up our campervan hire fleet.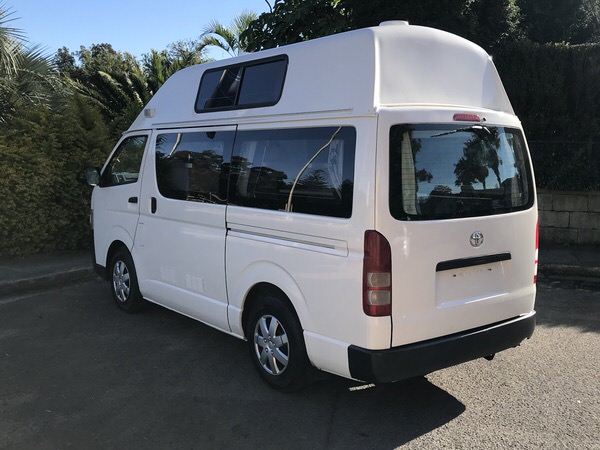 Take a look inside our 3 person campervan
Take a look inside our Toyota 3 person campervan for sale, and you will see just how good it is!  As can be seen with its big double bed, great kitchen and comfy lounge with panoramic views it is a winner! Here are the details below of the daytime configuration of our used Toyota Hiace Campervan: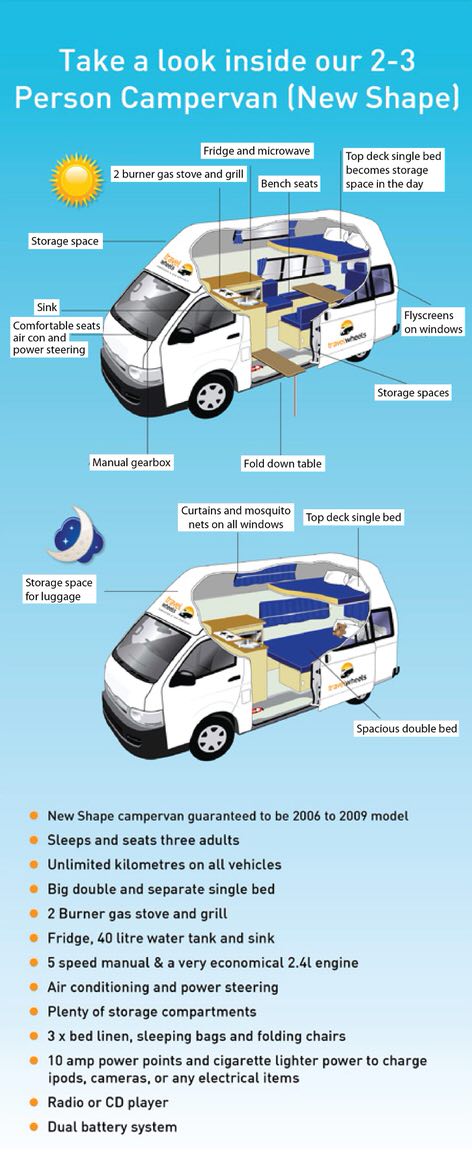 Redesigned kitchen and more space for 3 people to cook!
These used Toyota Hiace campervans for sale have clean lines and a well-designed kitchen. Firstly, there is plenty of room inside this camper for you to enjoy out on the open road. Inside the kitchen and lounge is a combined area so that you can cook, chat and relax with friends all at the same time.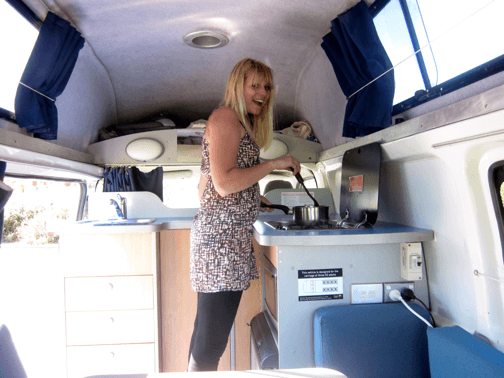 The practical design of the kitchen inside this Toyota HiTop Campervan with its "L shaped worktops" has plenty of space to prepare and cook.  Furthermore, it comes with a two-burner gas stove which is easy to use. The standard 4kg gas bottle is housed outside the van for added security and safety.  As a result of using a standard gas bottle, it makes it cheap and easy to refill on the road.
Well designed and easy to use campervan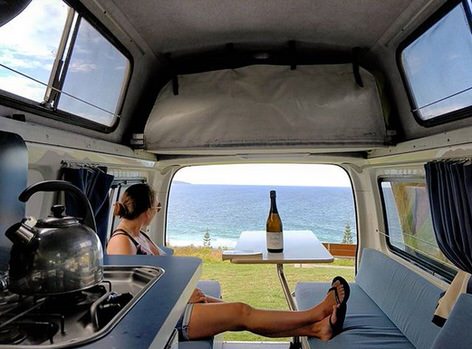 A point often overlooked with these Toyota Campervans for sale is the amount of thought put into the design.  Firstly, the layout of the kitchen and the lounge area is not only practical, airy and of course comfortable.  For instance, let's focus on the comfy living area at the rear of the used Toyota Hiace campervans for sale.  To summarize, it has two big comfy benches with soft cushions seats and backrests.
Another positive point, for instance, is the light, airy space in the rear of the vehicle.  The next features to mention are the windows to help you cool down.  These open up space and give you plenty of light!  It, therefore, does not feel like a dingy dark campervan!  As can be seen in the photo, the rear door opens up wide and creates a wonderful place to watch the world float by.
Nighttime configuration and features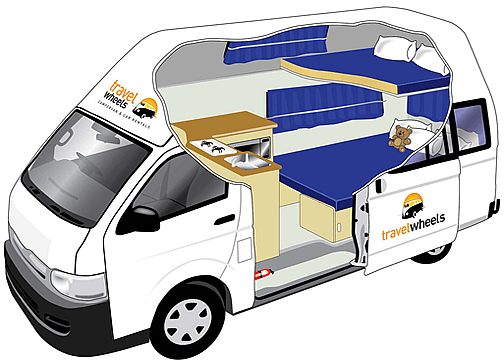 The sleeping area at the rear of the used Toyota Hiace campervans for sale is especially great for a good night's sleep!  For example, the two benches quickly convert to a big double bed.  As a result of good design, the size of the double bed is approximately 1.9m long by 1.6m wide.   By the way at night time we have you covered as well!   The windows have fly screens professionally fitted in the rear of the vehicle.  Therefore, you can keep cool at night without being bitten alive! All windows have curtains to give you the privacy you need.
Two beds inside camper (one double and one single bed)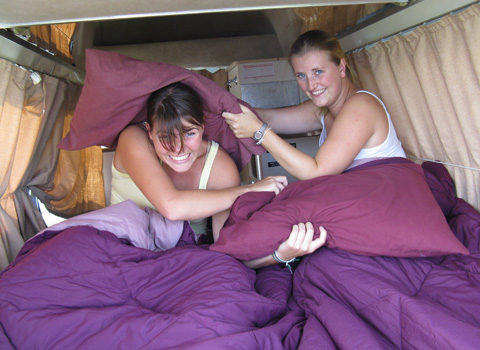 When you are thinking of buying a used campervan, make sure you check how easy it is to make the bed!  If for example, the bed is difficult to make, then without a doubt it will become a daily hassle you don't need! As a matter of fact, you often see campervans with the bed made all the time!  This is a point often overlooked, and we have this covered!  Take the case of the practical design of this Toyota campervan means the bed is easy to make quickly!

It takes approximately 90 seconds to make the bed in this camper!  To begin with, we designed it to be as easy as possible to use!  After all, we have over twenty years of experience in sleeping in campervans!  This bed is easy to make and tear down quickly every day!  Therefore, after a good night's sleep, you can easily convert it back to a table and two benches. Imagine parking up by some of the
best beaches in Australia
having your breakfast in your lounge looking out at the sea.

List of the main features
Here is a list of some of the main features of this comfy used campervan for sale from travelwheels:
Spacious kitchen layout
55 Litre fridge
2 burner gas cooker
Onboard water tank and sink
Microwave
All cooking & eating utensils included in the price
Fantastic lounge area
Two-bed configuration ( 1 x double + 1 x single beds)
Curtains on all windows
CD Player & AM/FM radio
Cigarette lighter socket suitable for recharging phones
Air conditioning in the front cab
This vehicle is a manual, but we also sell Toyota automatic campervans
New stock just arrived – Toyota 3 person campervan for sale
Looking for a smaller 2 person Toyota automatic campervan – we sell these as well!
Toyota automatic + manual campervans for sale
Travelwheels used campervans sell a range of both manual and automatic Toyota campervans at our depot in Sydney.   All our ex-hire Toyota campervans are available to test drive for free of charge at our depot.  We even offer a "Try before you buy" rental service.  This service allows you to hire the "actual campervan you want to buy" for a week. At the end of the "try before you buy" week you can buy the vehicle and we minus the cost of the hire.  If you decide not to buy it as you are arguing too much with your partner in a small space, you just pay the hire charge.  Check out the links below and then call Shaun on 0421101021 to test drive these great Toyota campervans:
Why buy from Travelwheels campervans Sydney?
The first thing to remember is that there are plenty of good reasons why you should consider buying a campervan from Travelwheels.  Here at our depot in Sydney, we have plenty of experience in offering great value for money used campervans for sale.  Below are just some of the reasons why you should buy from us:
Fully serviced with Roadworthy Certificate (Pinkslip)
With six-month Registration (REGO) & Insurance (Green Slip)
12 Months Warranty On Engine & Gearbox
Roadside Assistance
Guaranteed buy-back option up to 50% for up to one year after purchase
We also sell used Toyota automatic campervans!
Need a smaller camper?  We sell 2 person small campervans for sale as well
Contact Travelwheels campervan Sales
We are here to help find you the best-used campervan.  For more information about buying this used Toyota Hiace Campervans for Sale call or email!  You can call Travelwheels campervan sales on 0421 101 021.  Furthermore, you can email us at [email protected].  Our Address and you are welcome to visit us is at 11-15 Clevedon Street, Botany, 2019, Sydney. We also speak  German if that can help 🙂