Used Campervan for sale in Sydney – Ex-Rental Toyota Hiace in Great Condition
Used Campervan for sale in Sydney – Ex-Rental Toyota Hiace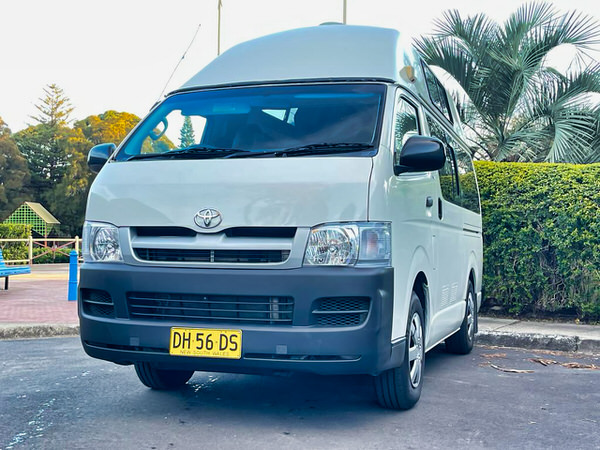 Travelwheels is selling off some of our popular ex-rental campers direct to the public!  We have this great Toyota Hiace Used Campervan for sale in Sydney. Without reservation, this is a golden opportunity to buy a good quality used camper with 12 month's warranty!  Call Shaun today for a test drive at 0421101021.
New stock of used Toyota Hiace Campervans ready to test drive!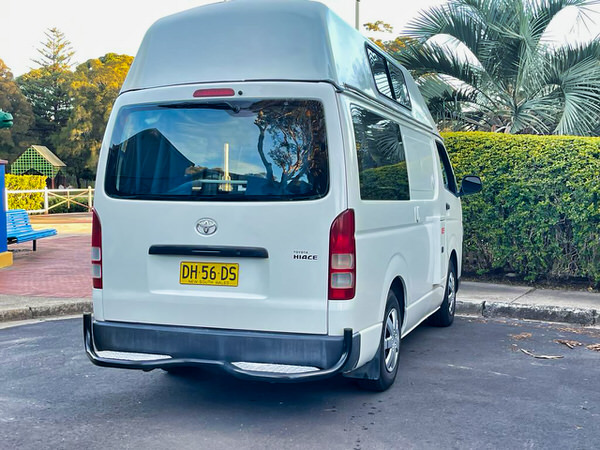 As a result of buying new stock, we can now offer these great campervans directly to you.  Firstly, we only do this a few times a year, so, therefore, give Shaun a call at 0421101021 for more information.  To illustrate how confident we feel about the quality of our campervans, you are more welcome to take them for a long test drive at our depot in Botany.
Toyota Hiace Used Campervan for sale main features: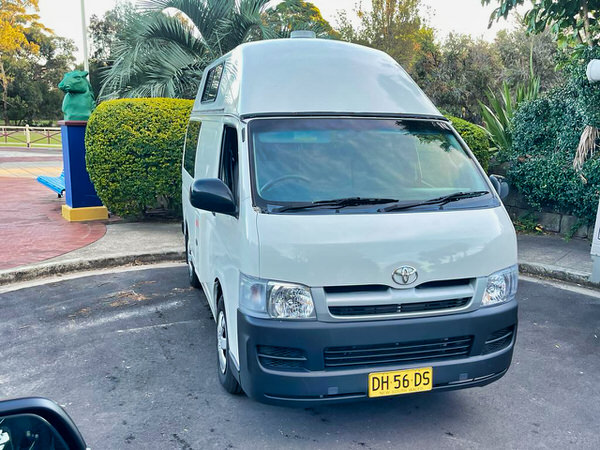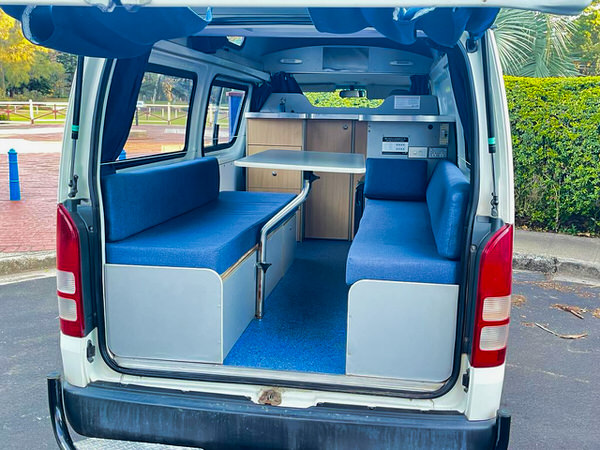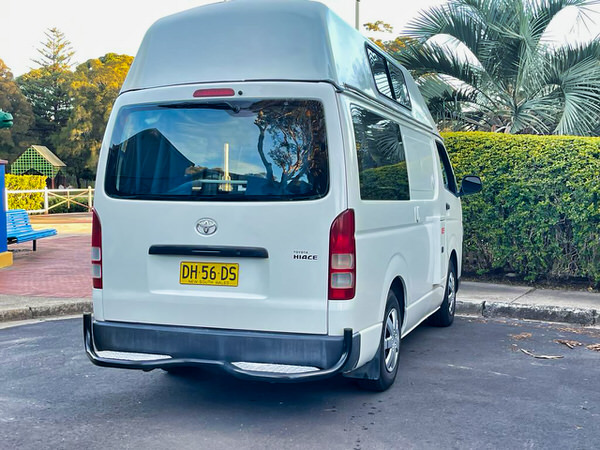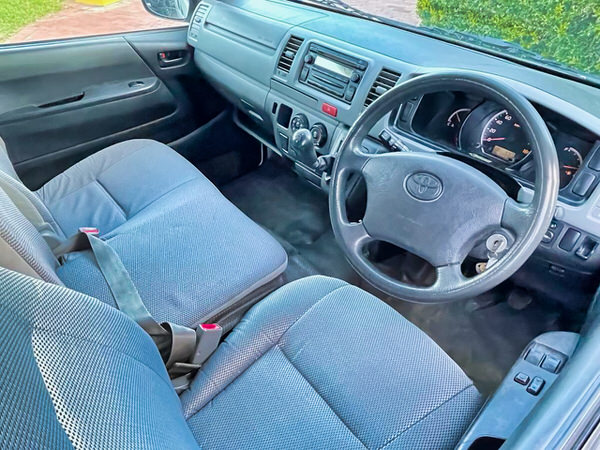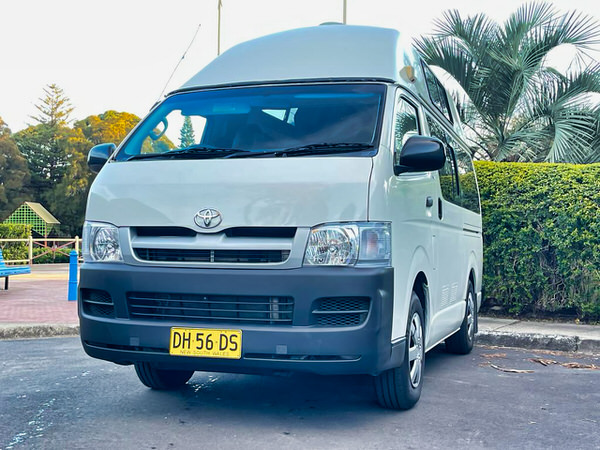 This ex-rental Toyota Hiace Used Campervan for sale in Sydney is a very popular model with our customers across Australia!  If you chat with anybody that has owned a Toyota Hiace in Australia, you will get a glowing report.  Secondly, you can not argue with how successful Toyota is in Australia! This is why we only sell used Toyota campervans!  Take a look inside our 2-3 person used campervan for sale: below to see how much fun they are travelling around Australia:
Toyota Hiace Campervan with upgraded fitted kitchen.
As can be seen, these Toyota campervans are packed with features!  For one thing, if you are looking for good value for money with a practical design, this is the perfect choice for you!  To emphasize this point, why spend top dollar on a new campervan when you can buy a quality used Toyota Hiace with a warranty from us?  To begin with, let's have a look at the upgraded spacious kitchens in these campers: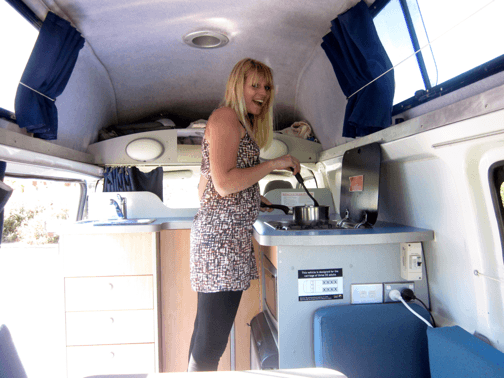 Here are some of the features of the kitchen area inside this used campervan for sale in Sydney.  Balance that with Japanese quality and reliability; you are on to a winner here.   All our campervans for sale are available to test drive and you can make up the beds, use the cooker and test the fridge/freezer.  We want you to be happy with your Toyota Hiace campervan.  Check out the features in the kitchen below:
Large 55-litre fridge (12V/240V)
Two burner gas cooker
Microwave (must be connected to 240V mains power)
4kg gas bottle
50L water tank for washing/cooking
Stainless steel sink
Upgraded spacious kitchen area with easy-to-clean worktops!
Lots of useful storage for all your kitchen items
A comfortable, spacious lounge area
Used Campervan for sale in Sydney – Living & Sleeping Area: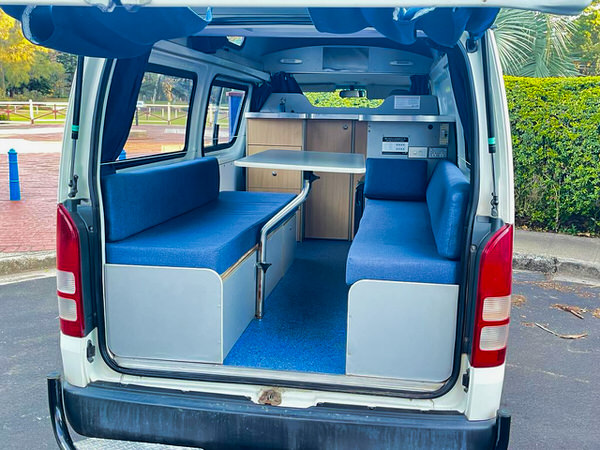 Let's talk about the lounge area inside this great camper.  To begin with, the benches in the back of this campervan are inviting.  The first thing to remember is you will be spending a lot of time here, so it has to be comfortable!  Three people can sit comfortably in the lounge and enjoy everyone's company around the table.  Come on down for a test drive and sit in the back.  Try it for yourself and then you will realise why this model, the Toyota Hiace campervan, is Australia's number one recommended medium-sized campervan!
A mobile room with a view!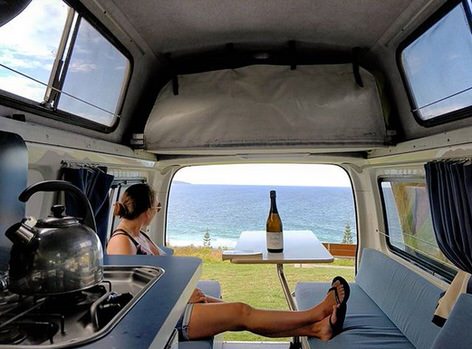 As you can see from the photo, it is a great space to relax in.  Imagine parking my by the beach with a lovely bottle of wine!  Firstly, it's a great space to relax and watch the world go by.  Secondly, and as seen from the photo, the rear door opens up to frame the magnificent views!  For example, when it's hot, you can open the rear and the side doors and get some cross ventilation.  The back door also works as a sunshade to keep you cool.
Sleeping configuration  – 1 x double + 1 x single beds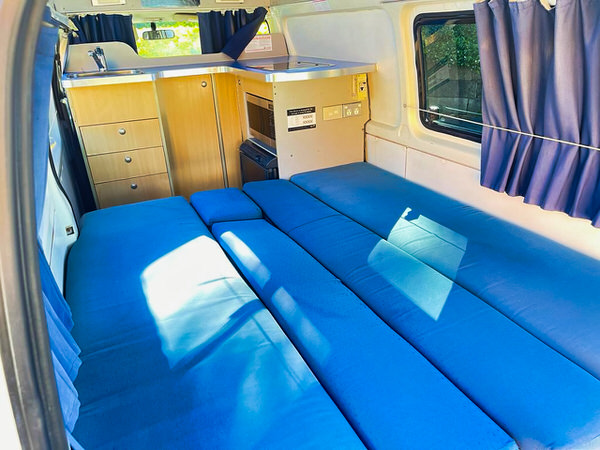 Next on the list of essential features is the sleeping area. Instead of an over-complicated and hard-to-use design, this Toyota's sleeping configuration is so easy to use.  Take the case of the practical design, which easily converts the two benches into a large double bed.  A point often overlooked when considering buying a campervan is to check how easy it is to make the bed!
To sum up how good this bed is, check out how fast it is to make the bed! It takes, for example, about 90 seconds to make the bed in this camper! Toyota designed it to be as easy to use at night time. How about unfolding the bed, is it difficult?  Similarly to making the bed, you can easily convert it to a table and two benches.
Large double bed (1.85m x 1.55m)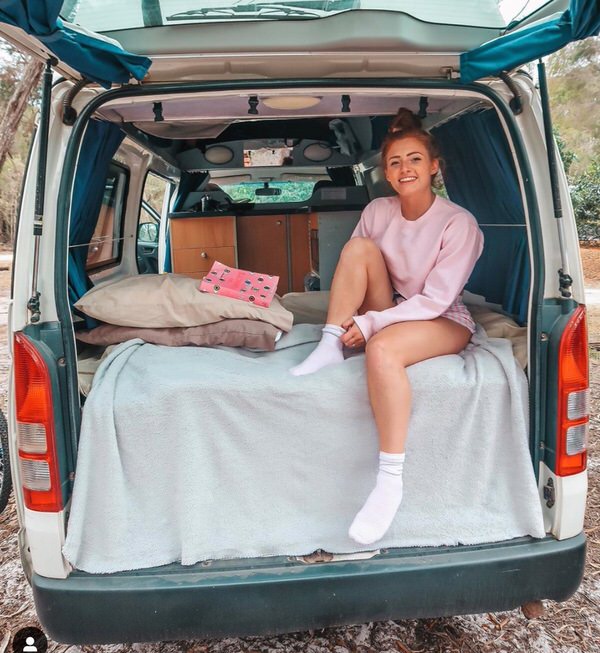 These campers are brilliant for those looking to sleep well at night. To begin with, this design by Toyota gives you the flexibility to sleep up to three adults comfortably.  This camper's table and benches convert to a big double bed (1.85m x 1.55m). There is plenty of room in this double bed for two adults.  In addition to a comfy bed, there are curtains on all windows to ensure privacy.  It also has a single bed inside the HiTop roof, 1.60m x 1.4m (max weight for roof bed is 200kg) for the third person.

Rear dinette: 2 comfy benches and a big table
Sleeping configuration 1 x double bed + 1 x single bed
Double bed: rear dinette converts to a big double bed, 1.85m x 1.55m.
Single bed: there is a single bed in the Hi-Top roof, 1.6m x 1.4m.
Engine + fuel capacity for this Toyota Hiace Campervan for sale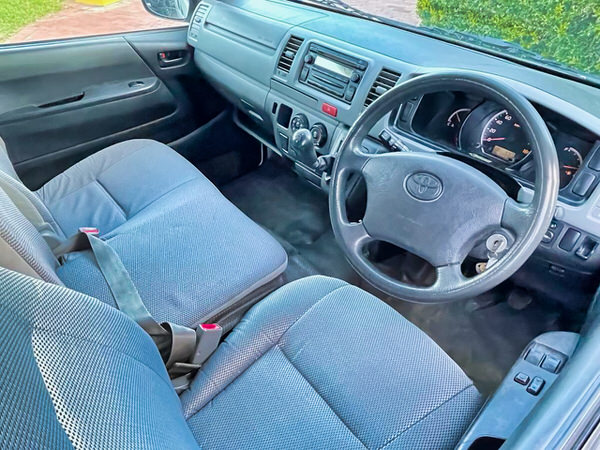 The great thing about these used Toyota Hiace campervans is they are great on fuel and easy to park up.  Very comfortable front cabin, and everything is to hand.  If there are two of you travelling, then the middle seat folds down to give you a handy little table with two additional cup holders. Here are the stats for this Toyota Hiace campervan for sale.  Call Shaun on 0421101021 if you need more info or want to test drive this camper.
Make: Toyota
Model: Toyota Hiace Campervan
Built: 2006
Air Conditioning: Yes
Power Steering: Yes
Transmission: Manual
Fuel capacity: approx. 70 Litres
Fuel consumption: 13 Litres Per 100km (varies subject to the use of air-con, temperature and terrain)
Engine: 4-cylinder petrol engine (2.4L) unleaded petrol
Dual Battery System: 2 batteries, one for the fridge & internal lights and 2nd battery for the engine.
Central locking
Why buy a used campervan from Travelwheels?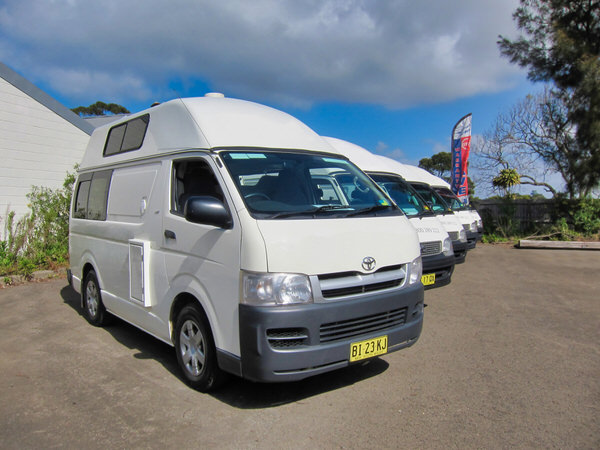 There are lots of good reasons why you might want to buy an ex-rental Toyota Hiace used campervan for sale from us.  Firstly, we give them a deep industrial clean and all the stickers removed, and the paintwork buffed up, ready to go!   Secondly, we offer plenty of warranty and after-sales service.
We are very confident about the quality of our used campervans, and you are more than welcome to go for a long test drive.  Therefore, call Shaun on 0421101021 to see our stock for sale.  Here is an example of one of our ex-rental campervans after the stickers have been removed and a deep industrial clean.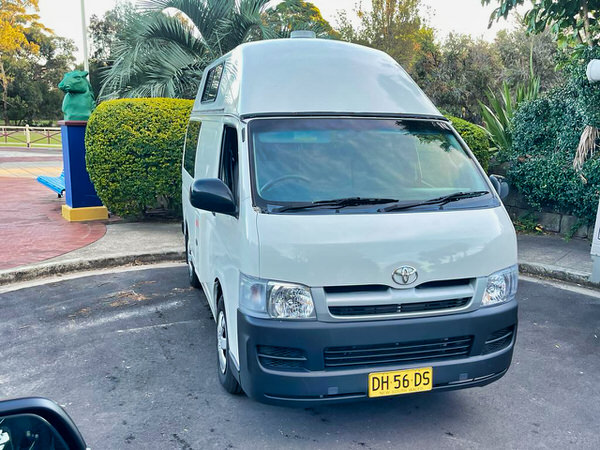 All our Used Campervan for sale in Sydney are mechanically serviced and in top condition.
All our ex-rental campervans for sale have been serviced and well maintained.   Travelwheels has been a registered motor dealer in Australia since 2002.  We have been selling campervans, cars and 4WDs for over twenty years. Therefore, we have lots of experience and will answer all your questions!
Twelve Months Warranty on the Engine & Gearbox
One-year Roadside Assistance
Option for 50% buyback guarantee within one year.
Try before you buy options – rent before you buy – call Shaun at 0421101021
We buy used campervans for cash in Sydney!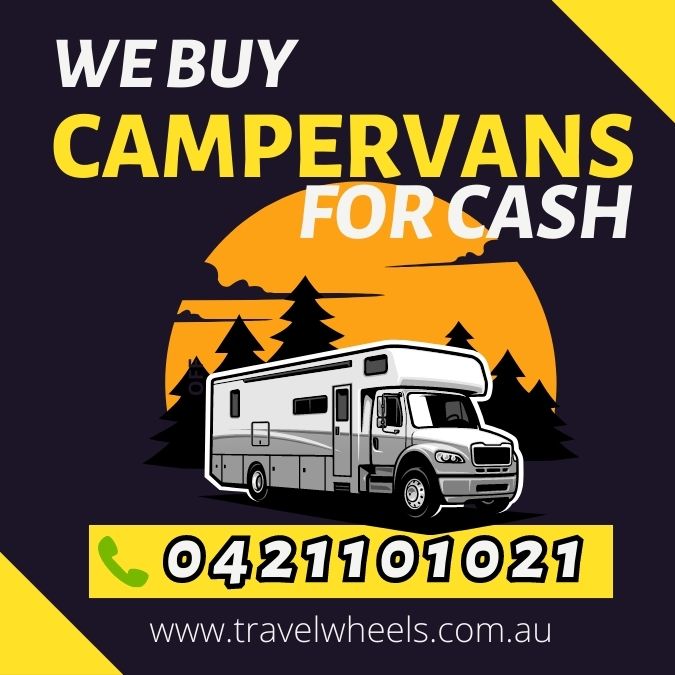 If you have a used campervan for sale and don't want the hassle of selling it yourself, we can help you. The team here at Travelwheels Campervans buy, sell, part-exchange/trade-ins all types of vehicles. If you are interested in buying a campervan and want to sell an older car as part of the deal, we want to hear from you.  Call Shaun at 0421101021, and he will take you through how easy it is to sell a campervan to Travelwheels.  We offer same-day bank transfer payments.
Interested in our Used Campervan for sale in Sydney?
For more information about our ex-rental Toyota Hiace Used Campervan for sale in Sydney, email [email protected]. You can call us here on 0421101021. If you are in Sydney, why not visit our depot?  Here is our address, Travelwheels Campervan Sales at 11-15 Clevedon Street, Botany, 2019, Sydney.
Have a question about buying a used campervan?
If you have any more questions about buying a used campervan from travelwheels, we want to hear from you!  Fill in the details below and we will do our best to answer any of your questions.  We have been selling Toyota campervans for years, know what works, and offer great value-for-money campervans.  See you on your next road trip soon 🙂