Used Toyota Campervan for Sale Sydney – Automatic – Perfect 2 Person Camper – REF:C096HK
Used Toyota Campervan for sale Sydney | Automatic | 2 Person Camper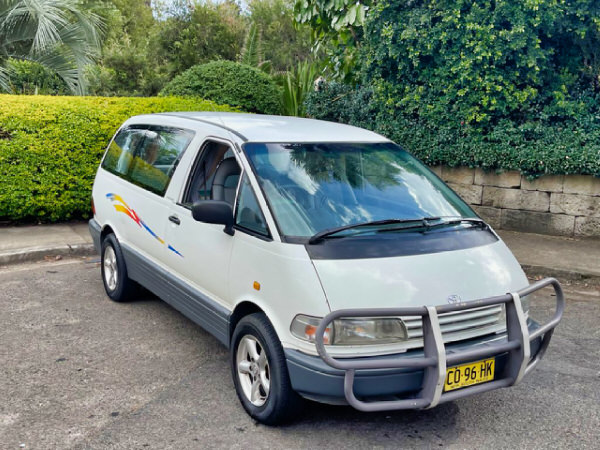 Travelwheels have recently released a limited number of ex-rental Toyota campervans direct to the public here in Sydney.  We have lots of positive customer reviews from customers who have bought a used Toyota campervan for sale from us, and love them!   Toyota is a very reliable brand here in Australia.  They are built to last and have a great reputation as a solid, strong vehicle that holds its price in the second-hand campervan market.   Therefore it is well worth calling Shaun at our used campervans Sydney depot on 0421101021 to ask a question or to arrange a long test drive at our depot.
Perfect 2 Person Toyota Automatic campervan
This used Toyota campervan for sale here at our Sydney campervan depot is the perfect camper for a couple.  Firstly, it has everything you need to have a mini-hotel on wheels and explore Australia!  Secondly, when you buy a used Toyota campervan from us, we include all the bedding and cooking kit in the price.  Thirdly, a point often overlooked is Toyota campervans are used by all the major campervan hire companies here in Australia.  Here is a link to the 2 person Toyota campervan we hire for some more background info on this great camper.
Daytime view with table and benches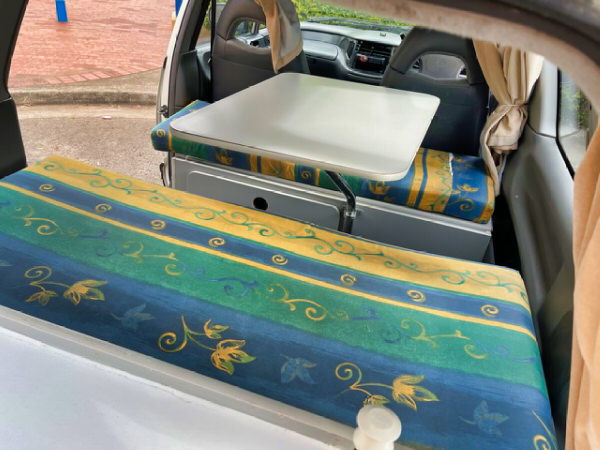 There are two comfortable benches and a swivel table making it a super nice space to relax.  After a busy day touring in the campervan, you can easily chill out here.  Another key point to note is that all the windows have curtains for privacy at nighttime.  This means you can also keep the sun out during the daytime which is useful.  This is a compact used Toyota campervan for sale that acts like a big campervan!  However, due to its compact size, it is also easy to park in the city centre when sightseeing or exploring.
Happy customer reviews – practical, easy to use campervan
Given these points, many of our happy customers stated they loved this practical campervan.  It has a well thought out layout of the vehicle making it easy to use in the daytime.  In addition to these points, this small automatic Toyota campervan drives more like a car.  It feels comfortable when driving on the roads and feels like a large car than a bulky campervan!  Therefore if you are looking for a weekend warrior style campervan this is the perfect choice for you.  Many of our customers still use this vehicle to drive to work or as a second vehicle.  This means it will get way more use than one of those big bulky campervans.  You often see them parked up for months doing nothing when this can be used as a daily driver as well!
Used campervan with double bed
This used Toyota campervan for sale feels like you are driving a car, but at night time it changes!  Within minutes it becomes a mini-hotel on wheels! It literally only takes about a minute to convert the table/benches into a comfy double bed!  This practical design is a winner for anybody looking to buy a used campervan in Sydney.
Actual photo of the double bed in this Toyota Camper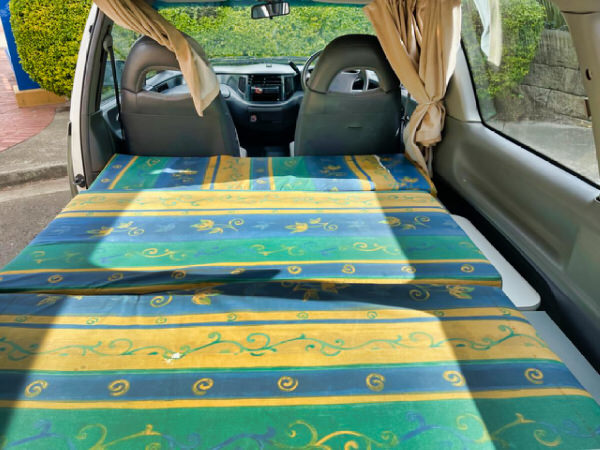 We have designed the bed inside this used Toyota campervan for sale to be as practical as possible.  The team spent a lot of time developing the bed frame.  Firstly, we wanted to be sure that, it would super quick and easy to make the bed in this camper!  All you have to do is remove the table and leg and readjust the cushions and that is it!  After a good night's sleep, you will find it easy to convert back to a table and two benches.
What is the size of the bed in 2 person campervan?
We get a lot of customer emails asking about the size of the bed in this campervan. Here are the dimensions of the double bed in our 2 person campervan 1.70m x 1.35cm. If you are tall, then we have other options for you.  Check out the following two other styles of Toyota campervans we sell with larger beds.
Main features of the Kitchen: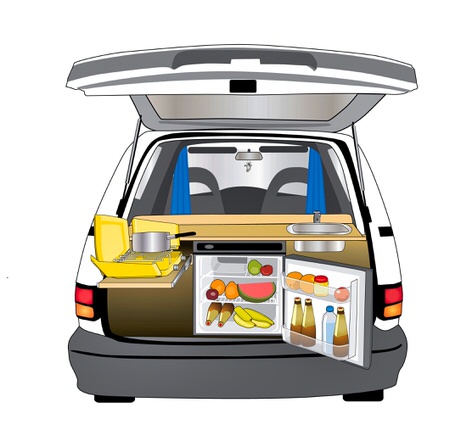 This is the most popular small used Toyota Campervan for sale at our Sydney depot.  They have been specially made to be super strong, reliable and built to travel around Australia in comfort.  As can be seen in this used Toyota Campervan, the practical kitchen area at the back of this camper has everything you ever wanted.  Furthermore, the kitchen is super easy to use, and keep clean!  Let have a closer look at the kitchen in this camper.
2 person campervan kitchen – easy to use + keep clean!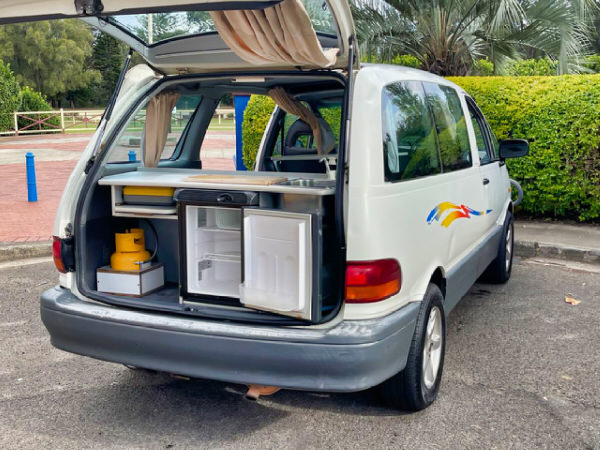 Firstly, we have spent a lot of time designing the new mini kitchen in our Toyota 2 person campervan for sale. Secondly, we have removed all the unnecessary items. To put it another way, we have only left the stuff you actually need!  This means less clutter, more space and easier to use and keep clean! Given these points, it's easy to see why this two-person Toyota campervan for sale is such a great buy.
35L Fridge and two-way battery system and not a tiny icebox!
Firstly, when you are looking to buy a used campervan, you need to make sure you are getting good value for money.  It is also important to clarify if the vehicle comes with a decent size fridge and a two-way battery system to power it!  No one wants to keep filling up an esky with ice and then have your food floating in warm water at the end of the day!
Professional grade made for campervan fridge fitted!
We have installed a professionally made 35L fridge in this campervan.  The fridge has been specially designed for campervan usage.  It is not a normal house fridge working off an inverter!  What out for this trick when buying a second hand used campervan!   This is not a Bing Lee special, but a professionally made campervan fridge and worth over $700 to replace!
Two batteries installed – one to power the fridge!
With the two battery systems powering the fridge in this used Toyota campervan for sale you are on to a winning combination.  During the day when you are driving it charges up the second battery powering the fridge.  This means when you stop overnight, the fridge will keep your beers and food cold!  Come on down to our used campervans depot in Sydney to test drive the camper and see the fridge in action!  Call Shaun on 0421101021 for more info.
Fully enclosed gas safety box – meets Australian safety standards
A point often overlooked when looking to buy a used Toyota campervan is the safety concerning gas storage.  When buying a second-hand DIY project van via gumtree, does the gas bottle meet the tough Australia gas bottle storage regulations?  Just how safe and secure is the way the gas bottle is stored and used in the vehicle?
One super positive thing about buying an automatic Toyota campervan from travelwheels is all vehicles pass the Australian gas safety standards for campervans.  Remember we have been hiring campervans for the last fifteen years, so all our vehicles have to pass Australian gas handling and storage legislation.  Therefore buying a used Toyota campervan from Travelwheels means safety, security and great customer service as well.
Refillable 2kg gas safety bottle – not cheap single-use gas canisters!
Another important fact to check before buying any used campervan is to find out if the gas bottle is re-fillable and not a single-use gas canister!  All our small campervans for sale come with a proper 2kg gas bottle and not those terrible disposable single-use gas canisters!  Firstly they are bad for the environment and secondly very expensive to replace!
In all our ex-hire Toyota campervans they come with a proper industry standard gas safety bottle that is easy to refill on the road.  They are way cheaper and safer than those single-use gas canisters! Therefore you will save a lot of money cooking in this Toyota campervan! Just imagine parking up by the beach and cooking a meal as the sunset melts away in the distance.
In the evening when you are ready to go to bed, you can turn off the gas supply to give you peace of mind at night time.  The gas bottle is housed in a proper gas safety container box that meets Australian standards.  Therefore when you go to bed or driving during the daytime, the gas supply is switched off and in safe mode.
Used Toyota camper specifications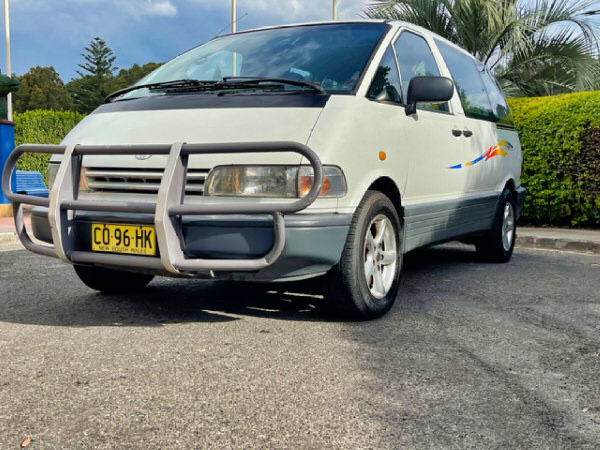 This great used ex-rental Toyota campervan for sale in Sydney is ready to be sold!  This Toyota is well worth taking out for a test drive as it runs so smooth!  Remember the beauty of these campers is they drive like a car, but sleep like a campervan!  Many of our customers for example use this camper to drive to work or do the shopping during the week.  Then on the weekends they go into the bush and go campervanning!
Model: Toyota
Make: Tarago Campervan
Built:1992
Fuel consumption: only approximately 12L per 100km
Air Conditioning: Yes
Power Steering: Yes
Transmission: Automatic
Drives like a car, and sleeps like a campervan!
Need a bigger campervan, view our range of used campervans for sale in Sydney
Why buy a campervan from Travelwheels?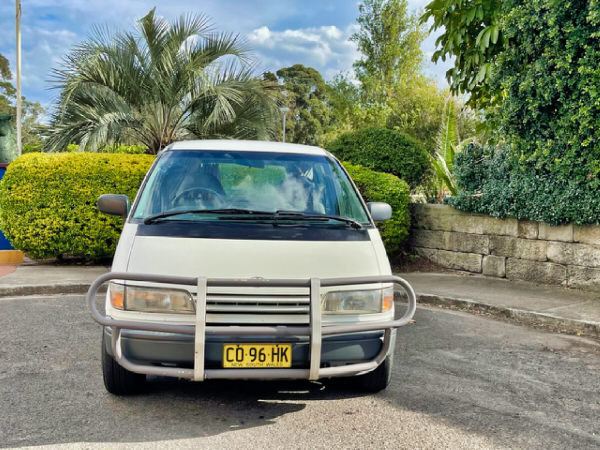 Our Travelwheels Sales Team will help you to find the right used Toyota campervan. We have over twenty years of experience in the motor trade in Australia.  Furthermore, all our staff love travelling around Australia.  Therefore we really understand what you need.
Our range of used campervans has been designed to be super practical and they just work!  They are perfect for a big trip around Australia or mini holidays all year round. The team is here to answer any question you might have or to arrange a test drive one of these great campervans.  Call Shaun on 0421101021 to get the ball rolling today.
Similar used campervans are now available!
Another great reason for buying from our team is a good range of used Toyota campervans at our depot in Sydney.  As a result of demand and the quality of our used campervans they often sell out fast!  Therefore if this one is sold, then we have a couple more Toyota campers for you to test drive:
Used Toyota campervans with warranty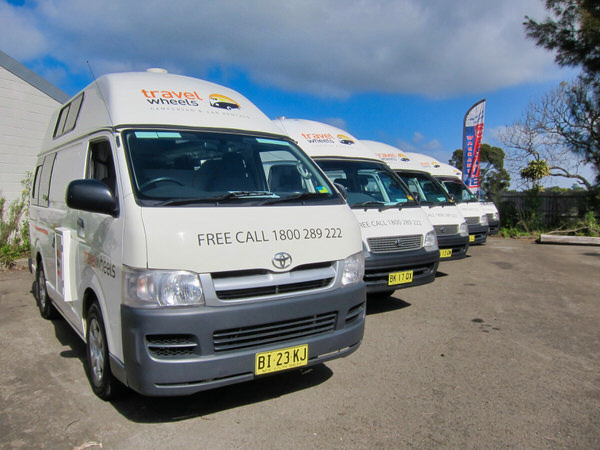 When you buy a used Toyota Campervan for sale with Travelwheels Campervans you are in safe hands.  Test drives are more than welcome (and encouraged) and call us on 0421101021 for more information about our campervans.  It's also worth noting we sell bigger campervans as well.  Here is a link to our popular three-person Toyota Hiace campervan that is worth a good look as well.  Given these points, let's look at why you should consider buying a used Toyota campervan from us:
All stickers removed and deep cleaned
Fully serviced with Roadworthy Certificate (Pinkslip)
Three-month Registration (REGO) & Insurance (Green Slip)
A wide selection of used Toyota campervans for sale at our depot in Sydney
Guaranteed buyback policy (up to 50%) for one year if you change your mind
Contact us for ex-hire Campervans
Feel free to contact travelwheels campervans for more information on buying used Toyota campervan for sale.  Email us at [email protected], or call us on 0421 101 021. If for example, you are already in Sydney please visit our experienced sales team.  All our used campervans are on display at our yard 11-15 Clevedon Street, Botany, Sydney, 2019, NSW.
Do you have a question about campervans?
We love hearing from you guys, so send us a message below with your questions.  We have been selling campervans in Sydney for over twenty years.  Pop by our depot and you are welcome to test drive any of our campers for sale.