Used Toyota Campervan for Sale Sydney – Automatic – REF:1840
Used Toyota Campervan for sale Sydney | Automatic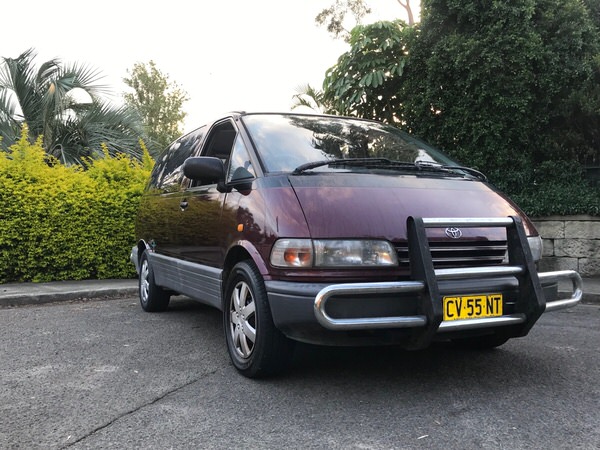 Travelwheels have recently released a number of ex-rental campervans direct to the public.  We have a lot of positive customer reviews for clients who have bought a used Toyota campervan for sale from us.  Toyota is a very reliable brand here in Australia.  They are built to last and have a great reputation as a solid, strong vehicle in Australia.  Call Shaun on 0421101021 for a test drive and more info.
Perfect campervan for sale for a couple
This used Toyota campervan for sale here in Sydney is the perfect camper for a couple.  Firstly, it has everything you need to have a hotel on wheels and explore Australia!  Secondly, when you buy a used Toyota campervan from us, we include all the bedding and cooking kit in the price.  Thirdly, a point often overlooked is Tarago campervans are used by all the major campervan hire companies here in Australia.  Here is a link to the 2 person campervan we hire in Australia!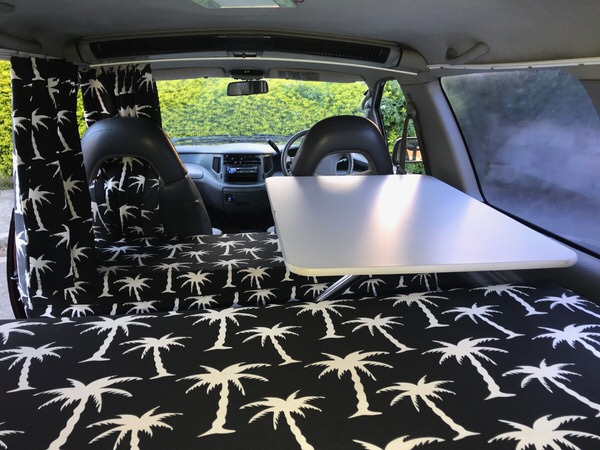 Daytime view with table and benches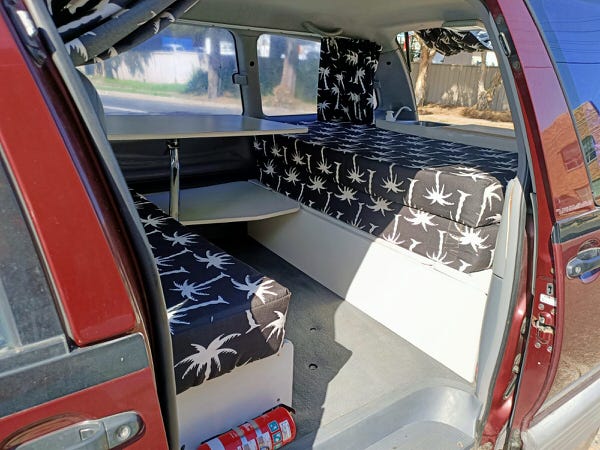 Main features of the Kitchen:
This is the most popular used Toyota Campervan for sale at our Sydney depot.  For instance, they are very strong, reliable and built to travel around Australia.  As can be seen in this used Toyota Campervan, it has a practical kitchen area in the camper.  Furthermore, the kitchen is super easy to use, and keep clean!  A point often overlooked is the fact that it comes with a proper 2kg gas bottle.  Many campervans come with those disposable single-use gas canisters!  Firstly they are bad for the environment and secondly expensive to replace!  Our standard 2kgs gas bottle is easy to refill on the road and why cheaper than those canisters! Therefore you will save a lot of money cooking in this Toyota campervan! Just imagine parking up by the beach and cooking a meal as the sunset melts away in the distance.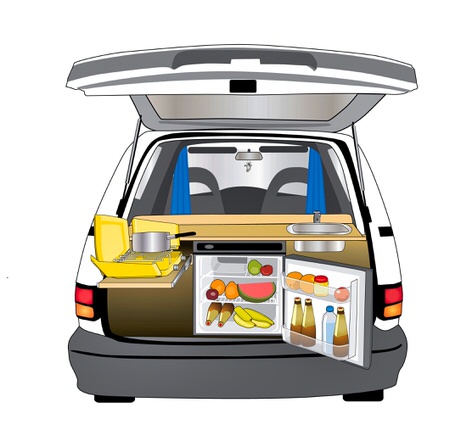 Practical, easy to use campervan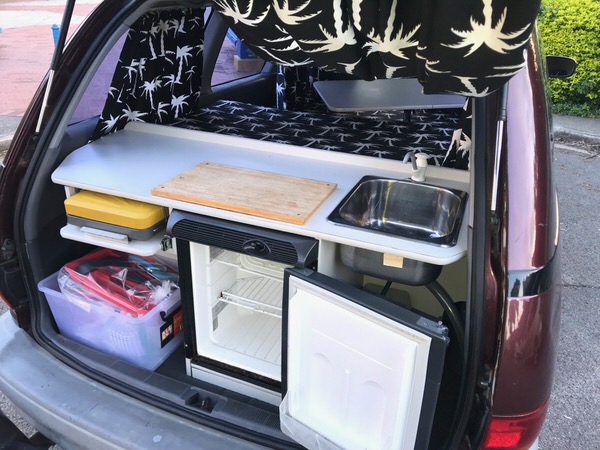 Used Toyota camper specifications
Here are the details of this used ex-rental campervan for sale in Sydney.  This Toyota is well worth taking out for a test drive as it runs so smooth!  Remember the beauty of these campers is they drive like a car, but sleep like a campervan!
Model: Toyota
Make: Tarago Campervan
Built:1993
Fuel consumption: only approximately 12L per 100km
Air Conditioning: Yes
Power Steering: Yes
Transmission: Automatic
Drives like a car, and sleeps like a campervan!
Why buy a campervan from Travelwheels?
Our Travelwheels Sales Team will especially help you to find the right used Toyota campervan. We have over twenty years of experience in the motor trade in Australia.  Furthermore all our staff love travelling around Australia.  Therefore we really understand what you need.  Therefore our designs are practical and just work!  They are perfect for a big trip around Australia!
Our friendly staff at Travelwheels can help you with third party insurance.  We will especially make sure the registration and all the necessary paperwork is completed for you.  In this case you will be all road legal and ready to hit the road without any hassle.
Used Toyota campervans with warranty
When you buy a used Toyota Campervan for sale with Travelwheels Campervans it has warranty included.  Here are the details below and call us on 0421101021 for more information about our warranties.  It's also worth noting we sell bigger campervans as well.  Here is a link to our popular three-person Toyota Hiace campervan that is worth a good look as well
Guaranteed buy back up to 50%
Fully mechanically serviced with Roadworthy Certificate (Pinkslip)
Six-month Registration (REGO) & Insurance (Green Slip)
12 Months Warranty On Engine & Gearbox + roadside assistance
A wide selection of used Toyota campervans for sale at our depot in Sydney
Contact us for ex-hire Campervans
Feel free to contact travelwheels campervans for more information on buying used Toyota campervan for sale.  Email us at [email protected], or call us on 0421 101 021 or if you are already in Sydney please visit our experienced sales team at our centrally based showroom 11-15 Clevedon Street, Botany, Sydney, 2019, NSW.
Do you have a question about campervans?
We love hearing from you guys, so send us a message below with your questions.  We have been selling campervans in Sydney for over twenty years.  Pop by our depot and you are welcome to test drive any of our campers for sale.