Used Toyota Hi-ace Campervan for Sale Sydney Travelwheels ex hire
Used Toyota Hi-ace Campervan for sale in Sydney – Travelwheels
Here is our great Ex-hire used Toyota Hi-ace Campervan for sale at our Sydney office!  Travelwheels campervans especially understands that buying the perfect campervan can be right headache!  Therefore as a result, we thus focus on undisputed leader in the 2nd campervan market in Australia!  Nobody beats Toyota campervans!  To summarize, super strong, reliable, fantastic reputation for quality and outclasses all it's competitors!  Call Shaun on 0421101021 to arrange a test drive asap!
Used Toyota Hi-ace Campervan – best in it's class!
With ten years experience in campervan hire in Australia to customers from all over the world, we know what works!  Therefore we are especially confident you will be happy buying one of our ex – rental campervans.   These used Toyota Hi-ace Campervans for sale have been professionally manufactured here in Australia.  They benefit from a superior build quality which for example sets them apart from their competitors!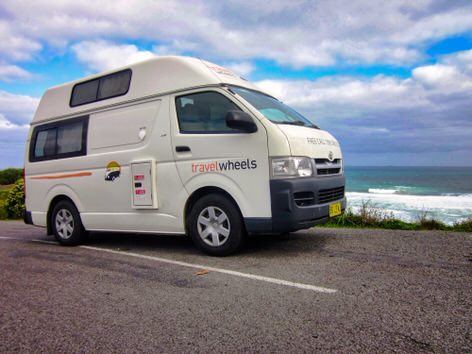 Campervan hire in Australia powered by Toyota!
Toyota Hiace's are most popular 2nd campervan here in Australia!  Everyone wants to buy one, and therefore you have to ask why for example?  Generally speaking if you own a campervan hire company in Australia, you will especially think Toyota, Toyota, Toyota!   This therefore is one especially powerful argument!  If for example all the campervan hire companies use Toyota, then buying one will make a lot of sense!
Used Toyota Hi-ace Campervan with double + single bed!
Buying a used Toyota Hi-ace Campervan for sale from Travelwheels is the right thing to do!  They come fully equipped and thus have everything you need to have a comfortable road trip around Australia!  Therefore beaThese hitop campervans for sale are very popular choice here in Australia.  One of the benefits of this design is that it has a hightop roof.  This therefore allows you to stand up inside when you are cooking or entertaining.
Used campervans for sale- Click here -
Lots of storage space in our used Toyota Hi-ace Campervans
These Used Toyota Hi-ace Campervan for sale comes with lots of storage space under the benches. It comes fully equipped with a big kitchen including a sink, fridge, 2 burner gas stove and microwave.  Here in the back are two comfy benches and a table.  You can easily convert the table and benches to a double bed for the night time. In the roof space inside this Used Toyota Hi-ace Campervan for sale there is a single roof bed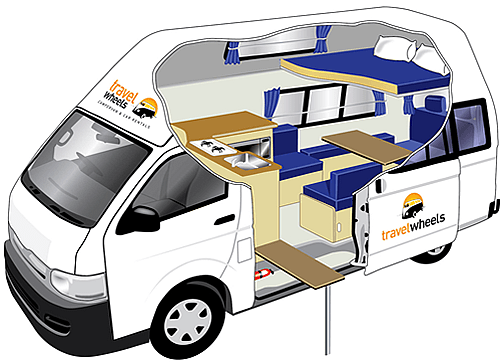 Used Toyota Hi-ace Campervans + 12 months warranty
All ex-hire and used campervans for sale from travelwheels comes with full 12 months warranty and buyback guarantee included in the price!
Are you unsure of Australian insurance and legal issues which are different to most Canadian/American or European countries? Dont worry as travelwheels will take all the stress out of the buying a used campervan in Australia. We make it as easy as possible for you to drive away with a great value used campervan!
Why buy used Toyota Campervan from Travelwheels?
Therefore why should you buy from Travelwheels?  There are lots of good reasons for example to name.  First of all we hire campervans in Australia for the last ten years!  We especially know what works, and how to maintain and fix them!  Our range of Toyota ex-rental campervans for sale are fantastic value for money.  To summarise you get the following benefits included in the price when you buy from us
All used campervans for sale will be professionally deep cleaned and all stickers removed from the vehicle.
One year Australia wide multi claim breakdown warranty included with every campervan sold.
24 hour, 7 days a week, Australia wide roadside assistance
Guaranteed buy back up to 50%
Contact Travelwheels
Contact us about this ex-rental Toyota Hi-ace campervan for sale in Sydney!  You are especially welcome to view any of these used campervans during the week.  In the meanwhile why not call Shaun on 0421101021 or email [email protected] The address of our depot here in Sydney is 11-15 Clevedon Street, Botany, 2019.