Used Toyota Hi-ace Campervan for Sale in Sydney – REF: DB19DE
Used Toyota Hi-ace Campervan for sale in Sydney + Warranty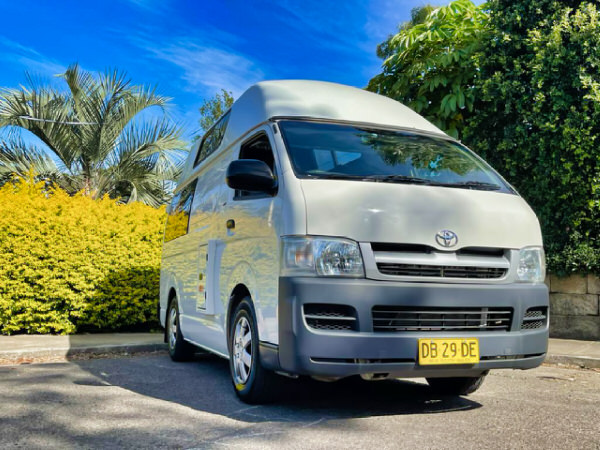 Here is our great ex-hire used Toyota Hi-ace Campervan for sale at our Sydney office!  Travelwheels understands that buying the perfect used Toyota campervan can be a right headache!  Therefore, as a result, we thus focus on the undisputed leader in the second-hand campervan market in Australia, Toyota!  Nobody beats Toyota campervans!
We don't have to say why we suggest going for a Toyota Hiace Campervan when searching online.  These Toyota Hiace campervans are super strong, reliable, fantastic reputation for quality and outclass all its competitors!  Therefore it is well worth calling Shaun on 0421101021 to arrange a test drive or to ask us any questions you have about buying a used campervan.
Toyota Campervans are the best in class!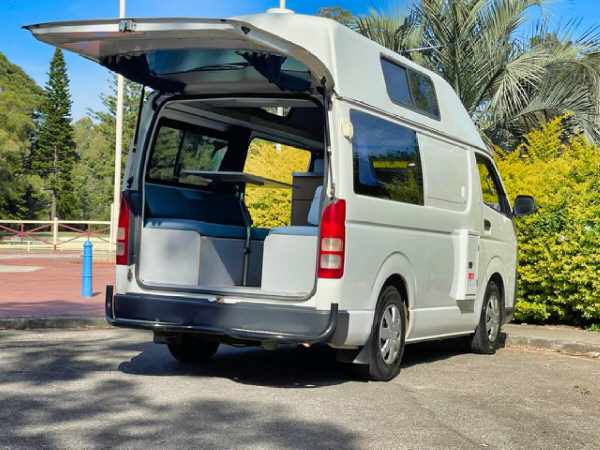 With fifteen years of experience in campervan hire in Australia to customers from all over the world, we know what works!  Therefore we are confident you will be happy buying one of our ex-rental campervans.   These used Toyota Hi-ace Campervans for sale have been professionally manufactured here in Australia.  They benefit from a superior build quality.  Without a doubt, they are the gold standard for campervans here in Australia!
Campervan hire in Australia is powered by Toyota!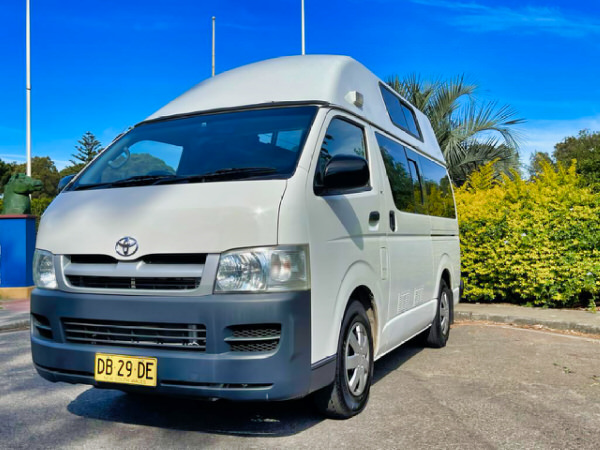 Toyota Hiace is the most popular second-hand campervan here in Australia!  For one thing, everyone wants to buy Toyota, and therefore you have to ask yourself why?  Firstly, all the campervan hire companies in Australia use Toyota Hiace HiTop campervans!    We do not know of any company here in Australia that does not use a Toyota Hiace as the base vehicle for a Hitop campervan.  As can be seen, by this powerful statement, that is one big endorsement!  We also do a smaller two-person Toyota automatic campervan you might be interested in as well
Solid reliable Toyota campers available to test drive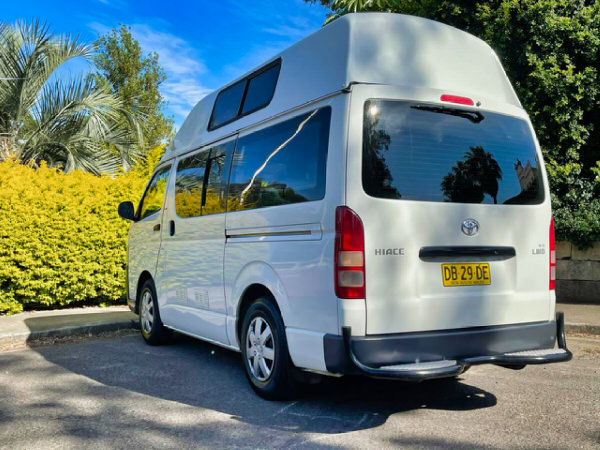 Therefore if you are in the market for a solid, reliable well built comfortable campervan, then the real choice is Toyota.  Given these points, it is reassuring to know that you can pop down to our depot and try them out before committing to buying anything.  We are not talking about a ten-minute drive around the block!  We are close to the Sydney airport and the roads around the area.
You are more than welcome to go for an hour-long test drive to make sure it is right for you. Here is our address, 11-15 Clevedon Street, Botany, 2019, Sydney.  We would love you to pop down and jump inside the campervan.  More than welcome to test the beds and see why this is the most popular campervan on the market here in Australia!
Daytime configuration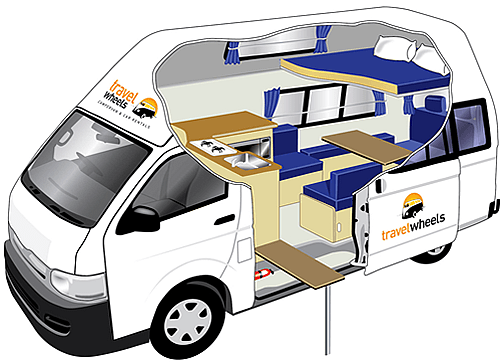 These Toyota Hiace campervans are such a practical option for anybody looking for a good quality used campervan in Sydney.  They have been well designed and made to be durable and will last you years.  The layout of the combined lounge and kitchen has everything you need without overcomplicating things.  Has been crafted to be easy to keep clean, yet still, be usable.  Let's have a look at the lounge in this great Toyota Hiace campervan.
The lounge area during the daytime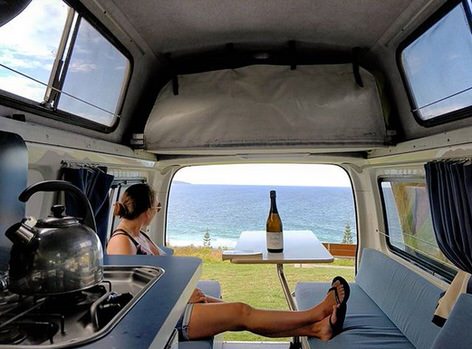 This is what buying a campervan is all about!  These Toyota Hiace Campervans are perfect for Australia!  Just imagine pulling up by the sea and opening up the large rear door and watching the sunset by the beach with a nice bottle of wine to hand!  We highly recommend giving Shaun a call on 0421101021 to arrange a test drive today. You are welcome to come by and test out the beds and see how comfortable the lounge area is.
Toyota Hiace Kitchen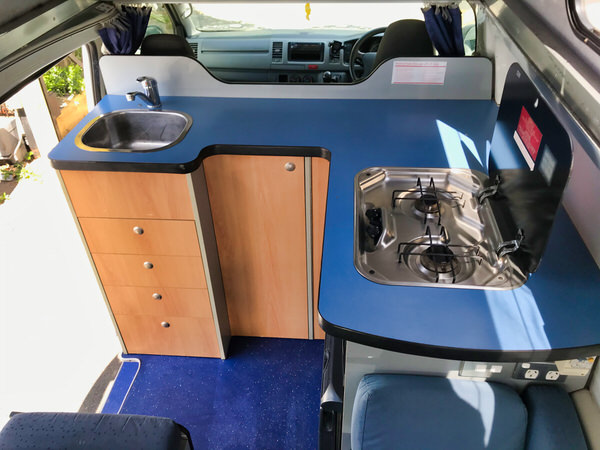 This Toyota Toyota Hi-ace campervan for sale comes with a well-designed kitchen.  It has clean lines and very easy to use (and keep clean) surfaces.  There is plenty of room to prepare and cook tasty meals inside the campervan.
We have many positive reviews and customer comments about this campervan.  One of our customers stated, "The kitchen and lounge is a combined area so that you can cook, chat and relax with friends all at the same time.  This makes the campervan so usable and practical we use it all the time."
The Kitchen space – easy to cook and keep clean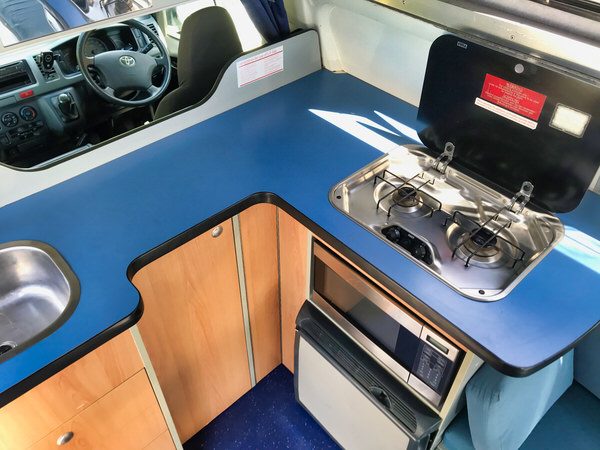 Another key point to note is the layout is perfect for cooking inside the van.  The kitchen has been designed to be easy to clean and of course super practical as well.  Let's start off by talking about the position of the sink is on the left-hand side.  From here you can wash your food easily and then place it on the worktop right next to the sink.  Then all you have to do is transfer it to the hob and get cooking!

Another customer review stated, "Super practical kitchen layout which is easy to keep clean, and plenty of worktop space directly next to the sink to chop and prepare your ingredients. The practical
two-burner stove makes cooking meals easy.  Love the fact it is a combined lounge and kitchen inside the campervan.  This way whoever is cooking is not isolated from everyone else drinking in the camper!"
Toyota camper with double + single bed!
Buying a used Toyota Hi-ace Campervan for sale with Travelwheels is a fantastic option! Firstly, they come fully equipped with everything you need to have a comfortable road trip around Australia!  Secondly, with the high roof, you have plenty of room inside.  This design allows you to stand up inside when you are cooking or entertaining.  The sleeping arrangements are really good as well.  Together with a practical and easy to use design, they have fitted two beds in this Toyota-Hiace campervan!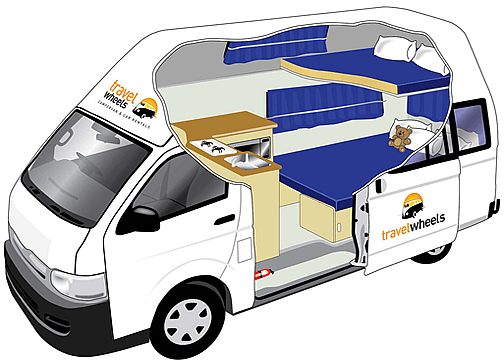 Fold-out double bed which is easy to use!
When you are thinking of buying a campervan, make sure the bed is easy to make! If you are planning on buying a Toyota-Hiace Campervan, then drop by our depot!  For one thing, you will be able to test drive the campervan and the beds as well!  
You are more than welcome to drop by and fold out and make up the bed.  This will be the most compelling evidence that the bed is easy to make!
It takes approximately 90 seconds to make the bed in this camper!  After a good night's sleep, you can convert it back to a table and two benches.
Two beds inside camper (one double and one single bed)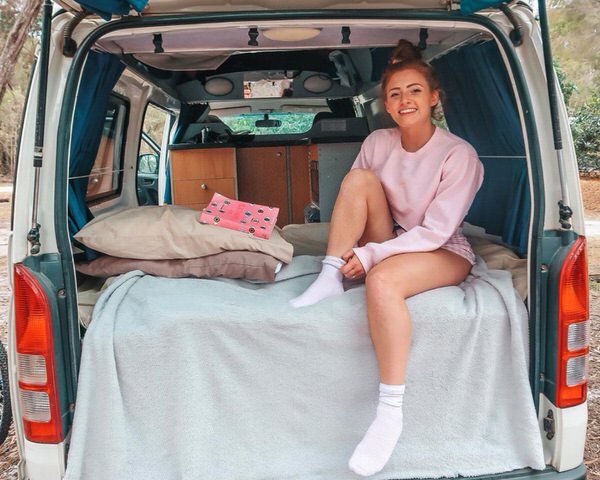 This used Toyota Hi-ace Campervan for sale is brilliant for three people! It gives you the flexibility to sleep up to three adults in comfort inside the campervan!  To begin with, the table and two benches convert to a big double bed (1.85m x 1.55m). It also has a single bed in the HiTop roof 1.60m x 1.4m (max weight for roof bed is 200kg).  All our vehicles have curtains on all the windows for privacy in the rear of the campervan. The sliding windows have flyscreens to let in air (and keep the flies out!)!
Lots of storage space inside the campervan
This used Toyota Hi-ace Campervan for sale comes with lots of storage space under the benches. For one thing, this hidden storage is great for hiding your electronics when going to the beach for example.  One thing about this extra storage will help you keep the campervan clean and tidy inside during your adventures.
We sell a Range of Automatic and Manual Toyota Campervans in Sydney
These ex-hire Toyota Hiace campervans are a very popular choice with our customers all over Australia.  There is nothing on the market that offers all these features this Toyota camper has to offer when you compare price vs size vs quality. We sell a range of manual and automatic Toyota campervans for sale in Sydney. If this particular camper has sold out, then we have other options for you below.  Give Shaun a call on 0421101021 to get an update on these new vehicles arriving soon.
Toyota campervans come with one year warranty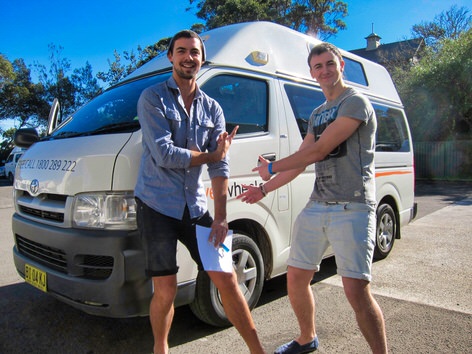 All ex-hire and used campervans for sale from travelwheels come with full 12 months warranty included in the price!  We sell off ex-rental campervans every year and have many happy customers.  It's important to note that you have the security of a warranty and road assistance when you are out travelling.
Why buy a used Toyota Campervan from Travelwheels?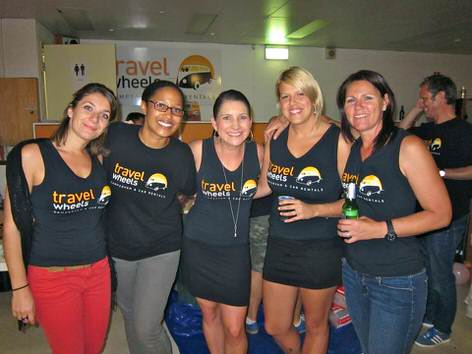 Firstly, there are plenty of good reasons why you should buy from Travelwheels?  We have over fifteen years hiring Toyota campervans across Australia for the last ten years!  We know what works, and how to maintain and fix them!  Our range of Toyota ex-rental campervans for sale is fantastic value for money.  To summarise you get the following benefits included in the price when you buy from us
All used campervans for sale have 12 months warranty included
Will be professionally deep cleaned and all stickers removed
24-hour roadside assistance included
Guaranteed buy back up to 50% valid for one year
All our Toyota campervans for sale can also use the "try before you buy scheme".  For example, you can hire the camper for five days first.  If happy to buy it, then we will refund the price of the hire against the sale price.  Give Shaun a call on 0412101021 for more information.  Remember we sell a range of campervans and our popular smaller Toyota 2 person automatic campervan is another great option to consider.
Contact Travelwheels for a test drive
Contact us about this ex-rental Toyota Hi-ace campervan for sale in Sydney!  You are welcome to view any of these used campervans during the week, weekend or evenings.  In the meanwhile why not call Shaun on 0421101021 or email [email protected]. The address of our depot here in Sydney is 11-15 Clevedon Street, Botany, 2019.
Ask us a question about this camper
Have a question about this 3 person Toyota Hiace campervan?  Send us a message below and our team will be back in touch asap!  We look forward to speaking with you soon 🙂