Used Toyota Hiace Campervan for Sale Sydney + Test drives welcomed – REF: ENJ88K
Used Toyota Hiace Campervan for sale in Sydney | Travelwheels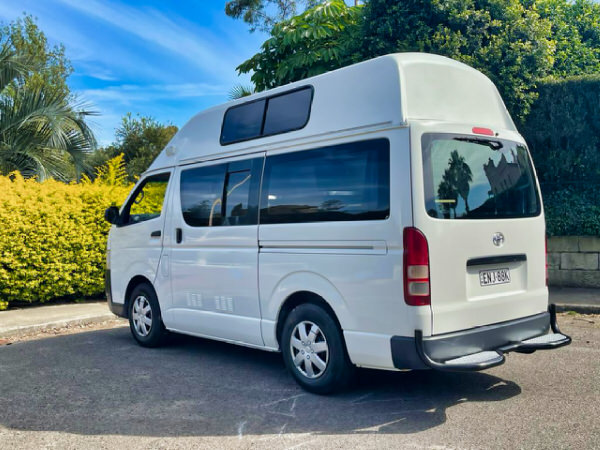 Travelwheels has just released this fantastic used Toyota Hiace Campervan for sale at our Sydney used campervans depot.   This is the most popular ex-hire used Toyota campervan we sell.  It has everything you need to explore Australia in comfort and style.  Therefore we recommend calling Shaun on 0421101021 to arrange a test drive today.
Most popular used Toyota Camper in Australia!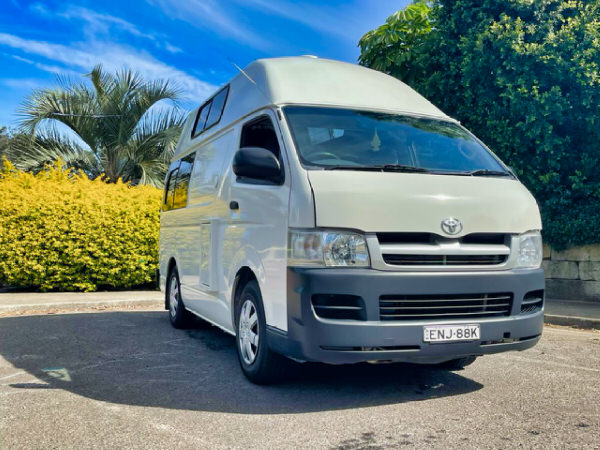 This used Toyota Hiace Campervan for sale is the most popular second-hand campervan we sell here in Sydney.  Another key point to note is that they hold their resell price and are extremely popular on the 2nd hand market here in Australia.
Best ex-rental campervans for sale in Sydney!
Therefore if you are thinking of buying an ex-rental Toyota campervan for a few years, this is the best option.  As they hold their price so well, you will be able to get a solid two to five years of use of this great camper and still be able to sell it for a great price.  If you are looking for a balance between comfort, price and durability, then going for a Toyota is the way to go!  Here is a link to our page about 3 Person campervan for hire with more photos and information about this campervan for sale.
Used Toyota Hiace Campervan for sale Sydney – kitchen area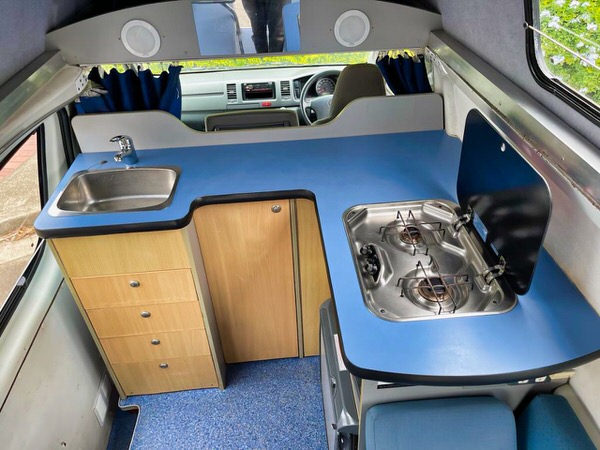 Buying one of our professionally designed and manufactured used Toyota Hiace campervan for sale is a good choice.  Let's talk about how good the kitchen area is and how practical and easy to clean and use it is. Firstly, there is plenty of space inside the combined kitchen and lounge area in this campervan.
Great practical worktop space – easy to use and clean!
Secondly have a look at all that worktop space and how well it is all been laid out.  It's easy to see why this kitchen layout is popular with our customers and why it gets so many positive customer reviews.  Very practical, easy to clean and everything is on hand to make great meals in this Toyota campervan. Let's list some of the features of the kitchen area:

Large 55L fridge  – runs on both or either battery or can hook up to power at campsite(12V/240V)
Practical and easy to clean worktop for preparing food.
Logical design from left to right (clean and wash food, chop on worktop and finally cook on the right hand side)
2 burner gas cooker and safety glass lid to create clean lines
Microwave (operates only when the vehicle is connected to 240V mains power at campgrounds.)
40L water tank for washing/cooking
Stainless steel sink


4 kg gas bottle included

All cooking & eating utensils included in the price for three people
55L fridge – works on battery and via mains electric
Many of our customers say a must-have item is a good quality fridge.  Having a two-way fridge (can work with separate battery charged from the engine) and being able to hook it up to main electricity is a prerequisite for a practical campervan.  This particular
Toyota Hiace campervan comes with a professionally designed and manufactured campervan/caravan 55L fridge fitted as standard. This is no Micky mouse cheap fridge connected to an inverter!

Professionally manufactured campervan fridge include
As previously mentioned this is not a cheap Bing Lee fridge thrown into the back of this camper.  We only use professional-grade made for campervan or caravan fridges that can operate via a dedicated second battery that is just powering the fridge.  In addition to this, the fridge will also put directly into main power if you at a campsite or visiting friends out of state.  This is a quality and a well-made fridge that has plenty of space for your food and some room for beers and a bottle of wine or two!

Popular questions customers ask us about the fridge.
How does the fridge work?
This particular campervan has a dedicated battery just for the fridge.  Therefore the camper comes with two decent sized batteries in the vehicle. When you drive this used Toyota Hiace campervan during day time, the camper will charge up both batteries at the same time.
This two-way battery system allows the fridge to recharge while you are driving.  After a day of driving visiting different places, you will have enough power to keep the fridge cool all night long.  Then when you drive off the following morning the second battery will charge up the fridge again.  This will allow you to stock up at a supermarket on route to save money cooking food inside the campervan.
How to recharge the fridge when staying at a campsite
If you are staying at a campsite for a few days, how do you recharge the fridge?
If you are staying at a campsite or visiting friends, then it is super easy to connect the Toyota campervan to mains electricity. The camper comes with a safety power extension cord that connects the campervan to the main eclectic.  Once you connect to mains power, the microwave and two power sockets will work. Very handy if you need to do some work on route and want to charge up laptops, iPads, and phones for example.

Used Toyota Hiace Campervan Front Cabin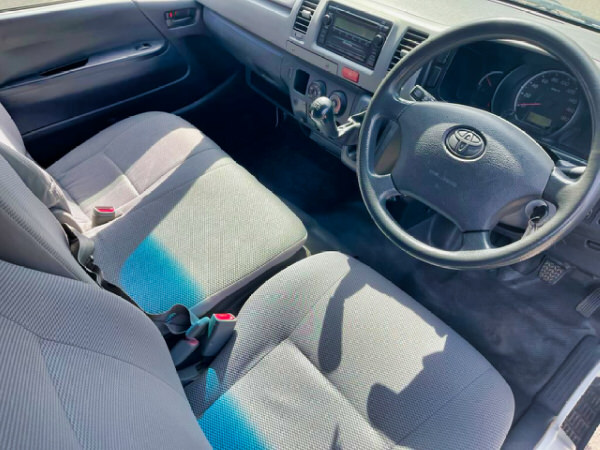 There is plenty of room for all three adults to sit in front of this campervan.  In addition to this, it will take one booster seat for an older child.  Note it will not be suitable for younger children or babies as it does not have a child seat anchor point.  You are looking for a family friend campervan, then check out our Toyota Automatic campervan designed with two child seatbelt anchor points.
AM/FM radio & CD player (this can be upgraded)
Cigarette lighter suitable for recharging iPod/Mp3 players
Air-conditioned in the driver's cabin (works directly from the engine when it's running)
Seating configuration: Seats 3 adults in the front cabin
Fold-down middle seat to store drinks and maps, etc
Large easy to see windows for a panoramic view
Used Toyota Hiace Campervan for sale in Sydney Sleeping Area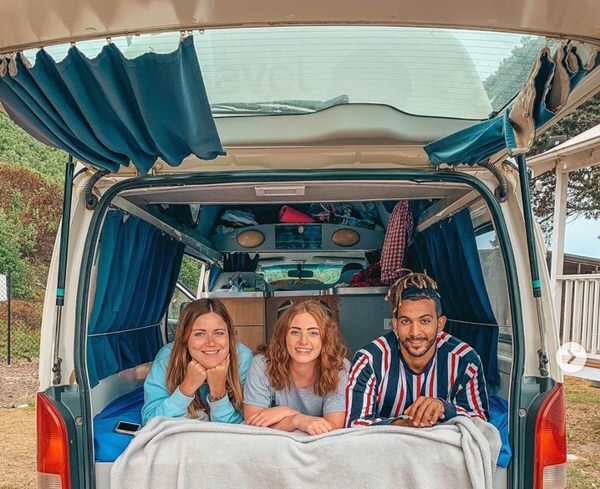 It is super easy to make the bed in this used Toyota Hiace campervan!  Firstly, it is quick and takes approximately 90 seconds to make the bed! Secondly, we designed the fold up and down bed to be as easy as possible to use.
Easy to make the bed in less than two minutes!
In the morning after a good night's sleep under the stars, you can convert it back to a table and two comfy benches within two minutes.  It's not difficult or tricky to make the bed or convert it back to the lounge area.  How many campervans have you seen with the bed down all the time?  You often see this when the bed is difficult to make, but this is not the case with this Toyota campervan.  It has been professionally designed to be easy to use, so come on down and try it out at our depot in Sydney.  Call Shaun on 0421101021 for a test drive and to have a go at how fast it takes you to make the beds!
Rear lounge: two comfy benches and a big table
Sleeping configuration: rear lounge converts to a big double bed, 1.85m x 1.55m.
Single roof bed in HiTop roof, 1.6m x 1.4m.
Storage: Plenty of storage area under seat benches and inside the roof
Curtains on all windows to give you total privacy at night
Fly Screens: fitted on all sliding windows in the rear of the vehicle
Used Toyota Hiace Campervan for sale More Details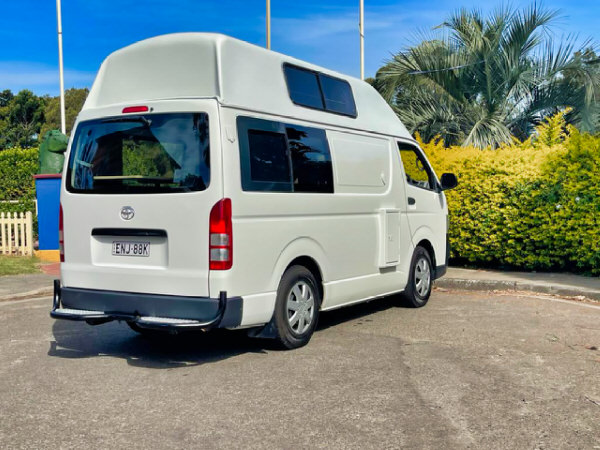 As can be seen from the photos this Toyota Hiace campervan is clean and ready to go! Here are some more stats about the vehicle and test drives are always welcome.  We have been renting and selling Toyota campervans for the last sixteen years, so happy to answer any questions you might have.  Call the team on 0421101021 or pop down to our used campervans for sale depot at 11-15 Clevedon Street, Botany, 2019, Sydney to go for a test drive anytime.
Fuel capacity: approx. 70 Litres
Fuel consumption: 13 Litres Per 100km (varies subject to the use of air-con, temperature and terrain)
Engine: 4 cylinder petrol engine (2.4L) runs on unleaded petrol
Dual Battery System: 2 batteries, one for the fridge & internal lights and 2nd battery for the engine
Two-way power system, 12v/240v lighting
Two 240v power sockets. Powered sockets will only work when you connect the vehicle to an external power source.
Central locking
All stickers removed, fully serviced and deep cleaned – ready to roll!
All our Toyota Hiace Campervans are fully checked and get a deep industrial clean before we sell them. We remove all the stickers and touch up the paintwork, so you don't have to do anything! Just jump in your used Toyota Hiace and hit the road!  Call Shaun on 0421101021 for more info anytime.
Used Toyota Hiace Campervan for sale Sydney Why buy from us?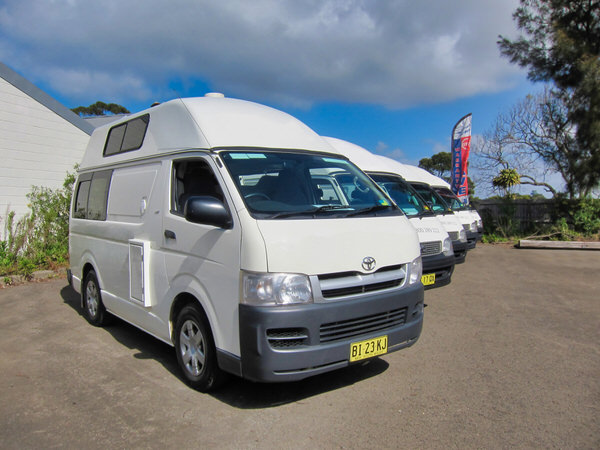 That is an easy question to answer!  We have been selling and renting used Toyota Hiace campervans for the last fifteen years.  We know what works and how to look after customers.  All campervans are available to book a long test drive.
We know this is a serious investment of your money and time, so we treat it with respect.  Our team has years of experience in the field of Toyota campervans, so you are welcome to ask us as many questions as you want.  You get the following benefits included in the price when you buy a used Toyota Hiace Campervan for sale in Sydney from us:
12 Month Warranty
12 Month Road Assistance Service across Australia
Buyback Guarantee up to 50%
Well maintained campervan that has been regularly checked and serviced during its lifetime
Industrial deep clean and all stickers removed so you get a clean white campervan
With Pink slip
We sell a range of used Toyota campers available for a test drive
Most popular two-person Toyota automatic camper we sell
Need a family friend campervan with child seat belt points?   Check out our automatic Toyota child-friendly campervan for sale.
Not sure about buying or renting a campervan in Sydney?
You are not sure if buying a Used Toyota Hiace Campervan for sale in Sydney is right for you?  Have you thought about renting a campervan instead?  This way you can try it out and make sure you are happy?  A lot of people who have bought campervans from us also recommend our try before you buy scheme.  This has been especially helpful to anybody who is not sure if they want to buy or rent.   This option has become more and more popular and takes the stress out of the buying
Similar used campervans to consider
These used ex-hire Toyota campervans for sale are a very popular choice with our customers.  During this last year, it has been hard to source good quality Toyota campervans for the right money which are in good condition.
There are plenty of people searching to buy a good value for money Toyota campervan.  If this camper has sold out, then we have other options now available for you.  We are starting to get in new stock at our Sydney used campervans depot, so definitely worth giving Shaun a call on 0421101021 to get an update on new vehicles arriving soon.  Here are a couple of more options to consider:
Contact us for more specials on used ex-hire campervans
Feel free to contact Travelwheels Used Campervan Sales Sydney by calling 0421101021. You can email us at [email protected] and we are happy to help answer any questions.  Why not pop by our store in Sydney to ask about our Used Toyota Hiace Campervan for sale in Sydney?  The address is 11-15 Clevedon Street, Botany, 2019, Sydney..  Alternately write you question below and our friendly team will answer all your questions.