Used Toyota Hiace Campervan for Sale Sydney + 12m warranty
Used Toyota Hiace Campervan for sale Sydney
Travelwheels has some more wildly popular and also rated as Australia's number one campervan for sale!  A Used Toyota Hiace Campervan for sale Sydney is a great way to explore Australia! Therefore we recommend call Shaun on 0421101021 because you will love test driving one of these great ex-hire campervan for sale in Sydney.
Used Toyota Hiace Campervan for sale Sydney
These Used Toyota Hiace Campervan for sale Sydney are the most popular campervan we sell.  They hold their price and are extremely popular on the 2nd hand market here in Australia.  If you are looking for a balance between comfort, price and durability, then going for a Toyota is the way to go!  Here is a link to our page about 3 Person campervans for hire with more photos and information about this campervan for sale.
Used Toyota Hiace Campervan for sale Sydney Main Features
Large 55L fridge (12V/240V)
> 2 burner gas cooker and grill
> Microwave (operates only when the vehicle is connected to 240V mains power at campgrounds.)
> 50L water tank for washing/cooking
> Stainless steel sink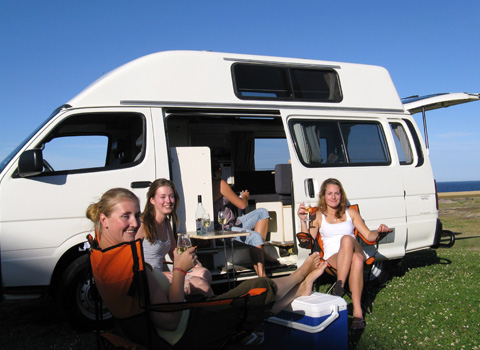 Used Toyota Hiace Campervan Front Cabin
> AM/FM radio & cassette player
> Cigarette lighter suitable for recharging iPod/Mp3 players
> Air conditioned in the drivers cabin (works directly from the engine when its running)
> Seating configuration: Seats 3 adults in the front cabin
Used Toyota Hiace Campervan for sale in Sydney Living & Sleeping Area
> Rear dinette: 2 comfy benches and a big table
> Sleeping configuration: rear dinette converts to a big double bed, 1.85m x 1.55m.
> Single roof bed in HiTop roof, 1.6m x 1.4m.
> Storage: Plenty of storage area under seat benches and inside the roof
> Fly Screens: fitted on all sliding windows in the rear of vehicle
Used Toyota Hiace Campervan for sale More Details
> Fuel capacity: approx. 70 Litres
> Fuel consumption: 13 Litres Per 100km (varies subject to the use of air-con, temperature and terrain)
> Engine: 4 cylinder petrol engine (2.4L) runs on unleaded petrol
> Dual Battery System: 2 batteries, one for the fridge & internal lights and 2nd battery for the engine
> Dual power system, 12v/240v lighting – 240v power sockets. Powered sockets will only work when you connect the vehicle to an external power source.
> Central locking
All our Toyota Hiace Campervans  are fully checked, and get a deep industrial clean before we sell them. We remove all the stickers and touch up the paintwork, so you don't have to do anything! Just jump in your used toyota hiace and hit the road!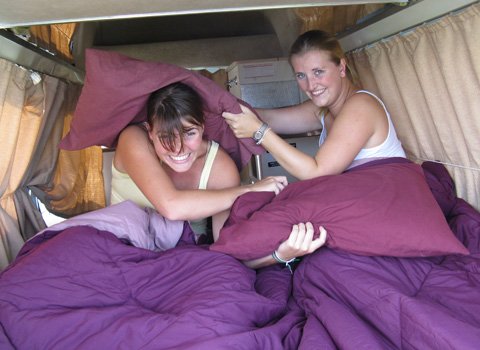 Used Toyota Hiace Campervan for sale Sydney Why buy from us?
That is an easy question to answer as you get the following benefits included in the price when you buy a used Toyota Hiace Campervan for sale Sydney from us:
* 12 Month Warranty / No Kilometre limit
* 12 Month Road Assistance Service across Australia
* Buyback Guarantee up to 50%
* Well maintained campervan that has been regularly checked and serviced during its lifetime
* Industrial deep clean and all stickers removed so you get a clean white campervan
* With Pink slip
Not sure about buying or renting a campervan in Sydney?
You are not sure if buying Used Toyota Hiace Campervan for sale Sydney if right for you?  Have you thought about renting a campervan instead?  This way you can try it out and make sure you are happy?  A lot of people who have bought campervans from us also recommend our try before you buy scheme.  This has been especially helpful to anybody who is not sure if they want to buy or rent.   This option has become more and more popular and takes the stress out of the buying decision.  Why not call our friendly team at our Sydney branch on 0412766616 for more information
Contact us for more specials on used exhire campervans
Feel free to contact Travelwheels Used Campervan Sales Sydney by calling 0421101021
You can email us at [email protected] and we are happy to help answer any questions.  Why not pop by our store in Sydney to ask about our Used Toyota Hiace Campervan for sale in Sydney?  The address is 11-15 Clevedon Street, Botany, 2019, Sydney..