Big things of Australia – how many have you seen?
The Big Things of Australia are a loose set of different huge sculptures spread over every state you will pass on your campervan hire roadtrip whilst in Australia.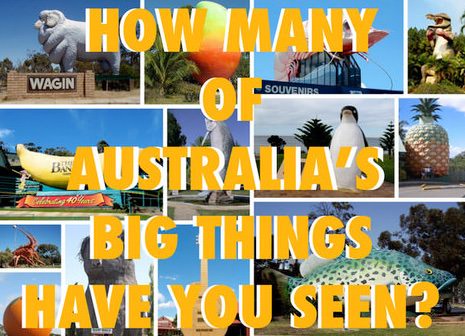 For example, there are more than 150 of these Big Things across Australia and thus have become somewhat of a cult phenomenon here in Oz!  Furthermore some traveler come to Australia simply to take pictures in front of as many Big Things of Australia as possible.  Therefore if you need to hire a campervan in Australia to view all these big things, then enter your travel dates below:
Crap Big Things of Australia – over 15o silly things to post on facebook!
Consequently these Big Things of Australia have become a celebration of all things crap and for the most part many of them are average at best!  However the real fun is taking as many pictures next to them and posting them on the Travelwheels facebook page!  Besides being crap and many locals hating them, you can take silly photos like this one on your travels!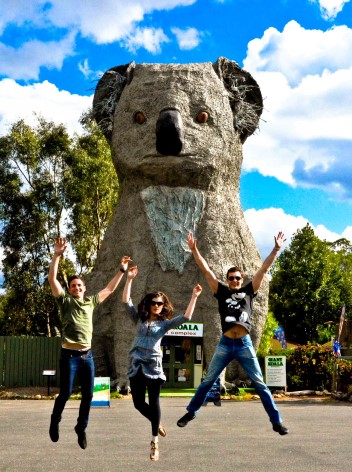 Furthermore many of these Big Things of Australia have become striking tourist attractions in various parts of Australia!  Coupled with the fact that they have become more and more popular over the years, nevertheless some Australians who live in the area not keen having them in their town!  For the most part many residents think they are crap, but we love them and you will soon be filling up your Instagram feed with these photos!
For example the residents of Dunedoo in New South Wales protested against plans to build a big dunny (Australian slang for toilet) the town!  In the meantime after a lot of arguments, and as a result of the local council 'flushing the idea down the toilet (sorry could not resist!)!  Therefore it never came in to service and the idea and toilet chain were never pulled!
Map of Big things of Australia to visit on your campervan holiday
Here is a map of the top big things of Australia you can visit when on a campervan hire holiday down under.  For example many of these giant things are on the East Coast.  Therefore here is useful page worth reading with our free camping on the East Coast of Australia guide for campervan hire holidays.  This will help you to save you money on accommodation on your campervan roadtrip to see all these 'crap' things!
Google maps guide to Big Things of Australia map
Together with this guide we suggest checking out our google map of big things in Australia.  You will this especially helpful for those of you wanting to visit all 150 big things of Australia on your campervan hire roadtrip.  For the most part we have included the main big things of Australia, but there are new ones being added all the time!
For example, some of these famous Big things of Australia are now attracting massive amounts of tourists all desperate to get their photo taken in front of them! By the way if you do get some good photos, could you please post them on our Travelwheels customer facebook page please. We love checking out your photos of these marvelous and sometime crap Big Things of Australia!
Big Things in Queensland
Here is a list of the 8 of the most popular Big Things of Australia you can find in Queensland.  However it worth remembering if you are especially serious about your Big Things of Australia, then currently Queensland has a total of 46 big sculptures for you to visit on your campervan hire roadtrip!   Come on and grab your phone and and send us your funny pictures to [email protected]. For example if you are a hardcore traveller then check out the giant list of Big things in Australia and see if you can do all of them!
Best time to visit Queenland for campervan hire holiday
Queensland is the sun shine state which guarantees an unforgettable road trip with many fun-tastic attractions along the way. However it is worth reading our travellers tips about the weather in Queensland.  For example do you know when it is the wet season in Cairns? It is an amazing place in the sunshine, but not in the wet season!  Right let's get on with the Big Things of Australia guide and our first example is the Big Bundy Bottle of Rum!
The Big Bundy Bottle
The bottle started out as a promotional icon for the Bundaberg Rum Company at World Expo 88 in Brisbane.  When everyone starting taking photos of the big bottle at the Expo, the marketing dept came up with this idea!  Hence the decision to erect it outside the visitors' centre at the Bundaberg Distillery.
The Big Captain Cook
We all know how important Captain Cook was to story of Australia.  Therefore when you start your campervan hire cairns holiday, why not pop by and see this massive 14 meter high figure of Captain Cook.
The Big Cassowary
If you didn't get the chance to see a cassowary in the wilds of the Daintree rainforest, don't be disappointed!  Therefore all you have to do is drive your campervan via Mission Beach and take a picture of this enormous bird!  Once you have taken you photo, you can say in this case you have ticked off one of the Big Things of Australia!
The Big Cow
Want to see something 'moo'tiful? Stop at the Big Cow in Yandina!
The Big Crab
One of many crustacean can be found in Cardwell, located at Muddies Restaurant.
The Big Crocodile
Also known as 'Big Ted', this Big Crocodile is at Hartley's Creek Adventures, a crocodile farm with over 3000 crocs! FUN FACT: Big Ted is a life-sized replica of one shot by Krys Pawlowski near Karumba in 1957.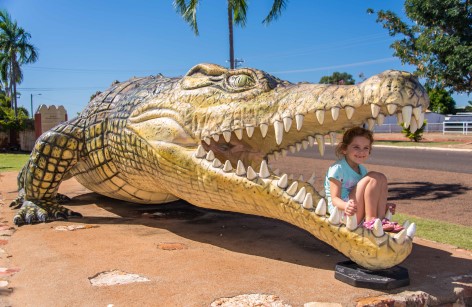 The Big Mango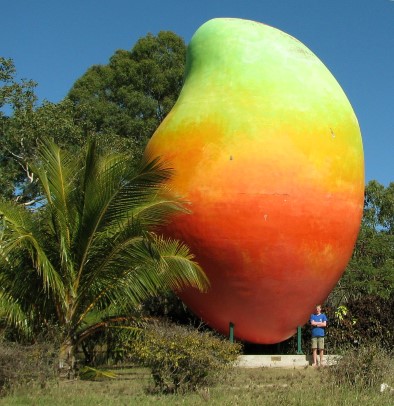 Snap this colourful ten meter high fruit in Bowen right next to the visitor center.  Why have a giant Mango you might ask?  The reason is due to the fact that Big Mango represents the delicious fruit which carries the name sake of the town "Bowen Mango".
The Big Pineapple
When looking for more Big things of Australia, then check out Woombye on the Sunshine Coast.  It is home to the biggest pineapple in the world and listed as one of the biggest roadside attractions in Australia!
Big Things in New South Wales
There are many funny sculptures and especially Big Things of Australia to find in New South Wales! In fact there are so many for example that we will only name a few!  However before you plan your campervan hire holiday in New South Wales it worth doing some planning.  In this case we suggest reading our things to do and weather guide for NSW.  This will give you a good indication to when is the best time for a campervan hire holiday in NSW.  Generally the best times are from November through to end of March for the warmest weather.
The Big Banana in Coffs Harbour
The Big Banana is one of the most popular Big Things of Australia giant sculptures along the East Coast. The 13 metres long by 5 metre high banana is in front of a gift shop and surrounded by banana plantations. Furthermore we suggest trying their famous 'Banana Split' which is wonderfully delicious treat!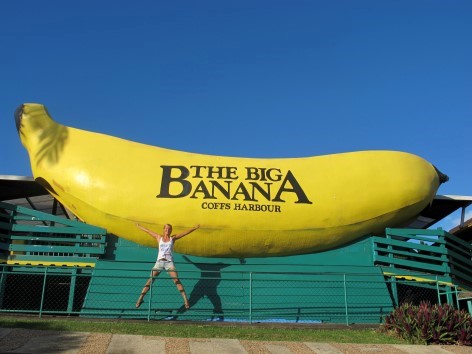 The Big Prawn
The Big Prawn in Ballina is a giant 6 m × 9 m Big thing of Australia!  It previously was situated by a restaurant by the side of the road, but fell into disrepair.  Unfortunately The prawn had been approved for demolition by the Ballina Shire Council in 2009.  However the local community rally around to save it!  Whilst this was happening, Bunnings Warehouse decided to buy the property and save the sculpture. It now has a new home in the car park next to Bunnings Warehouse in Balina.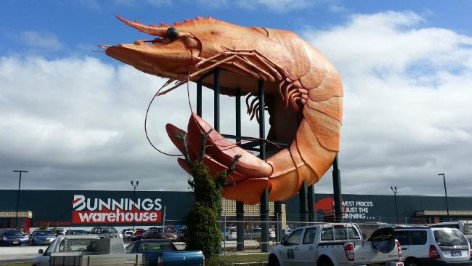 The Big Ugg Boots
In 2005 the town Thorton built a giant pair of Ugg Boots right next to the Mortels Sheepskin Factory. This is the home to the original Australian Ugg Boot and you can take a picture with a pair that is 13 times the original size of a women's US size 8 shoe!
The Big Golden Guitar
Tamworth is regarded as the Country Music Capital of Australia! Right here is another monster Big Thing of Australia which is a giant guitar measuring 12 meters in height, weighing about half a ton! Tamworth hosts the Country Music Awards in January each year, and accommodation gets booked up years in advance!  Therefore one way to get cheap accomodation for Tamworth is to hire campervan with travelwheels.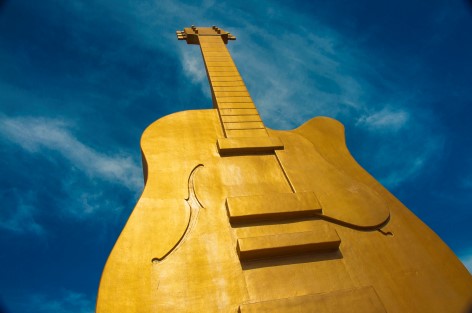 The Big Beer Can
Australia loves driving beer and therefore they should especially love this Big Thing of Australia, The Big Beer Can!  It has a Tooheys New design, and is located above the entrance to the Grand Hotel in Cobar.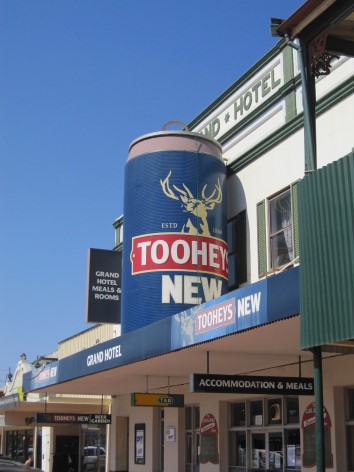 Victoria's Big Things of Australia
Victoria is a wonderful state and here is our quick guide to Victoria for some background reading to help plan your campervan hire roadtrip. By the way if you are heading down south to Victoria then the exciting Great Ocean Road is a must do adventure!  Together you can combine a trip to see the Big Things of Australia and do a Great Ocean Road Campervan Roadtrip at the same time!  In addition to the Great Ocean Road, here is our list of Big Things in Victoria for you below:
The Big Cigar one of the crap big things in Australia!
Here is a wonderful example of one of the Big Things of Australia!  Did you ever imagine you would be taking photos of Winston Churchill's cigar?  Visit the town named after this historical figure and find a replica of his cigar!
The Giant Koala
Come on who does not like koalas!  For example, this giant Koala is 14 meters high and weighs 14 tonnes! It is made of bronze and a steel frame and is located 27 km north of Stawell, in a town called Dadswells Bridge.
The Big Hens
If you especially like chickens, then why not check out the giant funky hens at Meredith's Egg Farm.
The Big Strawberry
Who doesn't like strawberries? For example, why not stop at the big strawberry at the corner of Goulburn Valley Hwy and Cobram-Koonoomoo Rd.  You can eat some of these delicious red fruits whilst taking pics with one of the biggest strawberry's in the world!
The Big Tap
The Next 'thing' on our Big Things of Australia tour is the Big Tap suspended in the air!  Together with all the fun things at A Maze'N Things you can kill two birds with one stone!  A Maze 'N Things an award-winning tourist attraction on Phillip Island, Victoria. Things to do include a Maze, Minigolf Course, Magic Manor, Cafe, and plenty of Illusions to trick your mind.  You can find the Big Tap and fun factory on Phillip Island Road in Cowes.
Big Things in South Australia
First of all we recommend reading our best time of year to visit South Australia guide.  This will help you for example better plan your trip to view all the Big Things of Australia by campervan.
The Big Scotsman – A cult starts
Everyone thinks that the first Big thing of Australia is the Big Banana in Coffs Harbour.  However the cult phenomenon actually began in Adelaide with the Big Scotsman!  Paul Kelly designed "Scotty" in 1963 and consequently also designed the Big Lobster years later!  This is a good example of one of the first enormous art project in South Australia that has spread all over Australia!  He was constructed in 1963 to promote Scotty's Motel which is now known as the Comfort Inn locally.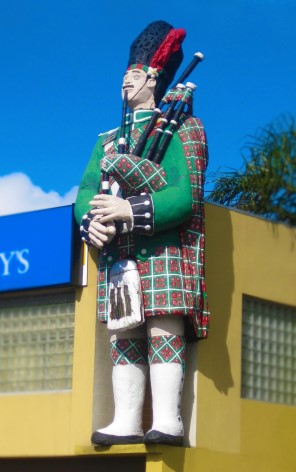 The Big Lobster
Paul Kelly (also designed the Big Scottsman) made Larry the Big Lobster in 1979.  It now stands in front of the visitor center of Kingston in South Australia and measures 17×15×13 meters!  According to locals in the area they claim there was a "big mistake" with the Big Lobster!  The reason why is it so big is in this case of a giant mix up!  Local gossip tells the story that it the original dimensions were in feet and inches!  However due to a mix up it got mistakenly marked down in Metres and subsequently you can see why it is so big now!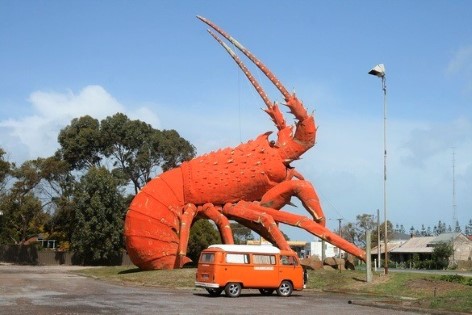 The Big Orange
The Big Orange is located in South Australian riverland town of Berri.  As a result of it being a Giant Big Thing in Australia, it has four levels to check out! The first floor is a function room, the second a cafe and souvenir shop. The third a mural about the local scenery and the fourth floor is known as a great lookout to post on the travelwheels facebook page.
The Big Dice
Do you feel lucky, then maybe 'The Big Dice' could be up your street!  It is located on the Barrier Highway between Yunta and Mannahill.  It consists of a pyramid of six concrete dice.  In comparison to the other Big Things of Australia, this one is not that big!  However it is a fun big thing and you can easily climb on it and take all the pictures you need to post on the Travelwheels facebook and Instagram pages.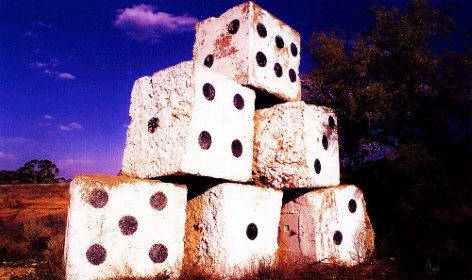 Western Australia's Big Things
If you are looking for all of the Big Things of Australia, then remember it is one big country!   Western Australia has it's far share of Big Things as well!  First of all it is especially worth reading out quick guide to Western Australia to give you a feel about the weather and climate. Another thing to note is the driving distances are massive in WA, so check out our guide to cheapest petrol prices in Australia guide to help you save money.
The Big Camera
We love customer reviews and photos on the travelwheels facebook page.  For example we don't have any customer photos with the "big camera" yet.  In the meantime if you are in WA we would love you to send us your funniest pictures with this giant camera in Meckering.  From Perth it is approximately 133kms to get to Meckering and thus is the only museum totally dedicated to photography open to the public.
The Big Mushroom
You can find this towering Mushroom in the gardens of the Old Cheese Factory in Balingup.  If you love your cheese and Big things, then we especially suggest you stopping here for some food!
The Giant Ram
Grab the horns of the Giant Ram and go 'baa' in Wagin!  Great opportunity to take a photo of on your campervan hire holiday next to the Giant Ram!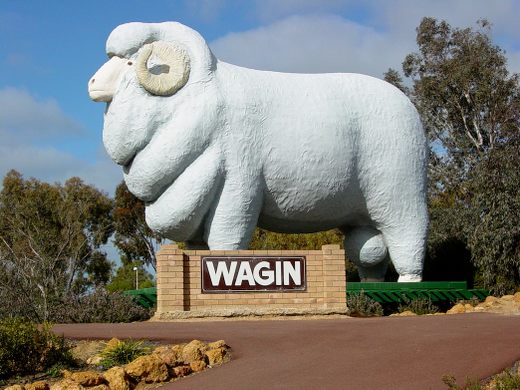 Leeuwin Way Whale
One of the best ways to guarantee to see a Giant whale in Australia is to visit the Big Leeuwin Way Whale!  You can spot this whale easily in the distance when you enter the carpark of the Eucla roadhouse where you can find this 10 meter long whale!
The Big Wheelbarrow
We are not sure if this is for example the biggest wheelbarrow in the world?  However it's probably for the most part the largest wheelbarrow most of Travelwheels campervan hire customers will ever come across!  This is a lot of fun and especially as you can hang from the barrow and post your pictures on facebook! It is located at Wedgefield, WA nearby Port Headland.
World's Tallest Bin
This takes recycling to a higher level!  This is the world's tallest bin and in this case it is 8 meters high!
The Big Crocodile
If you didn't get the chance yet to see a real saltie or get to visit one of The Big Crocodiles you get another chance in Wyndham.
Big things of Australia – Northern Territory
The Big Boxing Croc
This 10 meter Big Boxing Croc is right in front of the petrol station in Humpty Doo.  Here is some advice if you decide to go closer to him as he can bite! Don't be taken in by his welcome grin, and never smile back at him! Furthermore don't mention the fact that wearing boxing gloves but no pants is against the law in most parts of Australia!
The Big Aboriginal Hunter
150km north of Alice Springs you can find one of the more traditional sculptures of Australia. Visit the Big Aboriginal Hunter at the Anmatjere Community in the middle of down under.
Big Things of Australia – Travelwheels sightseeing tips
There are many more Big Things of Australia and it is definitely worth visiting them when travelling Down Under as it has become such a phenomenon and tradition over the years. If you would like to know more about The Big Things of Australia feel free to call us on 0412766616 or email us at [email protected].
If you are going to go on a campervan roadtrip to see all these Big things of Australia, then especially recommend checking out these useful links.  In particular read our free camping on East Coast of Australia guide.  For example another useful page to read is our cheapest petrol prices in Australia guide. Together these two links will help you save money on you campervan hire holiday visiting all these Big Things of Australia!