Automatic camper for sale – Test Drive Toyota Campervans at our Sydney Depot
Automatic camper for sale in Sydney – Toyota ex-hire bargain!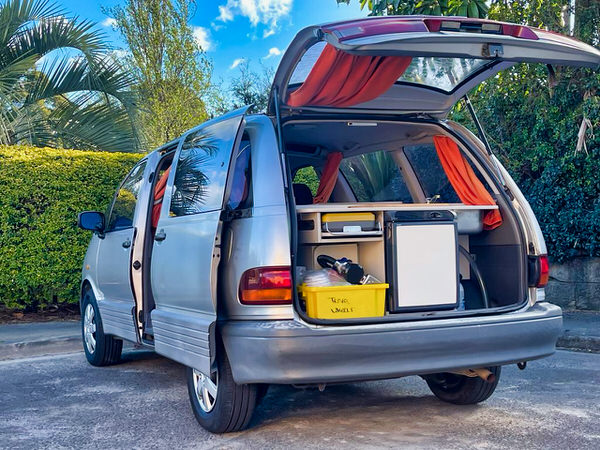 Travelwheels campervan hire in Sydney is selling off some of our campervans.  We have this used Toyota automatic camper for sale, ready to go!  It comes fully serviced and has a double bed, lounge, kitchen, sink, fridge and pull-out cooker.  It drives like a car and sleeps like a campervan!  Call Shaun on 0421101021 to test drive an automatic Toyota campervan.
Buy Direct to Save Money on Automatic Toyota Campervans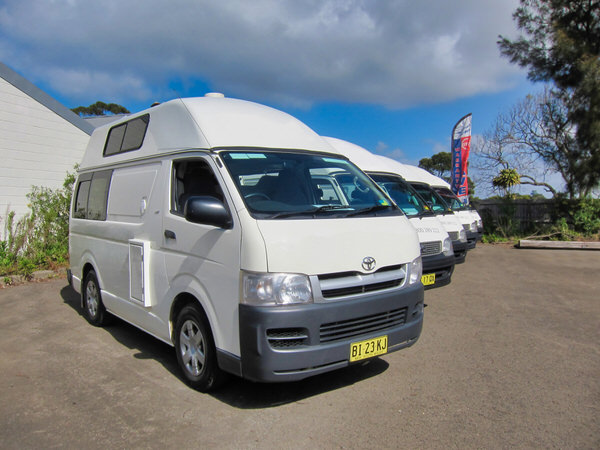 Travelwheels has been renting and selling Toyota campervans in Sydney for the last twenty years.  We have a range of different models for all budgets and families.  The team specialise in two to five people campervans and only sell Toyota as they are so good! Now is the time to get in touch and buy direct from a campervan hire retailer and therefore save money when you bypass retailers and buy direct from the source here in Sydney!  Call Shaun on 0421101021 to ask a question or book a test drive.
Test drive any of our campervans here in Sydney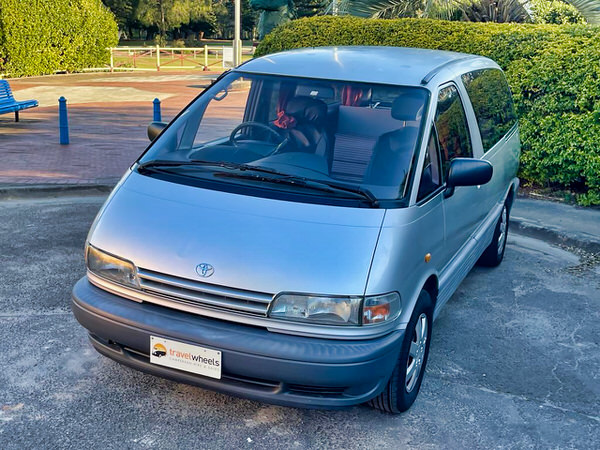 The great thing about buying one of our used Toyota campervans is your ability to go for a test drive.  If you bring your FULL DRIVING LICENCE (not provisional) and credit card, you can go for a spin and have a proper test drive.  You do not have to make an appointment, and everyone is welcome to pop down to our depot in Sydney and check out our great range of used campervans for sale.
What's more, we have all the campervans opened up during the daytime.  When you arrive, you can say hello, jump into a few campervans, and try out the beds.  If you arrive early, you can try out the kitchen and make some breakfast too!  We are so bold because we look after our customers and they always recommend us to other customers.  We go the extra mile to ensure we find you the right campervan style from our range of campers and to see if this campervan lifestyle is right for you.
Test drives depot close to Sydney Domestic Airport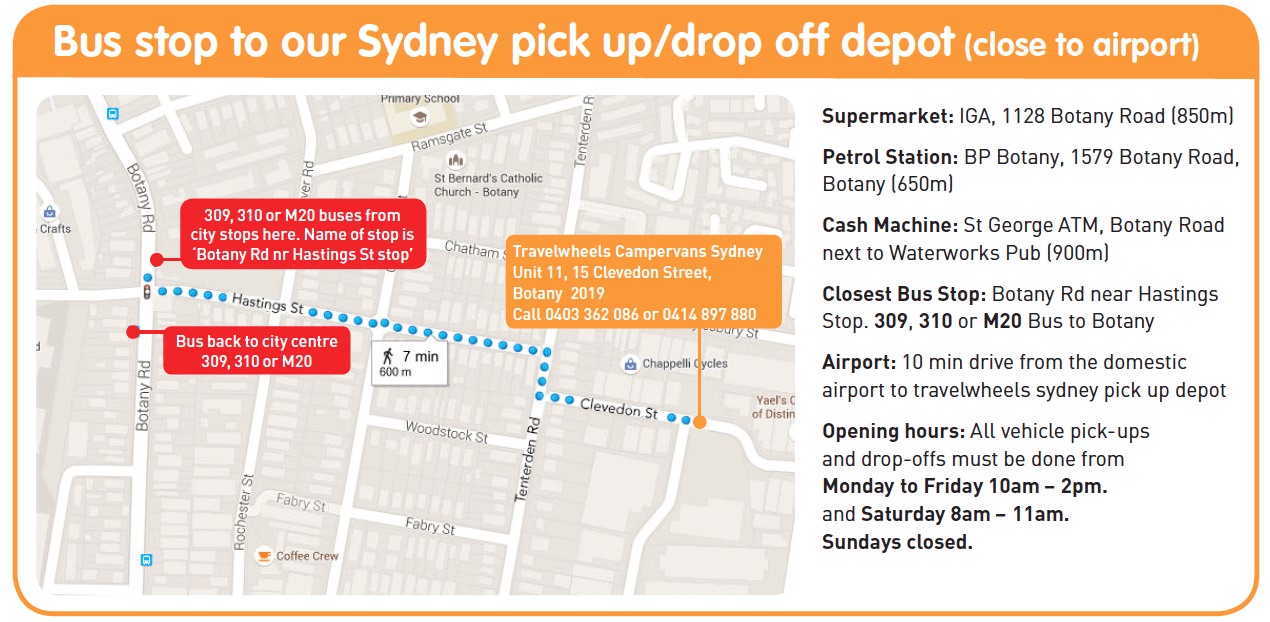 Another key point to note is how convenient our location is in Sydney.  We are situated close to Sydney domestic airport in Botany.  There are loads of great roads nearby you can go for a long drive and test out a used Toyota automatic camper for sale at our depot.  All we ask is for identification and credit card details, and then you can try our fantastic range of used campervans we have for sale!  Here is our address at 11-15 Clevedon Street, Botany, 2019, Sydney, and you are more than welcome to call us on 0421101021.
Day time configuration – Toyota 2 Person campervan
As a result of the great design, you get two comfy benches and a table in the rear of this Toyota campervan.  A point often overlooked is storage.  Therefore when we built this model, we created hidden storage areas under the benches for your valuables.  This is great when visiting the beach and you want to hide your camera or phone in the vehicle. The great thing about these small automatic campers for sale is just how practical and usable they are.  Without reservation, it's one of the most popular automatic campervans we sell! One of the reasons why they are so popular is they can be used as a car during the week and a campervan at the weekend or when you go on holiday.
Actual photo of the daytime lounge area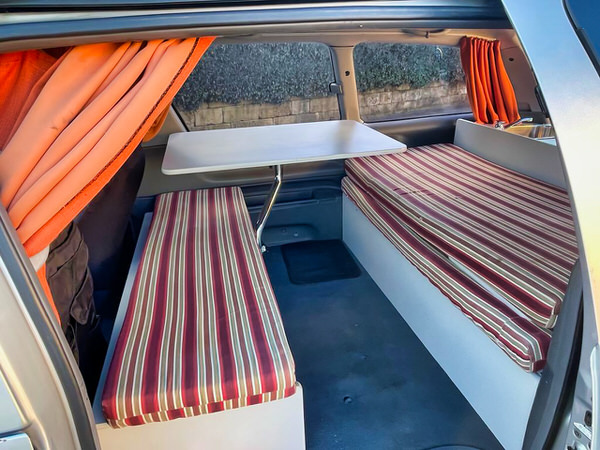 Many of our customers who have bought these campers often say, "it drives like a car but sleeps like a campervan".  If you are looking for a good balance between practicality, space and useability, seriously consider this used Toyota automatic camper for sale as a great choice.  It is our smallest used campervan we sell, but it packs a big punch!  When exploring Australia, you will see loads of these great Toyota Tarago campervans exploring the national parks and driving all over Australia.
Why are these Toyota campervans so popular?
It is easy to see why this used Toyota automatic camper for sale is so popular with our customers.  Firstly, it has everything you need in a small practical used Toyota campervan.  Secondly, you can use it as your daily drive and as a campervan on the weekend.  We have refreshed the kitchen area on this model, and let's take a look.
Updated clean kitchen in the Automatic Toyota Campervan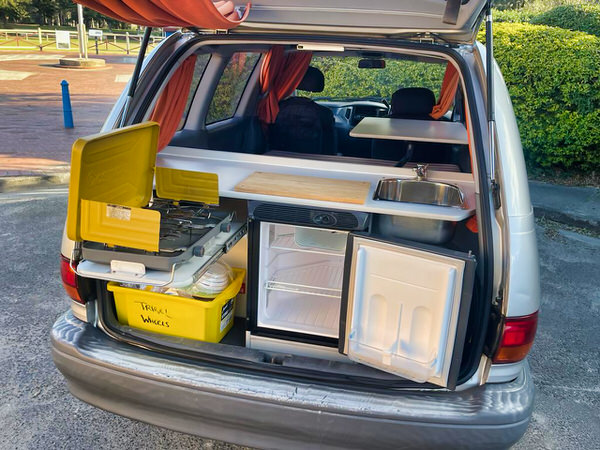 Another key point to highlight is the newly redesigned mini kitchen at the back of this campervan.  The kitchen allows you the freedom to camp out under the stars!  You cook with the back door open, so there is plenty of shade when it's hot outside, and that fridge will help keep the beers cold!  Without a doubt, this used Toyota automatic camper for sale is super popular, and we often sell them as soon as we release a new batch for sale direct to the public.
A limited number of these automatic Toyota campervans are in stock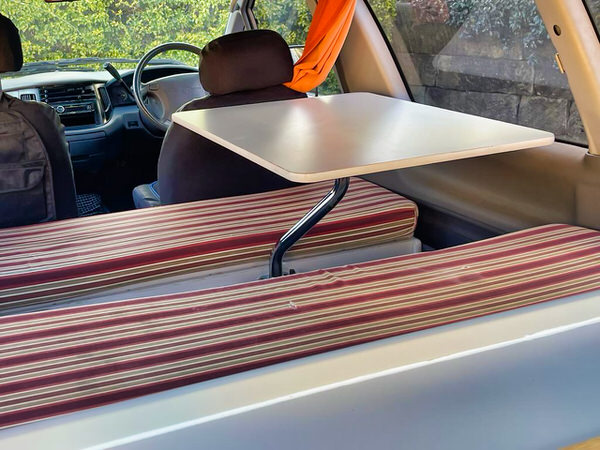 Right now, we have a limited number of Toyota campervans available to test drive and for you to purchase. Therefore it is worth calling Shaun on 0421101021 for more information about what stock we have left.  We are happy for you to come on down and test drive any used campervan at our depot.  We are also open during the weekends, but give us a call first just to ensure we are not out with a customer test driving one of our great used campervans.
Night time configuration for 2 Person Toyota Automatic Campervan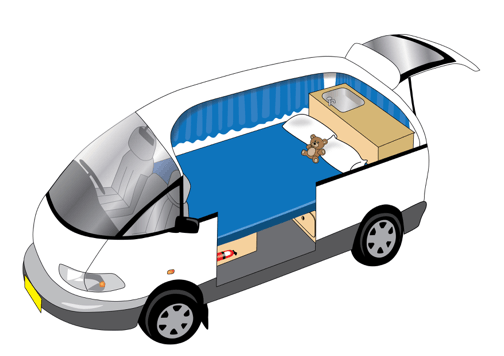 The practical double bed is one of the best things about this used Toyota automatic camper for sale.  To begin with, we have come up with a simple design you can quickly change the camper into a mini-hotel on wheels!  Couple this with privacy curtains on all windows, making it an ideal used automatic camper for sale.
Actual photo of the double bed in this campervan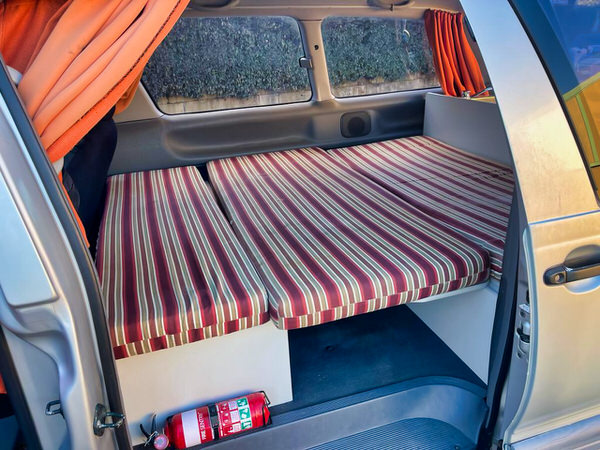 When you are thinking of buying a used campervan, make sure you check how easy it is to make the bed at night time! When you are out driving around, at a beach, or in a car park, you often see people with their beds down all the time in the back of campervans.  One reason is that the bed is often hard or awkward to make and/or turn back into a table and benches!  It can soon become a hassle, and this is why they always leave the bed down in the lower position.  Therefore one tip from us is to make sure you know how easy or difficult it is to make the beds in the campervan!
Easy to make the bed in less than 60 seconds
Because we know how important it is to have an easy-to-make bed, we made it super easy to use!  Therefore our team spent a lot of time working on the bed frame design.  It takes approximately 60 seconds to make the bed in this camper!  Therefore it is super practical, and you will enjoy using it. Therefore once you get up in the morning, you will find it easy to convert it back to a table with two benches.
What is the size of the bed in 2 person campervan?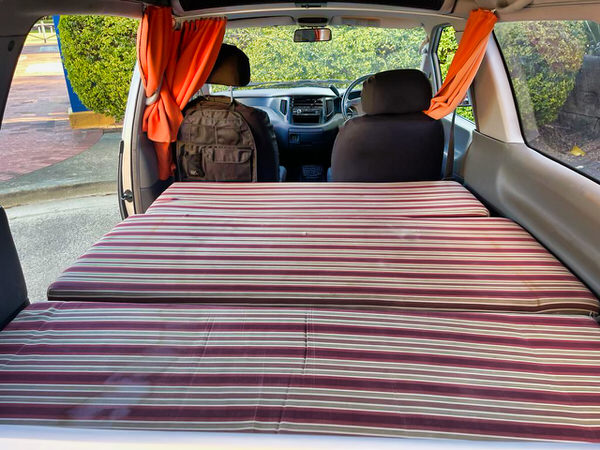 Many customers contact us asking about the size of the bed in this Toyota 2 Person automatic camper for sale.  Here are the dimensions for the double bed inside this Toyota campervan for sale =  1.70m x 1.35cm.
If you are taller than 1.7m, we suggest test driving our popular Toyota Hiace Campervans for sale at our depot. This Toyota Hiace camper has more headroom and two beds.  The size of the double bed (1.85m x 1.55m) in this vehicle.  If you are taller than 1.85m, we offer a larger bed in our five-person automatic campervan.  The bottom double bed is 2.1m long x 1.7m wide!
The view from the kitchen area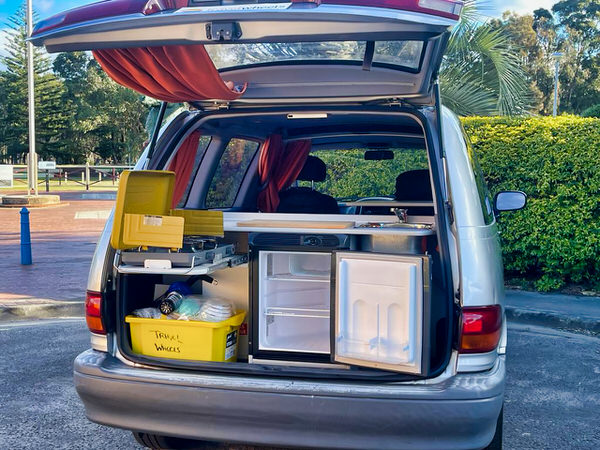 The kitchen is clean, easy to use and practical.  To begin with, our team removed all the unnecessary items in this Toyota-Tarago campervan. T0 put it another way, we have only left the stuff you need! Therefore it has less clutter and is easier to use and keep clean!  Therefore by spending time on the design, we have significantly improved the kitchen's usability in this Toyota automatic camper for sale.
Kitchen campervan with 35L Fridge included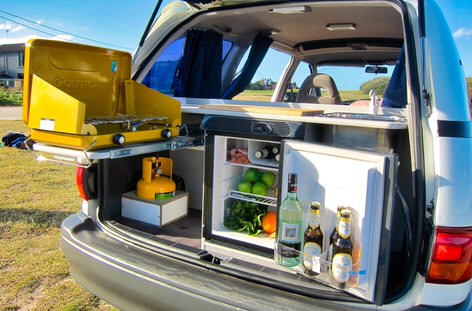 The full-sized fridge inside this automatic camper for sale is another great addition.  We did not want to throw in an icebox in the back of the campervan and try to pass it off as a realistic option to keep food and drinks cold here in Australia!  We wanted to make sure we fitted a decent-sized fridge was important to us.  What's more, it's one of the key features our customers who have bought these vans always love!
Therefore this Toyota automatic campervan has everything you need in the campervan kitchen without overcomplicating things.  The fridge is powered by a special second battery just to keep the fridge cool when you stop overnight. To summarize, this automatic camper for sale has everything you need in a small campervan.  Easy to park, great kitchen, automatic transmission and furthermore 12 months warranty included in the price.  Give Shaun a call today on 0421101021 to arrange a test drive today.
Toyota campervans – cheap parts, easy to repair

One of the great things about buying a Toyota automatic camper for sale is the reliability factor.  Therefore if you are looking for quality, durability, cheap replacement parts and cheap servicing, Toyota hits the mark!  When anybody mentions Toyota here in Australia, you are talking about a very well-respected brand and very popular in the campervan market. This is especially why we choose Toyota for our small campervans for hire.  Here is a link to review of Toyota Tarago in Australia for you.
Similar used campervans are now available!
Our range of used campervans is always being updated, and check out some of the other great used campervans we have in stock right now at our depot in Sydney:
Contact Travelwheels
We are here to help you decide if buying a used automatic camper for sale is right for you and your family. You can contact us or email us at [email protected].  Otherwise, you can call us on 0421101021 to arrange a test drive or ask us a question.    Remember we have other automatic campervans available for sale.