Automatic camper for sale at our Sydney depot – ex-hire bargains!
Automatic camper for sale in Sydney – all ex-hire bargains!
Travelwheels campervan hire in Sydney have just released some more campervans for sale at our depot.  Therefore you can buy direct from the supplier and save money! Here is a good example of a small automatic camper for sale with 12 months warranty.  We have just bought some newer campervans for hire.  Therefore we are selling off these campervans at ex-hire bargain price!  Remember we have a range of auto campervans for sale, so why not call us on 0421101021 to see what we have left for sale in Sydney.
Day time configuration for this campervan
As a result of a great design you get two comfy benches and a table in the rear of the camper. The great thing about these small automatic campers for sale is just how practical they are.  Drives like a car, but it's still a campervan!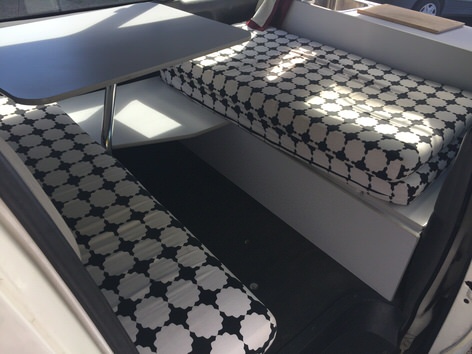 Night time configuration of this campervan
Together with a clever design you can quickly change the camper into a mini hotel on wheels!  Couple this with privacy curtains on all windows makes it an ideal mini used automatic camper for sale. Here is a drawing of just how practical and comfy this campervan is!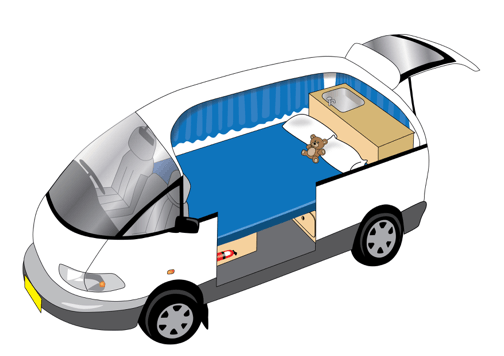 The view from the kitchen area
The kitchen has been especially designed to be clean, easy to use and practical.  Here you can see there is plenty of worktop space to cook a nice meal or entertain in the camper.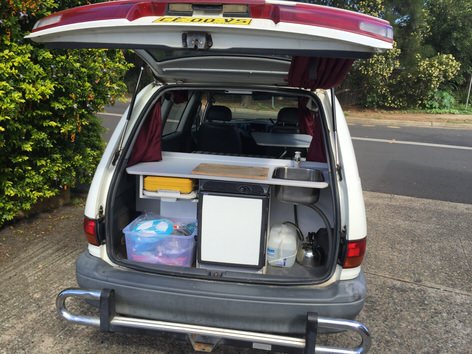 35L Fridge included
The full sized fridge inside this automatic camper for sale is a great addition.  Therefore with the practical design, this small automatic campervan packs a chilly punch! Here inside the kitchen you have a two way 35L Battery/mains powered fridge to keep those beers cold!  To summarize, it has everything you need in a small campervan.  Easy to park, great kitchen, automatic transmission and furthermore 12 months warranty included in the price.
Toyota campervans – cheap parts, easy to repair
One of the great things about buying a Toyota automatic camper for sale is the reliability factor.  Therefore if you are looking  for quality, durability, cheap replacement parts and cheap servicing, Toyota hits the mark!  When anybody mention's Toyota here in Australia, then you are talking about a very well respected brand and very popular in the campervan market. This is especially why we choose Toyota for our small campervans for hire.  Here is a link to review of Toyota Tarago in Australia for you.
Contact Travelwheels
We are here to help you make the right decision about buying a used automatic campervan for sale.  If you are looking for an automatic camper for sale, then email us at [email protected].  Otherwise you can call us on 0421101021 to arrange a test drive or ask us a question.    Remember we have other automatic campervans available for sale.  Here at travelwheels we get new stock in all the time.
If you are in Sydney for example, you are more than welcome to pop by our depot in Sydney.  Here at our depot you can test drive any used campervan and as a result make sure you are happy before you buy.  Our address is located close to Sydney domestic airport, so we are easy to find us and go for a test drive.  Here is our address 11-15 Clevedon Street, Botany, 2019, Sydney, and you are more than welcome to pop by.
Ask us your questions about campervans
As a result of us buying new models for campervan hire in Australia fleet, we are always adding new stock for sale.  If you can't find what you are looking for, then why not call us immediately on 0421101021 for more information. Alternately you can ask us a question below.  Our team have over twenty years experience in buying, selling and building campervans.  Fire away and ask us your questions about buying a second hand campervan in Sydney.