Ex-rental Toyota campervan for sale in Sydney Automatic 2 Person Camper Model
Ex-rental Toyota campervan for sale at Sydney depot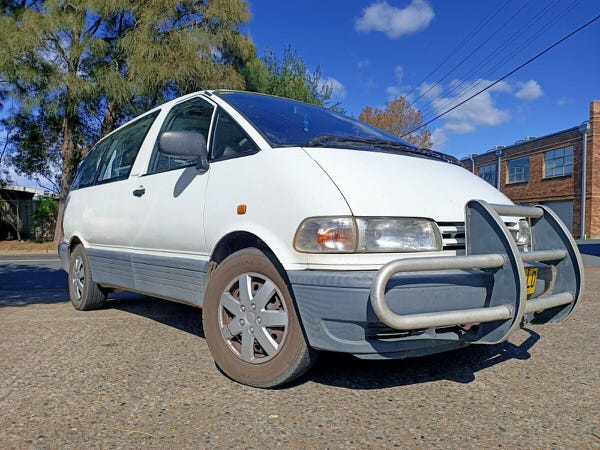 Travelwheels has this great Automatic Ex-rental Toyota campervan for sale here at our Sydney depot.  The great thing about this compact Toyota campervan is that it drives like a car, but sleeps like a campervan in the double bed inside! You can call our team on 0421101021 for a test drive or more info on our used campers for sale.  Alternatively, you can email our team at [email protected]
Day time view of the used camper
This automatic Toyota campervan for sale is great fun to drive!  It feels like you are driving a car and not a big bulky campervan!  This particular compact campervan is easy to park up in the city and feels great on the open roads exploring Australia. If you are looking for a multi-use campervan this, automatic Toyota campervan is the ticket!  You can easily drive it to work every day and still feels like a normal car.  Then on the weekends you can go away and explore all those amazing places that are a couple of hours away from Sydney.
Let's talk about the campervan part of this fantastic ex-rental Toyota campervan for sale.  Firstly, in the daytime view, it comes with two benches and a removable table.  This space gives you a place to relax, chill out or have a lovely meal in the lounge area.  This model is the best value and most practical multi-use Toyota campervan we sell here in Sydney.
Actual photo of the camper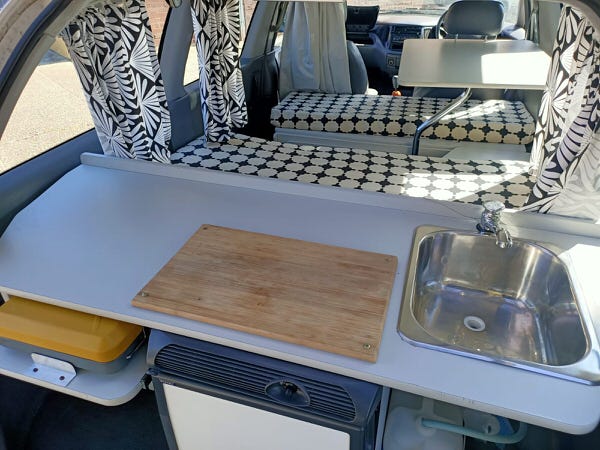 Under the two comfortable benches, there are handy hidden storage areas to hide away your valuables when down at the beach.  If you want to go for a swim and need somewhere to hid that expensive phone, under the benches is a good place.  For some customers, we have added extra bolt-on security features like a laptop or camera safe.  We can attach this to the frame of the vehicle and gives you peace of mind for a "digital nomad".  If you are the kind of person who travels with a lot of expensive equipment, this hidden storage facility is very useful.
Note: If you are looking to buy a larger Toyota Hiace Campervan we sell these as well. We also sell a range of family-friendly Automatic Toyota Campervans for sale you can test drive at our depot.
Nighttime view of the used camper
This ex-rental campervan has an easy to make double bed inside the back of the camper! Therefore when you park up at night by the beach, you can easily (and quickly) make the bed in less than two minutes!  All you have to do is remove the tabletop and post and move the cushions and bingo you have a double bed!
The view of the campervan kitchen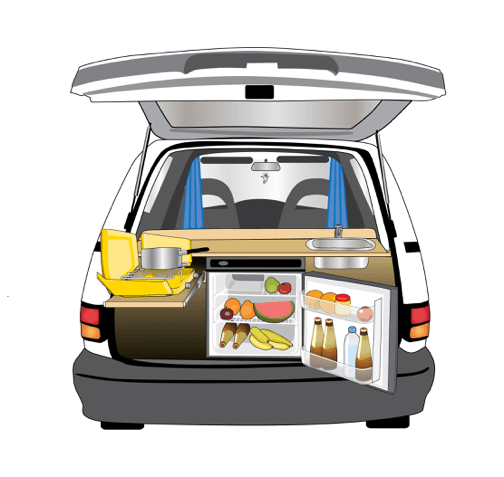 The great thing about these Toyota campervans is the kitchen at the rear of the campervan.  Having the kitchen at the back makes it easy to cook in the hot Australian weather.  Just imagine parking up by the beach under some shade cooking a lovely meal with a cold beer in your hand!
The kitchen has a pull out two burner gas cooker with a standard 2kg gas bottle.  This means it's way cheaper than those mini cookers with gas canisters that some of our competitors give you!  The gas bottle is a standard size and easily swappable at gas stations or campsites anywhere in Australia.    When you factor in all the facilities of the kitchen with a mini sink, worktop space and fridge makes it the perfect compact campervan!
35L Fridge and two-way battery system and not a tiny icebox!
This ex-rental Toyota campervan for sale comes with a proper 35 L fridge and two-way battery system.  This point is super important and when you are looking to buy a used campervan, you need to find out if the vehicle has a second auxiliary battery to power the fridge.  Another key point to check is the size of the fridge.
We have installed a professionally made purpose-built fridge for campervans.  This campervan does not have a normal house fridge cobbled together with an inverter!  Just to buy the fridge will cost you well over $700 brand new, so this is a quality unit!  Therefore it is important to clarify if the campervan for sale comes with a decent size fridge made for campervans and a two-way battery system to power it!  No one wants to keep filling up an esky with ice and then have your food floating in warm water at the end of the day!
Actual photo of the kitchen in this van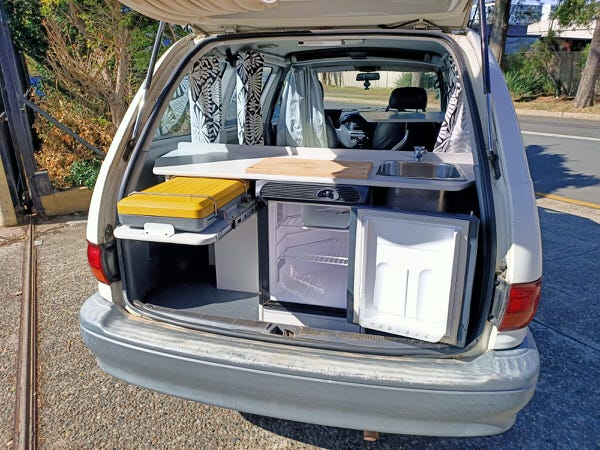 This photo is the actual kitchen inside this ex-rental Toyota campervan for sale.  You can clearly see it has a proper campervan two-way fridge included. A lot of used campervans for sale on the market only have an icebox or esky! With travelwheels, you get a proper 35L fridge and furthermore we have added a second battery as well to power it!
Having that second battery is vital to keeping the fridge cool when you are exploring Australia.  When you are driving during the daytime, this campervan will top up both batteries. This two-way battery system allows the fridge to remain cool when you are driving during the day. For more info or to ask any questions about this ex-rental Toyota campervan for sale call Shaun on 0421101021 today.
Specifications for this Toyota Automatic Campervan
This ex-rental Toyota campervan for sale is the most popular campervan we sell to couples on a budget.  If you are looking for value for money and an automatic campervan that is a Toyota, then this particular model is the one to go for.  Our customer reviews for this campervan often mention how it still drives like a car and not a big boxy motorhome!  Easy to drive, easy to park and feels comfortable on the back lanes and on the freeway.
If you need a multi-use small campervan that is automatic, then we strongly suggest testing driving this model.  Call Shaun on 0421101021 to arrange a test drive today.  Here are the specification of this campervan for sale:
Make: Toyota Tarago
Model: Ex-rental Toyota campervan for sale
Stock no.#1684
Registration: CW33LO
Built: 1994
Manual transmission
Recent interior upgraded
Two-way battery system to power the fridge
We also sell larger 3 person campervans as well
Travelwheels sell automatic campervans for either two or five people
Contact Travelwheels for a test drive
If you want any more information about buying a used campervan in Australia, then why not call us on 0421101021.  For example, you can email us questions at  [email protected]. You are welcome to pop by our depot to test drive this used camper.  Our address is 11-15 Clevedon Street, Botany, 2019, Sydney.
Similar used campervans we have for sale
Travelwheels campervan sales Sydney stocks a good selection of used campervans you can test drive.  This is another great reason for buying from us is the ability to test drive a good range of used Toyota campervans at our depot in Sydney.  Right now due to the travel restrictions in Australia, we have had unprecedented demand for local people buying Toyota Campervans here in Sydney.  As a result of this extra demand and the quality of our used campervans, they are selling out fast!  Therefore if this one is sold, by the time you read this page, we have other options for you.  Here are some more Toyota campers for you to test drive:
Ask us a question about buying a used campervan in Sydney
Are you thinking about buying an ex-rental Toyota campervan for sale and have a question?  Send us a message or contact us below to ask our friendly team a question about our used campers for sale.  We are here to help and always welcome questions – lets catch up soon in the back of one of our campervans