Ex-rental Toyota campervan for sale in Sydney Automatic – Ref:1684
Ex-rental Toyota campervan for sale at Sydney depot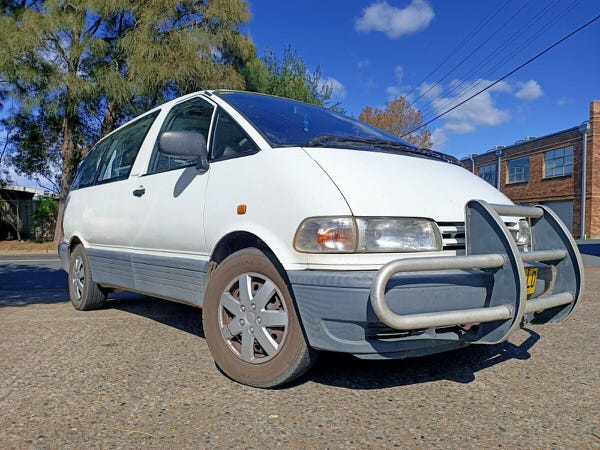 Travelwheels has this great Ex-rental Toyota campervan for sale here at our Sydney depot.  You can call our team on 0421101021 for a test drive or more info on our used campers for sale.  Alternatively, you can email our team at [email protected]
Day time view of the used camper
This Toyota campervan for sale is especially great fun to drive!  It feels like you are driving a car and not a mini-campervan!  It comes with two benches and a removable table, so super comfy!
Under the two benches, for example, are storage areas to hide your valuables when down at the beach.  We can, therefore, bolt-on extra security features like a laptop or camera safe.  This gives you peace of mind for a "digital nomad" or someone with a lot of expensive equipment on holiday.
Actual photo of the camper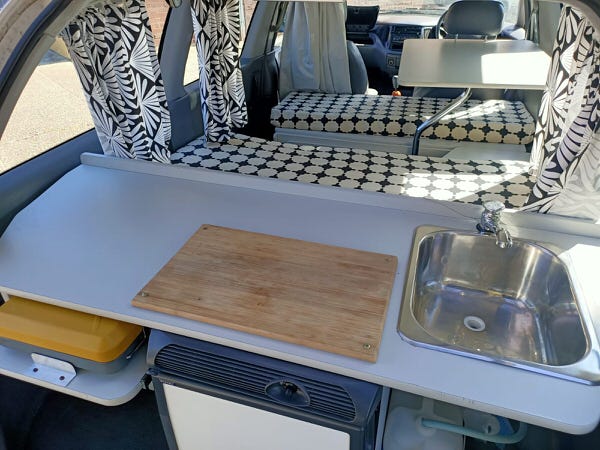 Nighttime view of the used camper
This ex-rental campervan has an easy to make the double bed! Therefore when you park up at night by the beach, you can make the bed in less than two minutes!  For example, all you have to do is remove the tabletop and post.  Then in this case position the table in the space between the two benches.  It is easy to make a super comfy bed!
Kitchen view Ex-rental Toyota campervan for sale
The great thing about this Toyota campervan is the mini kitchen in the back of the camper!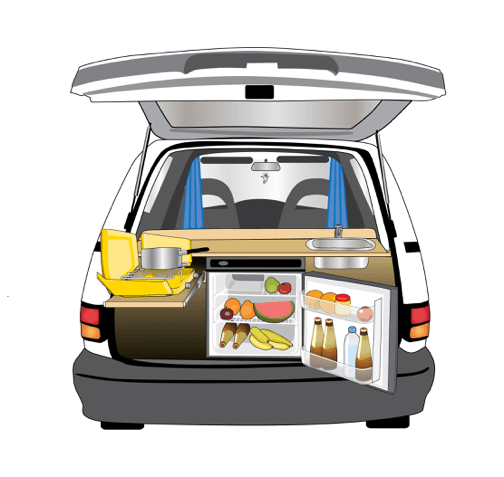 It comes with a pull out two burner gas cooker with 2kg gas bottle.  This means it's way cheaper than those mini cookers with gas canisters that some of our competitors give you!  For instance, this model has either a 35L or 55L two-way fridge in the back of the camper.  Together with a mini sink, and workspace; it's a great campervan!  It has plenty of room to prepare food or have a wash at night before bed.
Actual photo of the kitchen in this van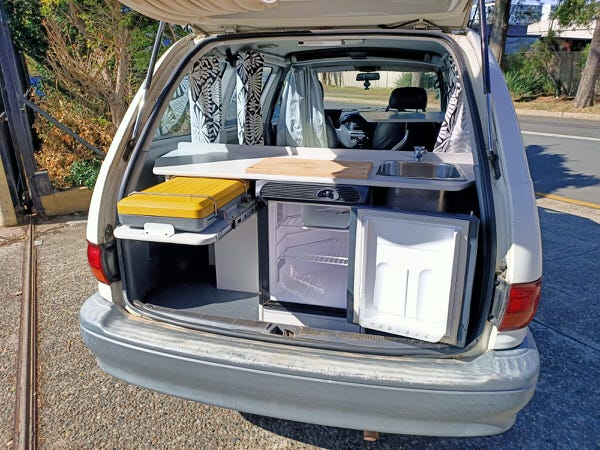 Details of Ex-rental Toyota campervan for sale
Toyota Tarago
Stock no.#1684
Registration: CW33LO
Built: 1994
Manual transmission
Recent interior upgraded
Two-way battery system to power the fridge
We also sell larger 3 person campervans as well
Travelwheels sell automatic campervans for either two or five people
Contact Travelwheels for a test drive
If you want any more information about buying a used campervan in Australia, then why not call us on 0421101021.  For example, you can email us questions at  [email protected] You are welcome to pop by our depot to test drive this used camper.  Our address is 11-15 Clevedon Street, Botany, 2019, Sydney.
Join our used campervans for sale mailing list
Can't find a used camper on our site?  Check out our sister site for used campers for sale as well.  Enter your email below (we promise not to spam you!).  We send out updates with new stock before it hits our website!  Just enter your details below