Cheapest Petrol Prices in Australia Guide for Campervans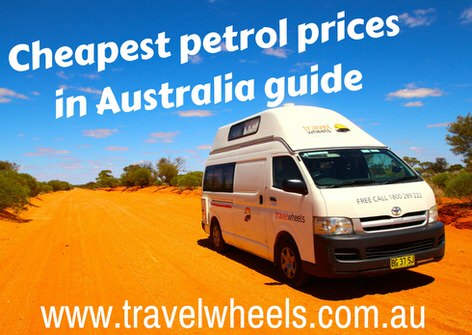 Fuel prices are always changing here in Australia! The cost can go up or down depending on the day of the week!
In this guide, we give you tips, hints and hacks on finding cheap petrol prices in Australia! For example, buying at the right moment of the week can save you $15 to fill the tank!
How much does fuel or petrol costs in Australia?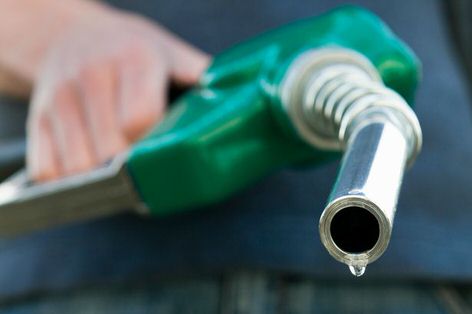 Before you can even start to think about low petrol prices in Australia, you the motorist will need to know the basics. "How much does petrol or fuel cost in Australia?". 
We get loads of people contacting us to ask this question. Especially from travellers thinking of hiring a campervan in Australia.
Acting smart and searching for low-cost fuel makes a big difference in the total cost of your trip. 
The staff at Travelwheels campervan hire Sydney branch suggest checking out these useful websites. They will give you the current price of fuel or petrol in Australia.
Use google search to ask question "Cheapest fuel in Australia!"
Type "cheapest fuel in Australia" into google. It will give you the latest prices for unleaded fuel in Australia in an instant!
Most travellers do not do this! It will give you a good idea of the underlying price per litre of fuel.
Then contact your campervan hire company and ask them about fuel consumption data. With this in hand, you can roughly work out how much a campervan hire holiday will cost in unleaded fuel.
Our favourite fuel price app for travellers
Motormouth Petrol Price Checker website or app for Australia
Our staff's favourite app to check fuel prices in Australia is Motormouth! You can also view the info on the Motormouth website if you don't want to download the app. 
You can save a lot of money by using this app on your road trip. It is a brilliant app or website for "cheap petrol near me!" searches.
The app gives you the latest data for prices on unleaded, e10, LPG and diesel fuels. All you have to do is enter your current postcode or closest city/town. The GPS coordinates will find you the low petrol prices near you! 
RACV (Royal Automobile Club of Victoria) has this useful page about petrol prices in Australia.  
Their website also has excellent driving in Australia tips for travellers and motorists.

Supermarket fuel vouchers – a great way to save money!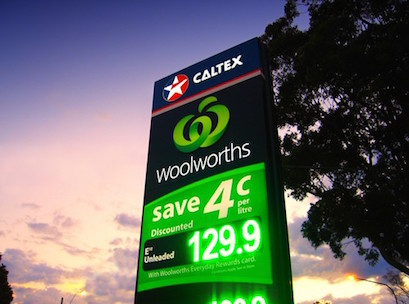 Everyone needs to buy food and drinks! Why not take advantage of this! Coles and Woolworths are the two biggest supermarket chains in Australia.
They also own a majority of the petrol stations here. They are often located in every town, so handy to save money! They offer discounts on fuel when you buy goods from their shops.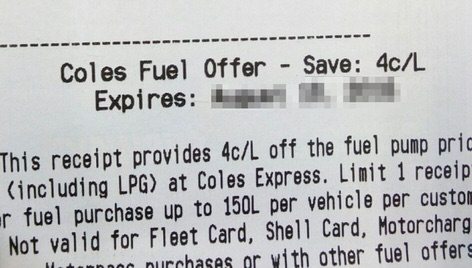 You usually have to spend over $30, which is not difficult in Australia (it's a costly country!). Then you get a discount coupon to spend on your fuel. The average saving is approximately anywhere from 0.04 to 0.12 cents per litre.
Best day of the week to buy petrol in Australia?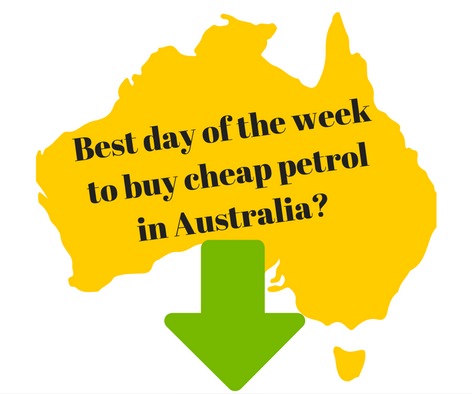 They talk about fuel prices in Australia as much as the British talk about the weather! As a result of all this research, I now keep a closer eye on my fuel tank! I only fill up on the days classed as the lowest petrol prices!
Best day of the week to buy cheap petrol in Australia?
You can save or lose as much as $15 when you fill your tank! By choosing the worst day, you are throwing money away! Picking the best day means extra $15 in your pocket! 
It is crazy to suggest that by choosing the best day of the week to fill your tank can save you this much money! 
Have a read of this article from the savers-guide website. It states, What is the cheapest day for petrol in Australia. 
If you don't want to read it, then we have a very brief summary here! "Do not buy fuel at the weekends or bank/national holidays!" Here is a brief outline of the findings of another study on low petrol prices in Australia.
Cheapest day to buy petrol in Sydney?
Do not buy petrol in Sydney at the weekends, Thursday or Friday! The guys in the Sydney branch are always filling up on either a Monday or Tuesday! These are the best days of the week to buy petrol in Sydney.
Best day to buy petrol in Melbourne.
If searching for low petrol prices in Melbourne, then buy fuel on Monday or Wednesday. Altogether avoid the weekends or Fridays! These are the most expensive days to buy petrol in Melbourne!
The best day for petrol in Cairns
Tuesday and Wednesday are the best days to buy fuel in Cairns. We checked this against
ACCC research
.
In the cairns area, we found this app petrolspy helpful in finding cheaper prices.
Brisbane – which day is best to buy petrol?
Brisbane follows a similar pattern to Melbourne. Monday, Tuesday and Wednesday are the besy days to buy petrol in Brisbane.
Source: https://www.accc.gov.au/consumers/petrol-diesel-lpg/petrol-price-cycles
Lowest prices to buy petrol in Perth
If you are in the Perth area, then the best day is different. If renting one of our Perth campervans for hire, then you will find this information useful. Monday is now classed as the "cheap" day to buy petrol in Perth. Source – cheap petrol in Perth
Most expensive time to buy petrol in Australia!
Now we all know what is the best day of the week to buy petrol in Australia. When is the worst day to buy gas in Australia? Here is our quick guide to the most expensive days to buy fuel in Australia!
Avoid long weekends and holidays!
Australian fuel companies love holidays and long weekends (Bank holidays)! The petrol suppliers will immediately inflate fuel prices compared to mid-week non-holiday time!
Together with this extra demand for fuel, you likewise could be spending as much as $0.20 to $0.25 cents more per litre!
Avoid Friday or weekends!
In Australia, fuel prices start to go up the closer it gets to the weekend! Do not buy fuel on the weekend and also on Friday as well! 
Australia is an expensive country! Thus by knowing these simple travel hacks can save you money on petrol prices "down under"!
How much money can you save by buying cheap petrol?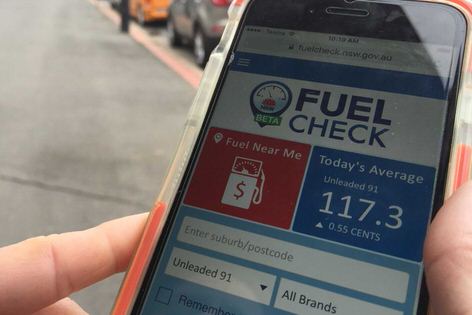 If all you do is not buy petrol on the weekends, you can save a lot of money! You will be able to shave about 0.05 to 0.15 cents off per litre of fuel in Australia! 
Think about the money you could be saving on long trips!  Imagine driving your campervan along one the world's longest roads. Highway one is approximately 14,500kms or 9000 miles long here in Australia!
Buying cheap fuel means saving on average of $15 per tank!
When you stop and think of all these little tips, they can start to help you lower the cost of petrol! 
The fuel tanks on Travelwheels campervans for hire are approximately 60 litres. Thus you could be saving roughly $15 per tank of fuel!
All these hacks might not sound like much, but it all helps with saving money! Our most popular campervan hire holiday road trip in Australia is Sydney to Cairns. This journey is over 2600kms without making many detours! 
You will be spending a lot of money on fuel. Therefore anything you can do to get lower fuel prices in Australia is going to help.
Australia's best campervan hire road trips
Travelwheels campervans staff love sharing hints and travel hacks about Australia. You can be saving a fortune by finding the lowest petrol prices locally by using apps and some common sense.
Here are some of the popular trips you might want to consider when thinking of renting a campervan in Australia.
Questions about cheap petrol prices?
If any of you are planning a campervan hire holiday in Australia and have a question, then send us an
email
.
Our friendly team know all the tricks, tips and travel hacks to get you a good deal on campervan hire in Australia!
Lowest prices on Campervan Hire in Australia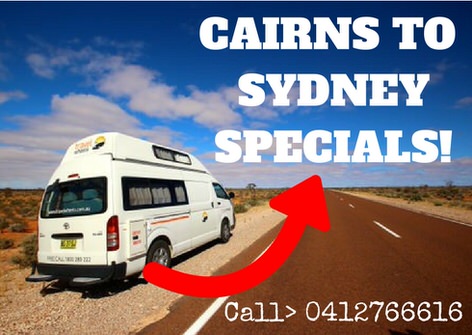 Now you have saved money on fuel prices, time to get discount on campervan hire! Our team are experts at finding low-cost camper hire across Australia.
Book direct gets you amazing deals on campervan hire! Enter your dates below to see our low prices!