Melbourne to Sydney Road Trip Best things to do with camper!
Some of the very best campervan holidays in Australia all start in and around Melbourne! The staff at Travelwheels Campervan Hire have especially compiled a list of customer reviews and feedback from fellow travellers who have all done these routes previously. The most popular choice for example is our Melbourne to Sydney road trip.  This is therefore a fantastic way to explore the top spots of Victoria and New South Wales together in one holiday! If you love mountains, beaches, incredible Australian wildlife, amazing national parks and more then you are in for a treat. Below are our customer and staff recommendations, tips and tricks to have a fantastic Melbourne to Sydney road trip! It is a long list of the best "must do" attractions and cool things to do on campervan hire road trip from Melbourne to Sydney!
Melbourne to Sydney road trip Coast Vs inland?
When planning a campervan hire Melbourne to Sydney road trip you need to consider which way you want to go? The most direct way, for example, is to go straight along the main road that connects Melbourne and Sydney, which is the Hume Highway. Therefore on google maps it says it will take about 10-12 hours of constant driving, but that is no fun! The road is all inland and really boring to be honest!
Customer reviews and feedback all recommend Melbourne to Sydney via coastline
Travelwheels campervan hire staff and customer reviews do not recommend doing this route, way too boring! The feedback from our customers and their reviews all states the same thing! The coastal route is the best way to do a Melbourne to Sydney road trip! There are simply so many incredible sights and amazing things to do and see! Most of them are for free which makes it truly to one of the holidays of a lifetime! Below is our detailed road trip planner with loads of cools things to do and plenty of great places to stay! Have fun and enjoy one of the very best campervan hire roadtrips in Australia!
Guide to discounted Melbourne campervan hire road trips
If you are looking for good value for money one way campervan hire from Melbourne to Sydney, then you are in luck!  Here is our guide to when is the cheapest time to hire a campervan in Australia.  You will especially find this helpful when starting to plan your Melbourne to Sydney road trip.  Remember the Travelwheels team will price match all campervan hire competitor for Melbourne to Sydney road trips.
Check out Travelwheels Campervan Hire Australia Specials Here
Background reading to help plan your Melbourne to Sydney road trip
Here is some background information to help you plan your Melbourne to Sydney road trip.  For example, in our travel blog you can find lots of free road trip planners for campervan hire holidays in both Victoria and New South Wales.  Here are some customer reviews/guides to some of the most popular trips from Melbourne that we offer.  First one is our guide to Phillip Island.  The second one is to the amazing Wilsons Promontory and lastly in the complete opposite direction is our guide to Great Ocean Road.
Right it is time to begin your exciting Melbourne to Sydney road trip!  However our first recommendation is to send you the wrong way in the opposite direction of Sydney and head to Adelaide!   We are not trying to lose you, but direct you to one of the very best campervan road trips in Australia!
Great Ocean Road (stop 1)
Instead of heading towards Sydney, we want to send you the wrong direction towards Adelaide!  The Great Ocean Road has been voted Australia most favourite campervan hire road trip!   The Great Ocean Road offers marvelous, unique coastal views and an incredible drive making for a wicked campervan road trip!  There is so much to see and do on the Great Ocean Road!  As an example how about visiting areal gold mining community from 1850?  Together with some of biggest waves in Australia, check out the Rip Curl Pro Surfing Competition! If for example you are a nature lover, then we especially recommend exploring the hidden gems of the Otway National Park.  Many of our customer reviews and feedback stated this is a fantastic place to watch koalas in their natural habitat!
If for example you love tropical rainforests and waterfalls then check out Mait's Rest with the Triplet waterfalls nearby!  For the most part probably the most famous thing on the Great Ocean Road are the 12 Apostles!  You can find out more on cool stuff to do with our free guide to Great Ocean Road trip planner.  It for example lists all the top things to do nearby the Great Ocean Road. If you have enough time you might even want to visit the Grampians National Park!  This is truly a hidden gem and together with beautiful mountains, amazing wildlife and hiking trails you will love it!
Melbourne to Sydney road trip visit Mornington Peninsula (stop2)
The next stop we recommend on your Melbourne to Sydney road trip is the beautiful Mornington Peninsula.  Therefore after visiting some of Australia's most thrilling coastal cliffs it is time to head east on your Melbourne to Sydney road trip. The Mornington Peninsula for example is surrounded by kilometers of pristine surf beaches.  It has wonderful hiking trails and superb bushwalks along the coastline all for free! Make sure you visit Mornington Beach which is widely regarded as the most popular beach near Melbourne. The colourful "bathing boxes" are the perfect place to post your silly photos on the Travelwheels facebook and Instagram pages!
Here are some more cool places to check out such as Arthurs Seat State Park. It offers for example spectacular views above the skyline of Melbourne! If the weather is clear you might even look as far as Mount Macedon and You Yangs near Geelong.
The staff here at Travelwheels Melbourne Campervan Hire especially recommend checking out the Mornington Peninsula.  If for example you want to explore an enchanted maze, swimming with dolphins and even sea horses this is the place for you!  Here is a link to our free guide for the Melbourne to Phillip Island road trip via Mornington Peninsula.  You will find it really useful to read and is packed with great tips from customer reviews from previous Melbourne to Sydney road trips.
Phillip Island (stop 3)
Phillip Island is a must do destination on your Melbourne to Sydney road trip!  After Monington Peninsula, Phillip Island is the next stop the staff at Travelwheels Melbourne Campervan hire depot recommends doing!  Phillip Island is world famous for the mini fairy penguins!  Everyday you can witness a truly magically moment where literally hundreds of the smallest penguins in the world return from the sea. Your heart will therefore melt as you watch in awe of these lovely cute little penguins waddling out of the sea up to the beach!
Phillip Island has many more things to do and see!  Why not visit Panny's Amazing World of Chocolate! Here you can find the world's biggest chocolate waterfall! 400kg (yes 400kgs!) of delicious chocolate flow like water every 3 minutes right before your eyes! YUMM!
Before you head jump back to your Melbourne to Sydney road trip, how about the famous Wildlife Cruises leaving from Cowes? Grab your binoculars and watch Australia's cutest fur seal colony! You can see them relaxing on the western tip of Phillip Island, at Nobbies Park. Furthermore come 'face-to-face' with koalas a the Koala Conservation Center! How about discover the ways of the olden days at Churchill Island Heritage Farm?  For more tips on things to do at Phillip Island, read our free Melbourne to Phillip Island route planner.
Melbourne to Sydney road trip visit Walhalla (stop 4)
Time to hit the road on your Melbourne to Sydney road trip and search for some gold!  The next destination is driving north away from the coastline to check out some fabulous hidden gems. Follow the signs for the M1 highway and head towards Walhalla.  For history geeks, check out the town of Moe.  It is a part of the Gippsland's Heritage Park, which is an open air pioneer's museum. You can relive the 1850s for example here and walk the streets of Old Gippstown!
The drive to Walhalla on your Melbourne to Sydney road trip is a lot of fun! For example, you will especially love the scenery following the curvy roads as you go up into the mountains! Walhalla is an old gold mining town! At one point, it used to be one of the richest places in Australia in the late 1880s! Therefore after the gold rush died down, the people quickly disappeared and in this case it became a ghost town!
Furthermore most of the 4800 residents left, and for example nowadays there are only 20 people living in Walhalla!  However it has retained the charm of its golden era.  It is definitely worth stopping on your Melbourne to Sydney road trip as there are still plenty of things to see and do in the small town. Why not for example go underground and explore the Long Tunnel Extended Gold Mine? Alternatively you can check out the beautiful landscape in an old traditional train on the 2 ft 6 in narrow gauge tourist track called the Walhalla Goldfields Railway.
Mount Baw Baw National Park (stop 5)
Baw Baw National Park is spectacular all year round and just a short drive from Walhalla. During summer time it is a great place for hiking, and exploring outdoor life! Again this is a lovely stop on your Melbourne to Sydney road trip.  For example, you will get to see some hypnotic views across West Gippsland and all for free!  Simply park up your campervan and hike along the 2,5 km long Mt Baw Baw Summit Walk. The track starts and finishes at the Mt Baw Baw Alpine Resort. Another great walk is the Mushroom Rocks Walk which begins at the Mount Erica car park. Follow the signs and you will get to a maze of giant granite tors rising from the forest! Here is a list of some more of the great hiking trails in the area.
Mounting biking in Australia – visit 7 Peak's ride!
If hiking is not your thing, don't run away as there is some fantastic mountain biking in the area! If you are up for a challenge for example, then check out Victoria's 7 Peaks Ride which is the ultimate Australian alpine ascent challenge! It has the steepest road cycle climb in the Southern Hemisphere and furthermore is the second steepest in the world of cycling racing! If this sounds like your thing, you will be rewarded with amazing views over Mornington Peninsula and the Gippslands.
Skiing in Australia at Mount Baw Baw
During winter time Mount Baw Baw is the perfect place for anybody wanting to try skiing in Australia. For example, over the last few years Mt Baw Baw has good customer reviews for snowboarding!  It has now become a major snowboarding destination in Australia!  All you have to do is drive to Mt Baw Baw Alpine Resort and get your gear for some nice downhill and cross-country skiing as well! There are more that 10 kilometers of well marked trails to accommodate all different levels of ability. You can especially have a lot of fun at the two dedicated toboggan parks here!  How about going on a husky dog sled tours for cruising across the back country?
Melbourne to Sydney road trip visit amazing Wilsons Promontory (stop 6)
Visiting Wilsons Promontory is one of Travelwheels staff favourite top things to do in Victoria!  It is such a wonderful place and here is our customer and staff guide to Wilsons Promontory written by our customer who have visited the Prom! If you are up for an intoxicating adventure drive your Campervan Hire Melbourne to "The Prom", as locals call it. Our staff and customers recommend planning in a couple of days to enjoy the sheer beauty of this inexplicable national park. Go side by side on a hike with kangaroos, emus and wombats and be amazed by beautiful outlooks like Tidal River Outlook or the Mount Oberon Summit.
There are two great campsites that are easily accessible with your Campervan Hire Melbourne. One of them, Tidal River Camping, even features the oldest outdoor cinema of Australia. Wilsons Prom offers dozen of exhilarating hiking trails. Lilly Pilly Gully Circuit, Squeaky Beach Track and Millers Landing Nature Walk are just to name a few of the most popular hikes. The Prom Wildlife Walk is another great walk to meet Australia's wildlife in their natural habitat. Don't miss the Drift Track! This 3km walk will guide you to amazing sand dunes where you feel like in the middle of the desert! For more information, tips and hints on what things to do check out our free tour guide for Wilsons Promontory.
Agnes Falls Scenic Reserve (stop 7)
The next stop on your Melbourne to Sydney road trip is Agnes Falls which is the deepest single span fall in Victoria!  From here for example you can watch Agnes river fall into a 59m deep gorge, and create this spectacular waterfall!  Furthermore there are some lovely picnic areas close by for spot of lunch. From here you can listen to the wonderful calls of the Laughing Kookaburra, Currawong and Crimson Rosella!  Anges Falls is heaven for bird lovers who flock to Australia!
Gippsland Lakes (stop 8)
The Gippsland lakes are a favourite holiday destination for many locals. This is another spot we would recommend visiting on your Melbourne to Sydney road trip.  These coastal lagoons became separated from the Tasman Sea by the dunes of the famous Ninety Mile Beach. There is so much to see and do in this area which makes it really interesting for travellers. For example there are the Lakes National Park and the Gippsland Lakes Coastal Park close by to explore. Customer feedback and reviews stated it is especially worth checking out King, Victoria and Wellington Lakes.
In the distance there are a number of islands can be easily reached by ferry or water taxi. Eagle Point Bluff is a one of the highlights of Gippsland Lakes as it is the gateway to the Mitchell River silt jetties.  Located on the western shore of Lake King the famous silt jetties extend nearly 10 km into the lake! This is the place for a fantastic photo opportunity and don't forget to post them on Travelwheels facebook and Instagram pages!  This region offers a range of activities on the water or on dry land. From fishing and swimming to walking, whale and dolphin-spotting and relaxing in the sun – Gippsland Lakes covers it all! If you feel the need for more koala watching, take the ferry from Paynesville to Raymond Island. There is a 20 min Koala Trail that is ideal for animal lovers!
Melbourne to Sydney Road Trip – Drive The Great Alpine Way (stop 9)
A really great side trip or detour on your Melbourne to Sydney road trip is the Great Alpine Way!   We will be therefore leaving the coastline, but it is well worth exploring the Alpine mountains on your campervan hire holiday!  Note, you don't need to double back on the same road twice!  The staff at Travelwheels and our customer feedback and tips have suggested this alternative route.
Our customers recommend turning into Dargo High Plains Road first before heading to Metung. Please note that this route/road is normally closed during winter! The great thing about this route is that it will take you all the way up to Bright.  This is therefore an excellent spot to start your journey on the The Great Alpine Way.  Below is a list of some of the main attractions we especially think you will enjoy on your Melbourne to Sydney road trip holiday.
Bright to Metung
Time to jump back in your campervan as you leave Bright to head back towards the coast.  However before you do, a lot of customers recommended visiting Mount Buffalo National Park. This 31,000-hectare national park is especially suited to hiker who enjoy the outdoor lifestyle.  Mt Buffalo as a result of being molded by nature has some impressive sheer cliffs, imposing granite tors, and tumbling waterfalls!  The snow gums trees look errie, spectacular and especially grounded in nature.  It's wicked seeing this magnificent tress in the snowline!
Summer time at Lake Catani perfect for canoeing and camping
In addition to being a winter wonderland in the cold months, the summer in this case is a lot of fun as well! If you love getting out there and this is a special place to enjoy picnics, canoeing and camping at Lake Catani at summer time. A tip from one of our customer reviews on our Melbourne to Sydney road trip suggested this.  During the snow season for example the campsite is for free and no bookings are necessary.
Lastly check out the superb 360-degree views from the summit of the Horn. There is a delightful Gorge Heritage Walk that our customers recommend doing as well. Once you have taken in the majesty of Mt Buffalo it is time to begin a new adventure on your campervan hire road trip.  The next stop on our journey from Bright to Metung, and you guys are going to be in for a treat!  This is another firm favourite with our customers reviews of this holiday.  There are many great attractions to see and do, and lucky most of them for free!  Here are our top things to do on the 340km long scenic drive between Bright to Metung:
Danny's Lookout
Just before you reach Mt Hotham you will pass by Danny's Lookout which is worth exploring! First of all you can enjoy the 360-degree view which is 1705m above sea level!   For example you might even see as far as Falls Creek and Mount Feathertop, the second-highest mountain in the state.  From here you can see the road as it winds its way across the back of rugged mountain ranges.  This is the next direction we are taking towards Mt Hotham.
Mount Hotham – Victoria's highest alpine ski resort!
Mount Hotham is Victoria's highest alpine ski resort.  It has for example 245 hectares of mountain for beginners to experienced snowboarders to have fun! If you for instance like hot weather, then Mount Hotham has been a bushwalking destination for generations! There is a range of free guided tours at Mount Hotham.  Here is another hot tip from a customer review of the area.  They recommended checking out the list of the free gold, graves and Perilous journeys summer bushwalking program. A great way to see some of the top attractions in the area for free!
Dinner Plain
Dinner Plain is just 10km south of Mt Hotham Heights. Here is another good customer review for Dinner Plain's Snow Park. Some of our customer with kids reported that it has Australia's most affordable family lift pass! If you don't feel like skiing or it is the summer months, then we suggest the 9 km long Precipice Plain Walk.  This is a great example of a wicked hike which leads you out to a lovely natural lookout across the remote Dargo Valley.  For something completely different, how about  horseback riding or a husky sled dog tour!
Another important customer review mention the fact that Dinner Plain is now even home to Australia's highest brewery! They are crafting beer with water from the melting snow nearby!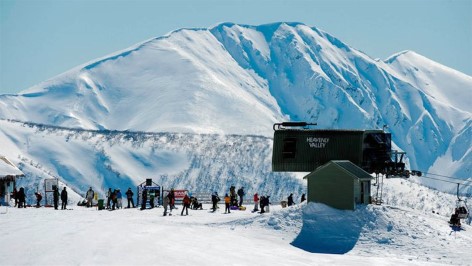 Mt Hotham and Dinner Plain Snow Skiing
Melbourne to Sydney road trip – stop at Omeo an old gold mining town
The next stop on our campervan road trip is Omeo. This is an old gold mining town with fantastic views over the Snowy Mountains! The name is derived from the Aboriginal word for 'mountains' or 'hills'.  Check out the old police precinct, and everything has been left exactly like it was when it was first built! It is now a museum and the caretaker can talk for days and might tell you some funny stories!
Omeo to Metung – Next Stop: Swift Creek
From here it is roughly a two hour drive ahead of you before you get to Metung. However, we recommend not rushing this part of the Great Alpine Road! It is especially interesting place for foodies. Swifts Creek for example is worth a stop for yummy fresh bread baked daily!  The bakery is at the heart of the small town!  It's nineteenth century wood-fired oven produces scrumptious fresh bread, pastries and cakes!!  They especially bake fresh everyday, so therefore get there early as these hot treats sell out quickly!
Ensay – Time for a break!
Ensay used to be the busiest woolshed in the East Gippsland district.!Nowadays it is most popular for its beautiful winery set in a picturesque panorama landscape. Check out the family-owned business nestled in Tambo River Valley whilst on your Melbourne to Sydney road trip.  Therefore we suggest parking up your camper and trying their free tastings of Shiraz, Cabernet Sauvignon, Chardonnay and Pinot Noir!
Berry Picking in Bruthen
Bruthen is rural village situated 24 kilometres north-east of Bairnsdale.  Park up your campervan at Ian & Jenny McConnell's Berry Farm. From here you can pick a punnet of raspberries, blackberries, boysenberries or red currents for $4 each! That is really cheap when you compare to the prices in supermarkets in Australia!  Lastly Bruthen is the final stop before you head back to the coast, and continue along your Melbourne to Sydney road trip.
Buchan Caves Reserve
Opps and we nearly forgot about Buchan Caves Reserve!  If you are up for this last adventure on the Great Alpine Road, then let's go for it! Lots to see and do here.  For example why not explore the two most popular underground caves in the area, the Fairy and Royal Cave?  Insides these caves are the remains of some extinct species!  How about for example a kangaroo the size of a horse or the long lost Tasmanian Wolf! Furthermore if you like your outdoor activities like hiking and swimming at Snowy River, there is plenty here for you to do!
Metung back on the coast road to Sydney
The next stop is Metung, a beautiful village on the East side of the Gippsland Lakes.  It is a wonderful place to chill and relax at the end of your alpine road trip! Enjoy the Metung Farmers Market held on the second Saturday of each month.  This is a good chance to stock up on some supplies for the rest of your Melbourne to Sydney road trip.  How about simply relaxing here with a glass of wine or beer at the beach watching the sunset!
We hope you liked this detour through the snow-capped mountain range of the Great Alpine Way.  However now it's time to jump back in your campervan to continue onwards with your  Melbourne to Sydney road trip. If you need more help, questions or a PDF of this travel planner give us a call!  Contact us on 0412766616 or send us an email at info@travelwheels.com.au.
Melbourne to Sydney road trip: Lakes Entrance (stop 10)
Lakes Entrance is a beautiful seaside resort and a great place to stop on your Melbourne to Sydney road trip. The popular Gippsland holiday spot is just at the edge of the famous 90 Mile Beach. Another fun way for example to explore this magnificent beach is by camel!  You can book a Beach Camel Ride and explore 90 Mile Beach with fantastic views of where Gippsland Lakes meets the Southern Ocean!
Learn to surf, fish, take a sea safari or chill on the beach!
Lakes Entrance is really popular with locals and Australian tourists here for the fishing!  Therefore you join the locals on one of their offshore tours to fish for your food tonight!  Next after catching your food, why not learn how to surf!  How about letting Skipper Pete take you on a sea safari to spot dolphins, seals and a variety of sea birds!  "Skipper Pete" is especially known as a local legend around these parts!  Pete is now a Marine Park Ranger, and helped setting up the Grampians and Pt. Nepean National Park.  He was furthermore part of the team that helped improving the Mornington Peninsula Ocean beaches. If therefore you need someone to tell you how special this place is, then surely "Skipper Pete" is the man!
Cape Conran Coastal Park – great for hiking (stop 11)
Time to hit the road on your Melbourne to Sydney road trip adventure and visit Cape Conran.  Next imagine exploring 11,700 hectares of coastal wilderness and 60 kilometers of isolated sandy beaches at Cape Conran Coastal Park! If for example you love walking, then check out the 25km walk from East Cape to Pearl Point. Imagine as in this case there are spectacular rock formations, rolling sand dunes and beaches all for yourself!  There are several other day walks which start from East Cape Beach, like the Cape Conran Nature Trail. The short and easy Estuary View Trail and the much longer 14km Dock Inlet to Yeerung River Walk are also great examples of free activities to do in the area.  This is a great way to experience the rich diversity of flora and fauna in the Cape Conran Coastal Park.
Customer review of Yeerung gorge – a hidden gem
Yeerung Gorge is a hidden gem located near Cape Coran. A customer recently reviewed the area and said it was one of the highlights of their Melbourne to Sydney road trip! Check out the deep dark rock pools of the babbling East Yeerung River which are fantastic! Cape Conran Coastal Park is a great spot for example to park up your campervan and stay overnight under the stars! You will find beachfront campsites as well as bush camp grounds close by.  This area is especially known as being surrounded by very active wildlife! Make sure you hide your food well, and don't leave any food hanging around!  The reason for this is as a result of Australia's giant lizards known as a Goanna do like a picnic!
Croajingolong National Park (stop 12)
One of the bigger national parks in Victoria is the relatively unspoiled Croajingolong National Park. Hence, it is home to rare and diverse flora and fauna for your to explore on your road trip. Therefore with more than 100 kilometers of natural coastline it offers beautiful lookouts, secluded beaches and many amazing hiking opportunities! The customer feedback and reviews of this area are great!  Travelwheels Campervans recommends spending a couple of days lazily exploring the national park.
There are a number of secluded campgrounds located throughout the park. This therefore makes it super easy to find some of the best beach and wilderness walks nearby. Check out Peachtree Creek Campground, Wingan Inlet Campground and Shipwreck Creek Campground.  All of these places have had good positive reviews from our customers.  This therefore is a great place to chill for a few days on your Melbourne to Sydney campervan hire road trip.
Customers reviews of Croajinglong National Park
Here are some more highlights from our customer reviews of this area.  It is especially worth checking out Point Hicks Lighthouse station, and the Wilderness Coast Walk. Furthermore we have had good feedback about the Shipwreck Creek Beach Walk. Another superb location to explore is the Thurra River Sand Dunes, and there is a great campsite you can stay.  From here you can start the 2 hour circuit behind campsite number 14! Signposts lead the way and you will be surprised by massive sand dunes that reach up to 30 meters above the Thurra River. Remember to take a body board with you! As you reach the summit you don't want to miss the fun sandboarding down the dunes! If you likes tobogganing at the Great Alpine Road you will love sandboarding!  Note, we especially recommend keeping your mouth shut whilst sandboarding!
Next Melbourne to Sydney road trip stop: Mallacoota (stop 13)
Mallacoota is surrounded by the Croajingolong National Park.  Once you are here you will find two large lakes which form the estuary of the Genoa and Wallagaraugh Rivers. As a result, the coastal town's remoteness has made it popular for visitors seeking a quiet seaside experience. Hence, if you are looking for a holiday surrounded by forests, secluded beaches and pristine waterways, Mallacoota is just right for you!
With approximately 320 km of shore line, most of which is pristine National Park, it offers a unique opportunity for canoeists and kayakers. It is especially famous for boat tours to watch dolphins and whales at Mallacoota. We have had some great customer feedback about the fishing in the area.  Mallacoota is especially popular for off and onshore fishing during sunrise and sundown.
Missing the Penguins at Phillip Island – check out Gabo Island!
For example if you didn't make it to Phillip Island, then you have a second opportunity to see these small penguins! From here, check out Gabo Island by boat and say hello to those cute little fellas! How about snorkeling between the popular and patrolled Betka Beach and Quarry Beach? While all lakes and inlets are beautiful places to explore Gipsy Point is a must see location when on a Melbourne to Sydney road trip.
This charming peninsula is a great spot to watch and enjoy a troop of kangaroos and the bewitching sunset in the background! Located mid-way between Melbourne and Sydney, you will find one of the largest holiday parks in Victoria. As a result of having over 650 camping places you can sure find a great spot for the night at Mallacoota Foreshore Holiday Park.
Eden – A paradise on your Melbourne to Sydney road trip (stop 14)
It is time to continue your Melbourne to Sydney road trip, and therefore cross the border and explore the Sapphire Coast of New South Wales! The first stop our customers recommend is Eden. Here you will find a beautiful whale watching town with it's own unique spirit. For the most part people flock here for the boat tours to watch the majestic southern right and humpback whales. Therefore, the best time to see the whales is during their annual migration time between September and November. The town for example celebrates the whale migration along with the town's history in November each year. Here at the festival you will find street parades, music, food and storytelling of the one that got away! Check out the Eden Whale Festival!
Another great spot to stop nearby Eden is Pambula. It is especially known for its award-winning fresh Oysters! Down here you can jump on board Captain Sponge's Magical Oyster Tour and go searching for oysters!  You get to see the beautiful Pambula lake and learn about how oysters are farmed!
Thatra Beach is great to watch Fur Seals and penguins (stop 15)
The next stop on your Melbourne to Sydney road trip that our customers recommend is Thatra Beach. It is a patrolled beach that is especially popular for surfing. However if surfing is not your bag, then check out the diving, snorkelling and fishing in the area. In the meantime why not make new friends with Fur Seals and Fairy Penguins!  They especially make the trip to see you from Montague Island as they know you are on a Melbourne to Sydney road trip! According to locals, Montague Island is known for huge colonies of seals and penguins! Here you will find more than 90 bird species to enjoy as well.
Tathra-Bermagui-Wallaga-Lake Drive (stop 16)
To get most out of your Melbourne to Sydney road trip follow the Tathra-Bermagui-Wallaga-Lake Drive instead of the highway. As a result, you will be able to see more remarkable seaside towns along the Sapphire Coast and can stop for a break next to one of the astonishing pristine beaches. For example, you can go for a swim in one of the awe-inspiring lagoons of the Mimosa Rocks National Park. Mogareeka, Cuttagee Beach, Michael Lerner Lookout and Camel Rock Surf Beach are just to name a few of the mesmerizing beaches and lookouts along the way. In addition, we recommend lunching at the small picnic area south of the Wallaga Lake bridge and virtually right in the middle of the lake.
Next up is the tiny town Tilba Tilba which is renown for its genuine gold rush character. It is a great place to visit to experience what Australian life was like in the 1890s. Another great thing about this town is the food! Make sure you get there hungry and particularly try some of the delicious cheeses.
Narooma – Camping with kangaroos (stop 17)
Head further north to get to Narooma which is a great place for another stopover! The warm waters of Narooma's Surf Beach are great for any kind of watersport. Make sure you check out the Mill Bay Boardwalk and the Glasshouse Rocks lookout. Furthermore you should spend some time driving your campervan hire Melbourne to the Australian Rock which has the shape of Australia cut into the rock wall. Charge up your camera for some genius pictures of ancient rock formations that you can post on our facebook page.
A further 30 minutes north of Narooma you can find Beachcomber Holiday Park. A lovely place to park up your campervan hire Melbourne because it is right on the beach surrounded by lush bush. Expect furry visitors hopping along your door because it is home to many kangaroos and wallabies.
TIP: Montague Island – Only 11 kilometers by sea from Narooma
Another great gem of the Sapphire Coast is Montague Island, as mentioned before. Take a cruise to the island for the chance to spot seals, sea eagles, little penguins, mutton birds, hawks, terns, silver gulls, harriers and peregrine falcons. You can even jump in the water and swim with hundreds of these friendly creatures.
Melbourne to Sydney Road Trip Free campervan hire guides
We hope you especially found our Melbourne to Sydney road trip planner useful.  The team for example at Travelwheels Campervan Hire in Melbourne love talking to customers about exploring this amazing coastline.  To improve our guides we often ask for customer reviews on facebook with more tips and cool places to visit.  Many of our customers often post cool pics from their campervan road trips on our Instagram page!  Therefore if you especially have some fun pictures, please can you post them on our Travelwheels facebook customer reviews page here.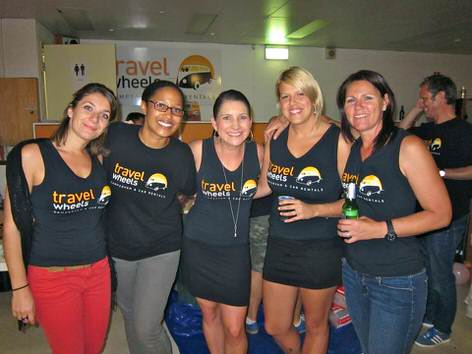 Extend your Melbourne to Sydney road trip via Phillip Island
Do you for example have plenty of time to travel between Melbourne to Sydney on your campervan hire holiday?  If this is the case, then we especially recommend extending your adventure with some extra mini road trips!  Below are links to some of the other campervan hire road trips with good customer feedback you can do!
Phillip Island Penguin Parade road trip from Melbourne!
The staff at the Travelwheels Melbourne Campervan Hire branch love Phillip Island!  Everyone loves visiting the mini penguins at Phillip Island! It is only 140km south east of Melbourne and hence you can get here within a two hour drive.    Here is our detailed free road trip planner for Phillip Island which lists loads of cool stuff to do.  In this case, our guide will help you see those fairy penguins, dolphins and Koalas as well!
Great Ocean Road Adventure!
The Great Ocean Road is another essential campervan hire road trip in Australia!  One thing to note is that it is in the opposite direction to Sydney from Melbourne!  However, many of our customers reviews for the Great Ocean Road are extremely positive!  It has been by the way rated as the most beautiful campervan road trip in Australia! It stretches over 243km along the Victorian coastline starting from Torquay.  Here is our detailed guide to planning a Great Ocean Road campervan hire road trip and it lists loads of cool stuff to see and do!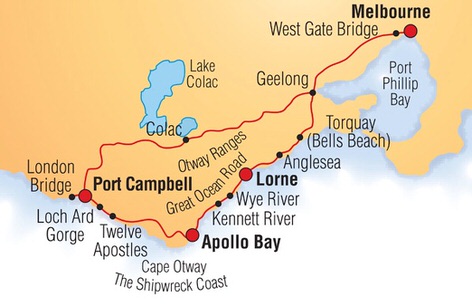 Quick quote for all vehicles click here
Long term Melbourne to Sydney campervan hire discounts available!
We get a lot of customer feedback and reviews from our lovely customers on the road.  As a result we write these travel guides to share hints and tips about campervan hire in Australia.  One of the biggest mistakes for example our customers tell us after their trip was rushing the Melbourne to Sydney road trip!
Our staff and customer reviews of this campervan road trip all recommend spending three weeks on this route.  This therefore gives you enough time to do a couple of side trips and enjoy a fantastic holiday!  In this case instead of rushing, you get to enjoy the route more!  Therefore if you are thinking about hiring a campervan for three weeks, we can offer extra savings!  Here is a link to our guide to long term campervan hire discount deals.  Remember, the longer you can book, the cheaper the daily rate is!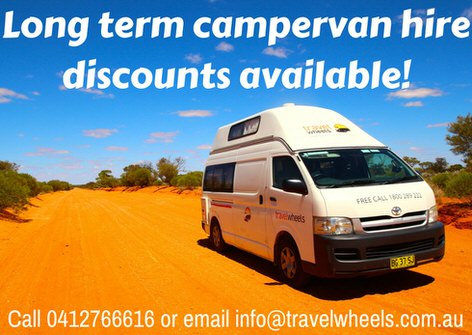 Quick quote for all vehicles click here
Cheap Melbourne to Sydney Campervan Hire Deals!
If you are searching for cheap Melbourne to Sydney road trip by campervan, then you are in luck!  Travelwheels Melbourne branch is offering red hot deals back to Sydney! Therefore, simply enter your dates below and get our lowest price on campervan hire out of Melbourne!  Lastly if you can find a cheaper deal for Melbourne to Sydney campervan hire, we especially want to know!  Check out our campervan hire price match guarantee.  We have the lowest price for camper hire out of Melbourne back to Sydney!  Enter your dates or call us on 0412766616 and let us smash our competitors quote for you!
Check out Travelwheels Campervan Hire Australia Specials Here