Travelwheels Facebook Reviews – customer reviews and views
Travelwheels Facebook Reviews page from real customers!  Here on this page are actual customers who have hired a campervan from travelwheels in Australia.
If you need any more information about any of our campervans for hire in Australia call or text 0412766616.  By the way you can email us at [email protected]  Together with our friendly team we will be happy to help answer any questions you might have.  Here is another quick way to save money on campervan hire in Australia.  It's definitely worth reading our free camping on East Coast of Australia guide which will save you lots of money.
Travelwheels Facebook Reviews – happy we chose travelwheels campervans
Clara-Marie Scheliga had a great time in our 2 person automatic campervan.  Together with her friend they had a blast on their road trip from Brisbane to Sydney!  "Life was easy, so happy we chose Travelwheels campervans.  Van was clean, stuff was lovely and very helpful
Quick quote for all vehicles click here
Travelwheels Facebook Reviews – Sydney Campervan Hire long weekend
Claire Amie and her friends hired a Travelwheels 3 Person campervan for a long weekend.  Many of our competitors for example do not hire just for long weekends.  However at travelwheels campervan hire sydney we also hire plenty of campervans to local people and not just travellers!  For the most part normally we sell out for long weekend campervan hire in Sydney in advance.  However sometime we have a last minute cancellation, so therefore worth calling us on 0412766616.
Quick quote for all vehicles click here
Here is what Claire said about her campervan hire road trip with Travelwheels! 
"3 seater camper was so great to hire for a long weekend. Excellent service, outgoing and understanding when plans change! Exactly what you need while traveling as things can change suddenly! Would recommend Travelwheels Campervan Hire to anyone and will be using again in the future for sure."
Travelwheels Review on Facebook
Sam François left us a comment about his trip and how happy he was travelling with a van from Travelwheels Campervans. He especially recommends hiring a van to save some money and enjoy the freedom of travelling wherever you want and at your own pace. His comment speaks for itself:
"First experience with a rental van. Glad we had this experience with TravelWheels. The van was very clean and super effective. The fridge, microwave and gas burner worked all fine and the vehicle was pretty fuel efficient. All in all we had an amazing experience with this van and this rental company. I would definitely recommend to hire a Van while you're traveling in Australia this gives you the freedom of see most of the country (from the beach to deep in the land) at a very low price and with a maximum of confort. Thumbs up even more for the friendliness of the rental agents for their amazing support and help at anytime of our travel from before to after our trip!"
Quick quote for all vehicles click here
We are glad he had such an amazing time and hope to see him again on his next adventure!
Travelwheels Facebook Reviews – Brisbane to Sydney Campervan Hire
Rem's Canap had a fantastic time with travelwheels campervan hire!  He started his Trip in Brisbane and finished up here at our Sydney campervan hire branch.   Here is Rem's review of his campervan road trip.  "I had an excellent time travelling down the East Coast from Brisbane to Sydney. My camper van was perfect and I really enjoyed my trip. I could take my time and see all the things that I wanted to see ! The staff were friendly and accommodating and they answer to any questions you could have ! I recommend Travelwheels if you need to rent a car or a camper van and have a nice trip. Cheers !". 
Quick quote for all vehicles click here
Cairns to Sydney campervan review from Amy Owen
Amy had a monumental trip from Cairns to Sydney with Travelwheels Campervan Hire!  Together with her friends they had the best experience travelling down the East Coast of Australia by campervan.  For example you have have the freedom to explore all these amazing places!  Furthermore you are not tied down or restricted to public transport timetables.   In the meanwhile, here is what Amy had to say about us. "We had the van for 18 nights – the bed was really comfortable and easy to assemble. We will 100% use travelwheels again. Therefore a big thank you for a great experience and excellent service from the Sydney office!!!!"
Quick quote for all vehicles click here
Travelwheels Facebook Reviews – Melbourne to Sydney Automatic  Campervan
Georgia likewise grabbed a last minute campervan hire special from Travelwheels. Some times we need to move vehicle from our Melbourne branch to our Sydney depot.  This is as a result of us being so busy at our Sydney Campervan Hire depot. Therefore Georgia and her friends were able to get a last minute campervan rental deal with us.  Georgia wrote, "Would 110% recommend these guys for your travel needs, can't knock them at all!"  Here is a link to our Melbourne to Sydney road trip planner and thanks for your review Georgia.  Furthermore if you are down in the Melbourrne area, then check out Wilsons Promontory which is an amazing place to visit!  For instance it is one of our staff's  favourite places to visit!
Travelwheels Facebook Reviews – loved the camper!
Blaire and her friends had a great time with travelwheels exploring Australia by campervan!  Here is the review they left for travelwheels, "Lovely Siobhan, what to say about our wonderful camper?! She was a peach, she took us to the beach… there were four of us, we slept well, the tent helped when we were all sick of each other on the road! Thanks to Shaun, Jake, and the beautiful man who helped us when we (I) lost the keys! – Cheers, Toby, Sara, Robyn, and Blaire
Quick quote for all vehicles click here
Travelwheels facebook Reviews comfy beds and everything included
Flor Abelleria is from Argentine visiting Australia.  Flor and her friend returned from an amazing one month campervan hire road trip.  They for example had a fab time exploring the East Coast of Australia with Travelwheels Campervan Hire!
Quick quote for all vehicles click here
"Doing a
roadtrip by campervan
is absolutely the best option" to explore the East Coast of Australia!  There is simply so much to see and do on the East Coast of Australia.  Here is a link to the
Sydney to Cairns Trip Planner
travelwheels gave us to help you plan our road trip.  Flor even said she,
"miss the campervan, and were sad to drop it off at the end of their holiday!"
We are really happy you enjoyed your trip and Australia is a wonderful place to explore by campervan.
Travelwheels facebook Reviews for East Coast of Australia
Aaron Chappel from Essex in England left us this great review!  By the way, these boy had an especially "epic road trip" along the East Coast of Australia!
Quick quote for all vehicles click here
These guys had a blast with our campervan!  They rented the most popular campervan for hire in Australia! Aaron said, "Enough space to sleep 3 and the kitchen was great for cooking.  If we come back we will definitely be using these guys again!".  Here is link to the
3 person campervan
they rented from Cairns to Sydney.
Travelwheels facebook Reviews comfy beds and everything included
Anthony Brown had a great campervan hire holiday with Travelwheels!  Super easy to sleep in it, and Travelwheels for example provided everything for cooking and cleaning inside the van!
Quick quote for all vehicles click here
Anthony stated as a result of hiring with travelwheels, he really enjoyed the whole experience of driving around Australia!  They absolutely loved it and would especially do it again in a heartbeat with Travelwheels Campervans.
Travelwheels Facebook Review – check out our facebook page!
If you are here looking for more information about travelwheels, then why not check out our travelwheels facebook page?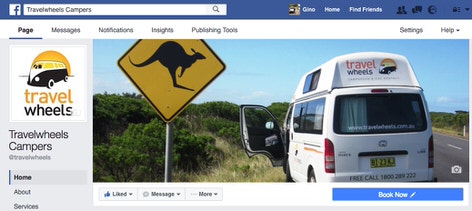 You will find hints and tips about hiring a campervan in Australia.  For example we have lots of cool videos from customers with tips of places to visit in Australia.  On our facebook page you will find customers photos from loads of campervan road trips such as Cairns to Sydney.   This is one of our most popular campervan hire roadtrips, and we have so great photos! In addition to this we post pictures and info about travel tips and places to visit. Here below are a number of useful links our previous customers found helpful.
Travelwheels Customer reviews and useful links
Travelwheels Campervan Hire Australia Facebook Deals!
Now you have read some of the travelwheels facebook reviews, it is time to ask for a quote!  For example if you are planning a trip we want to hear from you! The first thing we suggest is to put your "rough travel dates" in to our campervan hire price checker below. This will therefore give you an idea of the prices for campervan hire in Australia.
Are you flexible with your travel dates – reversing your trip can be cheaper!
Remember sometimes it can work out cheaper to reverse your trip!  Here is a classic example for you.  Sydney to Cairns is the most popular campervan hire road trip in Australia.  However, if you are flexible and can change the start/finish location, you can save a lot of money!  For example in this case you fly one way from Sydney to Cairns.  Then chill or check out the reef for three days.  Then you jump in your campervan and drive back to Sydney.  Our team at Sydney campervan hire branch are experts at low cost one way campervan hire.  Give our friendly team a call on 0412766616 for our last minute campervan hire deals.
let, get back on track and in the meantime focus on cheap campervan deals!  Simply enter your travel dates below for our lowest prices on Campervan Hire in Australia!  Remember you can always call our team on 0412766616 for more details at anytime. Our online price checker will give you our lowest rates on camper hire in Australia.
Contact Travelwheels Campervans in Australia
If you want more information about our campervans for hire in Australia, then call or email us via our contact us form asap! We have staff who speak Deutsch and Français, so call 0412766616 or email [email protected] in these languages.