Toyota Tarago Campervans for sale Sydney – Automatic 2 Person – REF:DB94VW
Toyota Tarago Campervans for sale in Sydney + warranty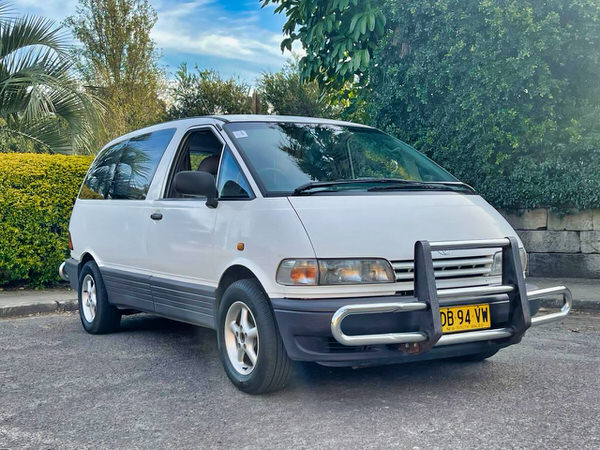 Travelwheels sells a range of used Toyota Tarago campervans for sale for all budgets.  The first thing to remember is just how practical this Toyota camper is!  To illustrate this point, they have a fitted double bed and a fully working kitchen inside!  For one thing, we get a lot of positive customer reviews about these Toyota campervans.  As can be seen, they are always in demand with buyers! Therefore call Shaun on 0421 101 021 for more details or to arrange a test drive today.
Toyota Tarago campervan + double bed + kitchen!
Travelwheels has specially designed this 2 person automatic Toyota campervan to have a mini kitchen inside the vehicle! A lot of similar used vehicles for sale only have a pull-out kitchen that you have to set up and cook on the floor level!  This Toyota campervan has a fridge, pull out fitted cooker and worktop space with sink!  According to our customer feedback, they love this simple, but functional kitchen.  This is why these Toyota Tarago campervans for sale are so popular with our customers.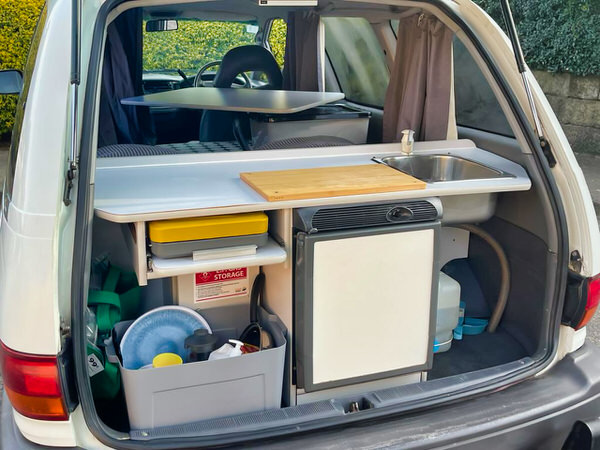 Toyota Tarago campervan for sale with double bed!
We hire and sell these 2 person campervans all over Australia for years. Therefore we know what works and how to build a comfy bed!  With great customer feedback over the years, we have produced a great range of used Toyota campervans that are for sale to the public right now.  Take for example this double bed, and we managed to get a 1.70m bed in such a small vehicle!  For one thing, it's nice and comfortable and there is plenty of additional storage under the bed to boot!
What is the size of the bed in 2 person campervan?
Here are the dimensions of the double bed in these Toyota Tarago campervans for sale = 1.70m x 1.35cm. If you are taller than 1.7m, then we have other Toyota campervans for you to choose from. Check out the following two other styles of Toyota campervans we sell with larger beds.
Daytime campervan configuration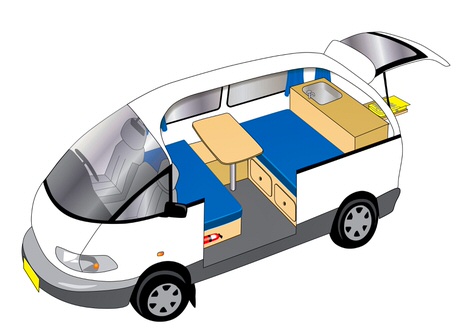 Here is the daytime configuration of this Toyota Tarago campervan for sale.  With the practical design of this 2 person Toyota campervan, you will love exploring Australia in this camper! It has everything you need in a compact space.  To put it another way, it sleeps like a campervan, but drives like a car! Take the case of the great fuel economy, no stupid graphics, and 12 months warranty, this is a great small campervan for sale!  We can also make adjustments to the design if you want.  For instance, some customers prefer to upgrade the stereo and speakers. Other modifications include under-seat secure safes for laptops and expensive electronics.
Toyota campervans include the following features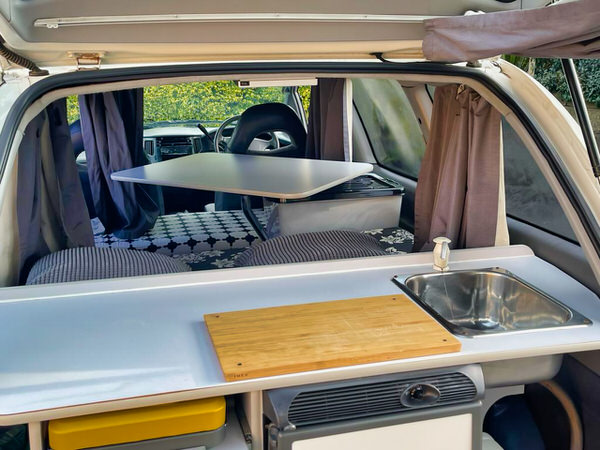 This automatic Toyota 2 person campervan is one of our best sellers.  They are extremely popular with people who want a weekend warrior style campervan!  This means they want to still drive the vehicle to and from work during the week.  Then at the weekends or holidays go for a road trip to explore Australia!  This compact and super popular Toyota campervan ticks all these boxes.  Easy to drive, easy to park and feels like driving a normal car, but at the same time is a campervan!
Here is a quick summary of the main selling points in these Toyota Tarago campervans for sale at our Sydney depot.  If you have more questions, you can email the team and we are happy to answer any questions at [email protected].  Another option is to call Shaun on 0421101021 and he can talk you through the specifications and answer any questions you have about buying a used Toyota campervan.
Double bed- sleeps 2 people (1.7m x 1.35 m)
35-litre fridge – dual battery operated
Practical and easy to use kitchen
Two-burner Gas cooker
Sink with a water tank
Two benches which convert to a double bed
Hidden storage under the bed to store valuables
Air conditioning
Power steering
Automatic transmission
Drives like a car, but you can sleep like a campervan!
Test drives are welcomed – call Shaun on 0421101021
No stickers or silly graphics – plain white campervans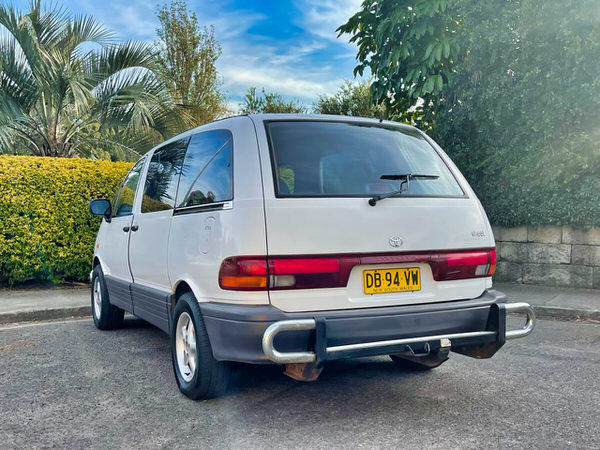 Another great thing about buying one of these Toyota Tarago Campervans for sale is the plain white colour. We have designed this Toyota campervan for the stealth mode style of campervaning.  With no loud graphics or flashy paintwork, it looks like a normal people carrier.  This makes it easier to park in city centres or when travelling around Australia.  You will look a lot less like a tourist and can blend in with the crowd.
Why buy a used Toyota campervan from Travelwheels?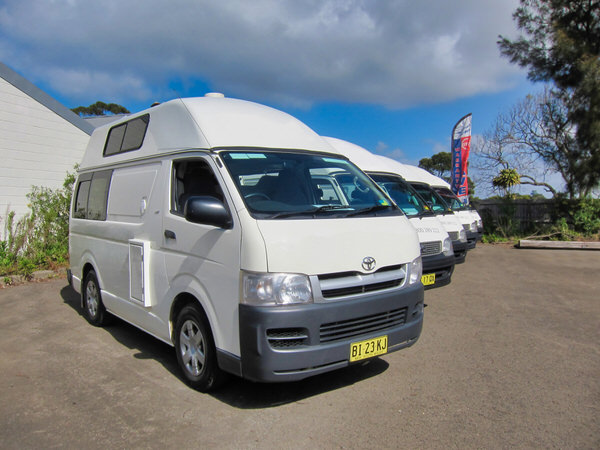 Travelwheels campervan sales and hire have been renting and selling campervans for the last twenty years. Our range of used Toyota campervans has been designed to be practical and easy to drive at the same time. The team is here to answer any question you might have about buying a used Toyota campervan from Travelwheels.
Fancy test driving a few campervans here in Sydney?  Call Shaun on 0421101021 to get behind the wheel of one of our ex-rental Toyota campervans for sale.  Here are some of the benefits of buying your campervan with the Travelwhels team:
Full mechanically serviced with Roadworthy Certificate (Pinkslip)
Comes with twelve-month Registration (REGO) & Insurance (Green Slip)
12 Months Warranty On Engine & Gearbox
24 hour, 7 days a week Australia wide Roadside Assistance (NRMA)
If you are looking for a three-person campervan, we sell these Toyota 3 Person campervans as well.
We also sell 5 person automatic campervans here in Sydney.
Similar used campers are now available!
If this particular campervan has sold out by the time you contact us, then do not worry!  Another great reason talking to Travelwheels is our range of good value for money used Toyota campervans at our depot in Sydney.  As a result of the high demand at the moment, campers do sell out fast!  Therefore if this one is sold, then we have a couple more Toyota campers below for you to test drive:
Contact travelwheels for campervan sales
If you have more questions, email us at [email protected].  Give us a call on 0421101021 as we regularly get new stock every week. Why not pop by for a chat at 11-15 Clevedon Street, Botany, 2019, Sydney. You will be able to test drive any of our range of used ex-rental Toyota Campervans for sale.  Now is the time to come on down and jump in and take one of these Toyota campers for a spin!
Du hast weitere Fragen zu diesem Toyota Tarago Van zum Verkauf?
Für weitere Informationen kannst du Vans zum Verkauf in Sydney gerne auch auf Deutsch kontaktieren!  Sende Travelwheels Sydney eine E-Mail auf Deutsch an [email protected].
Have a question about this camper?
Send us a message below and our team will get back you to.  Our team will answer any questions you have about buying a campervan here in Sydney.  Test drives are always welcomed.  We have many happy customers who have test driven and then bought a great used Toyota campervan from Travelwheels.