Toyota Hiace Campervans for Sale in NSW
Toyota Hiace Campervans for Sale in NSW Available Now
Travelwheels campervan hire is selling off a number of great value for money second-hand campervans in Sydney.  We are specialists in selling Toyota Hiace campervans for sale in NSW.  We have customers from all over Australia buying ex-rental Toyota campervans from us.  Give Shaun a call on 0421101021 for our latest lists of used campers.
Manual or Automatic Toyota Hiace campervans for sale in NSW
We have a selection of automatic or manual campervans for hire or sale in new south wales.  These Toyota Hiace campervans for sale in NSW are wildly popular with our customers!  Therefore once a year we start to sell off our ex-hire campervans to the public.  This is your opportunity to buy the best in class for your money.
We get plenty of people from out of state buying our ex-hire campervans for sale!  They especially travel down to see us as we have good quality vehicles for sale.  Automatic campervans are also available – call Shaun on 0421101021 to see what stock we have left for sale!
Toyota Hiace campervan main features:
Remember when you buy a used Toyota Hiace Campervan it comes with all the extra you need. Hence with every campervan, we sell you get a welcome pack.  We make sure for example that we included all the bedding and cutlery to get you started on your adventure. Travelwheels used campervan sales Sydney will help you with all the legal paperwork. For example, we can help register the vehicle and make your life as easy as possible.  Together with options for campervan insurance and finance, we can help you get on the road.
Toyota Hiace campervans for sale – all stickers removed!
The great thing about buying a used campervan from Travelwheels is our attention to detail.  For instance, we remove all the stickers and clean up the paintwork for you.  Therefore this means you get a very clean looking used campervan that is easy on the eye and the budget!  We do a full industrial deep clean, pre-inspection and for example, test drive the vehicle and components to make sure it is right before we sell it.  We want to make sure you consider us when thinking about used Toyota Hiace campervans for sale in NSW.
Very comfortable kitchen and lounge area
These used Toyota Hiace campervans have a fantastic kitchen and lounge area.  Here inside these campers, you will find a compact and useful kitchen.  For instance, this campervan has a microwave, sink, kitchen worktop and a 2 burner stove & grill.  It also has a 55l fridge by the way to keep these beers chilled!  These Hiace Campervans for sale has also been recently refurbished on the inside by Travelwheels Campervan Hire Australia.  Therefore as a result they are ready to go on a big trip around Australia!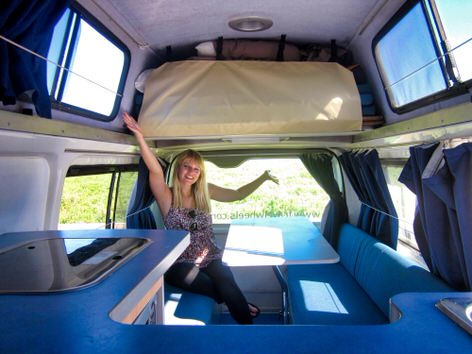 Super flexible kitchen and lounge area
These Toyota Hiace campervans for sale in NSW are the perfect campers for touring Australia.  These campers as a result of a great design are incredibly practical.  They are the most popular 2nd hand campervan in Australia for sale.  The great thing about buying one of our campervans is the care and attention given to making them look great for you.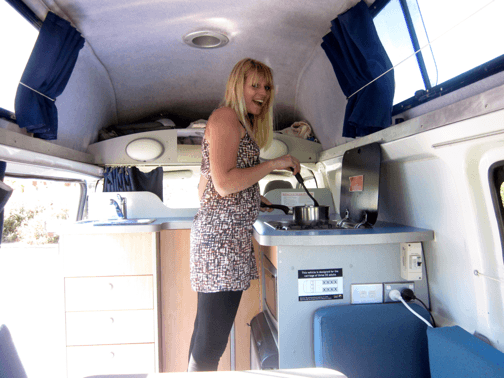 Visit Travelwheels to test drive any campervan
If you are in town why not pop down to our used campervan for sale depot in Sydney? Travelwheels campervans are located at 11-15 Clevedon Street, Botany, 2019, Sydney.  You can call travelwheels on 0421 101 021 or email us at = [email protected].
Do you have any questions about buying a used Toyota campervan?
If you have a question about buying a used Toyota campervan, then fill in the form below!  We would especially love to hear from you and our team are here to help.  We have over 20 years experience in selling campervans in NSW.  Ask as many questions below or remember you can call Shaun on 042101021 as well.