Mitsubishi Pajero for sale – Optional Roof Tent to make 4×4 Bushcamper!
Mitsubishi Pajero for sale – upgrade to add rooftop tent!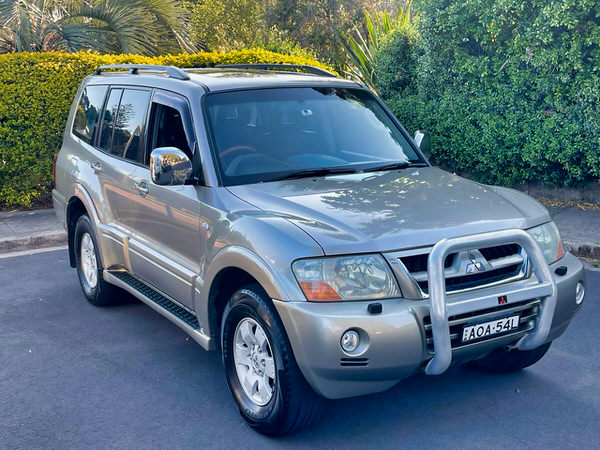 This great Mitsubishi Pajero for sale is now available at Travelwheels. It's a nice-looking 4×4, and the Pajero enjoys a huge following here in Australia!  Super popular with our customers looking for Toyota quality but don't want to pay Toyota prices!  If you want to explore Australia, we can add a good quality rooftop tent to give you accommodation and cheap wheels in one package!  Call Shaun on 0421101021 to arrange a test drive and learn about our roof tent options.
Buy this used Pajero with or without a roof tent!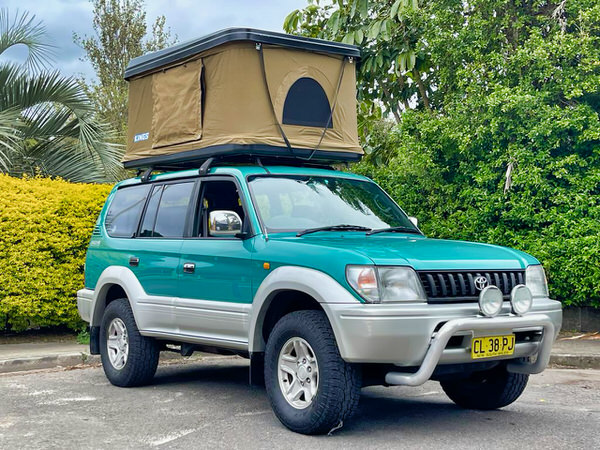 Here is a photo of a customer who recently bought a used Landcruiser from Travelwheels and got us to fit the foldout rooftop tent to their 4×4.  The great thing about buying this used Mitsubishi Pajero for sale is the option of turning it into a wicked 4×4 bush camper!
You can buy this fantastic Pajero with the Roof Top Tent included, and it will be ready to travel around Australia.  The additional cost to buy and fit the roof tent is $1190 to purchase the rooftop and $340 for the freight and fitting to the vehicle.  NOTE: Prices can go up for the roof tent and fitting, so it is always worth calling Shaun first at 0421101021 to find out more about our roof tent options.
Mitsubishi Pajero for Sale Vehicle details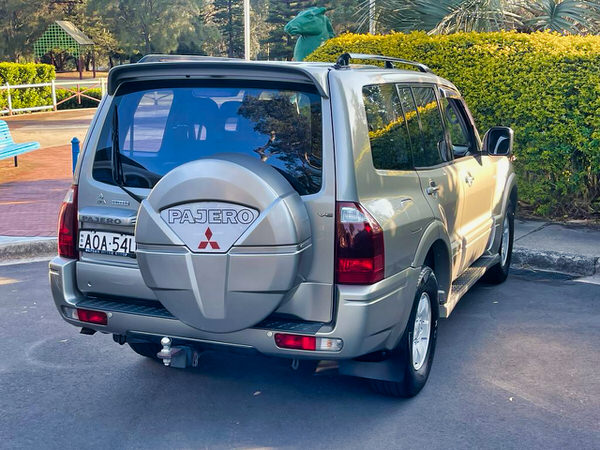 This Mitsubishi Pajero for sale is known for being comfortable and easy to drive 4×4.  These Mitsubishi's have a great reputation for being well-built 4×4 and super popular in the second-hand market here in Sydney.  The manufacturer is known for quality engineering and is great on and off-road with this lovely used 4×4. It is an excellent example of a used 4×4 at a very good price point.
Make Mitsubishi
Model Mitsubishi Pajero
Rego plate: AOA54L
The year 2003
Kilometres 175,036
Body 4D 4X4
Cold Air Conditioning
Transmission Automatic
Three months rego included
All new tyres and have running boards
Call Shaun at 0421101021 to test drive this used Mitsubishi Pajero for sale today
Used Mitsubishi Pajero for sale vehicle specifications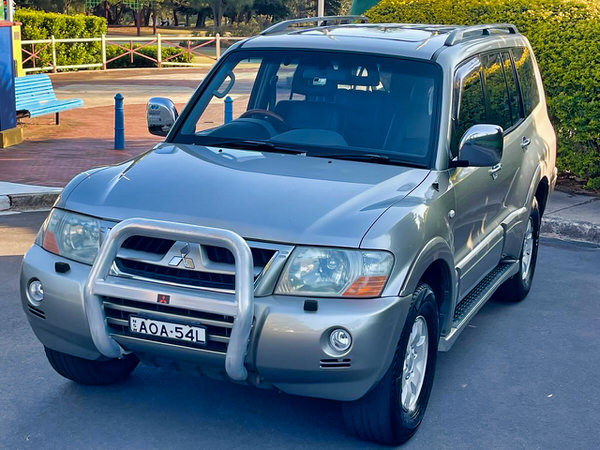 Here are the vehicle specifications for this used Mitsubishi Pajero for sale at our Botany used campervan sales depot in Sydney.  These great 4x4s are known as the ideal spacious vehicle for a family.   It has loads of room for two secure child seats and plenty of space for all your shopping in the back. If you want value for money, consider test-driving this Mitsubishi Pajero for sale today.  Let's have a look at all the features inside this used Pajero to see why it is such good value for money:
Dual Front Airbag Package
Anti-Lock Braking
Air Conditioning
Cruise Control
Central Locking Remote Control
Leather Trim
Electronic Brake Force Distribution
Fog Lights – Front
Engine Immobiliser
Electric Mirrors and windows
Power Steering
Electric Sunroof
Roof Racks
Seatbelts – Pre-Tensioners Front Seats
Sound System with 4 Speakers
It comes with six months of rego
Call Shaun on 0421101021 to test drive this used Mitsubishi Pajero for sale
The view from the driver's seat – comfortable driving position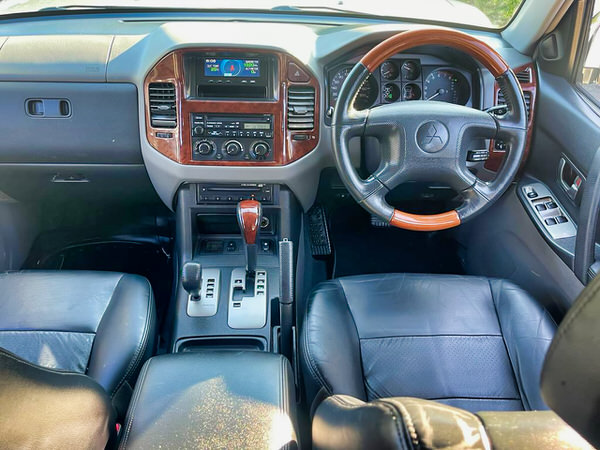 When you buy a used Mitsubishi Pajero for sale, you buy into quality Japanese engineering. It has a nice and comfortable driving position, and everything is right at your fingertips.  Sitting behind the steering wheel feels good, and you will be smiling at the savings you have made by not buying a Toyota. This vehicle is perfect if you want value for money but do not want to break into the bank to afford it!
Mitsubishi Pajero Customer reviews in Australia – highly rated 4×4
Regarding online customer reviews and the car industry reviews, they are both in agreement.  Without reservation, the Mitsubishi Pajero has always scored highly on reliability and customer satisfaction.   At this point, you might want to go online and read all the annual car and 4×4 surveys from happy customers who decided that a Mitsubishi Pajero for sale was the right option for them.  Why Pay Toyota Landcruiser prices when the Pajero is the best value budget used 4×4?   These Pajeros are the perfect balance of quality, price, reliability and good value for money motoring.
Cheap to run, very reliable 4×4
"Our Mitsubishi Pajero has been a fantastic buy! It has been one of the cheapest 4x4s I have ever owned to keep serviced and maintained.  The only thing we have done is take it in for its regular service and wash the vehicle.  It runs as good as the first day we bought it from Sydneycars two years ago.  Excellent value for money, and our family would buy one again!"
Great used 4×4 for a family
This Mitsubishi Pajero for sale is the perfect family car, stated one of our customers.  "Everyone loves the Pajero, and it's perfect to take the kids to school with all their gear!  It has a nice driving position and feels solid on the road and off!  My wife uses it for the school run during the week, but we all jump in and head for the bush on the weekend!  Easy to carry all our camping gear, and a fun 4×4 for family life and as a weekend getaway".
Long-term ownership review
Here is a long-term ownership customer review who owned the vehicle for four years. "We are very happy with our second-hand used Mitsubishi Pajero for sale. Firstly, we have owned this vehicle for years, and it has been a great 4×4!  The total cost of ownership has been excellent value for money over the four years. We do the regular servicing as suggested by Mitsubishi, and it keeps running like a dream. Great for off-road adventures on the weekends, and still able to use it as a family car during the week."
Driven over 140,000 kms and no dramas!
"We love our Pajero and have driven over 140,000 km in our used Pajero with no dramas.   I fill up once a week, enough to commute into Sydney and back in rush-hour traffic with no dramas!  Reliable, strong, and never let our family down.  If you are looking for a decent SUV, then the Pajero is the one to go for."
Similar used 4x4s to consider buying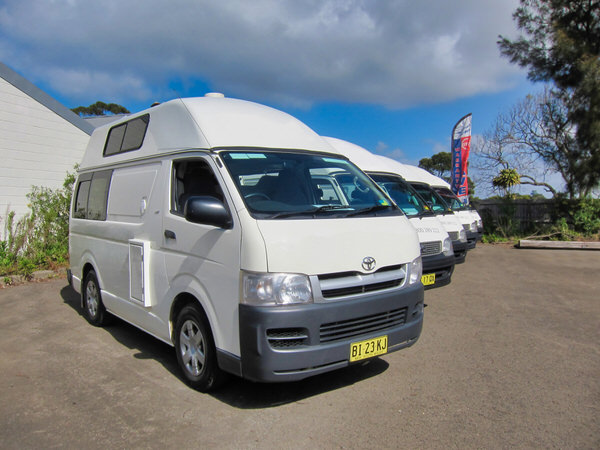 We have a limited number of other used 4×4 you might also want to consider.  We normally focus on used Toyota campervans for sale.  Remember, with Travelwheels, you are always welcome to try before buying at our Sydney depot.  Why not give Shaun a call at 0421101021 and come for a test drive today,  Here is a shortlist of some more campervans we have in stock ready for sale at our depot in Sydney:
Want to sell your old car for cash?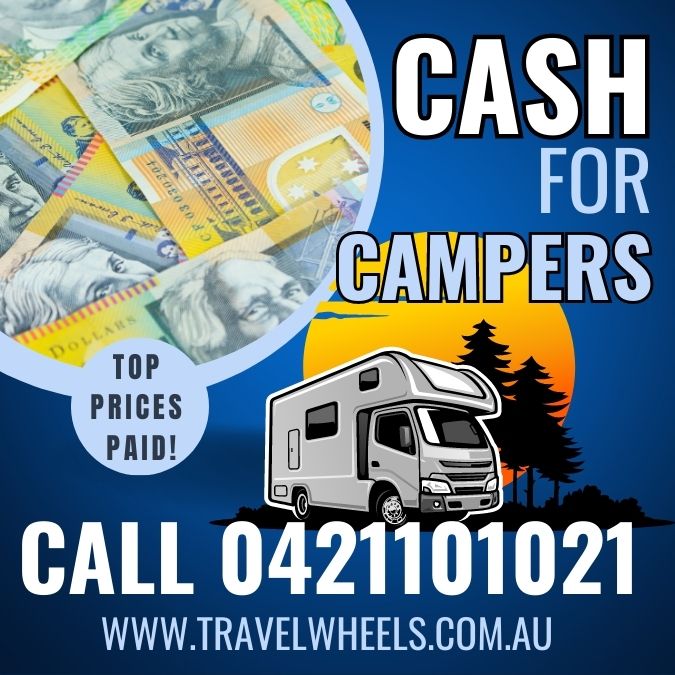 If you have an older used car for sale or any other type of vehicle and don't want the hassle of selling it yourself, Travelwheels can help you.  We buy all types of campers with or without rego in Sydney for cash.  We pick up your old camper from your home or workplace, or you can drive to our depot and sell it on the same day.  Give Shaun a call on 0421101021 to sell your camper for cash ASAP!
Contact Travelwheels to view and test drive any used car
Visit our used campervan and 4x4s for sale depot in Sydney.  Once you get here, you can test drive this used Mitsubishi Pajero for sale and many more great value used cars and campervans.  The address is 11 Clevedon Street, Botany, 2019, Sydney. Give us a call at 0421101021 to book a test drive. You can also email Travelwheels Campervans to ask about our newest arrivals.
Thinking of buying a used car – ask us a question
If you have any questions about buying this used Mitsubishi Pajero for sale, we are here to help.  Just enter your question below.  We can also arrange appointments to view used cars in the evenings and weekends!