Ex-Rental Campervans for Sale in Sydney – Travelwheels used campervans
Ex-rental Campervans for Sale in Sydney with Travelwheels
Travelwheels campervans here in Sydney have some more ex-rental campervans for sale with 12 months.  Every year for example we sell off a number of ex-rentals.  Therefore give Shaun a  call on 0421101021 for more details or to arrange a test drive.  Alternatively you can email us at [email protected]
These ex-rental campervans for sale are a fantastic way to explore Australia in Style!  These ex-rental campervans for sale have a Microwave, 55l fridge, sink, table, big double bed and a single bed in the roof. All the bedding and cutlery you need to get your adventure started will be provided and is included in the price!! All you need to bring is yourself, friends and some fun!
Ex-rental campervans for sale main features
Here are the stats for this ex-hire used campervan.  This by the way is Australia's most requested campervan on the second hand market!  In addition to it being so popular, it is a Toyota!  More and more people in Australia see Toyota campervans as the gold standard!  Therefore you can see why these are such good value for money. Here is a link to our page about hiring a campervan.  On this page there are more stats, photos and in particular a detailed description about this campervan.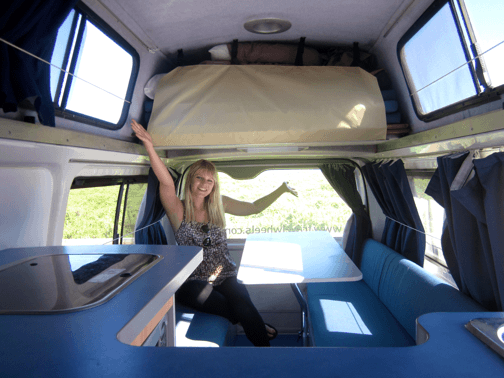 • Make: Toyota
• Model: Hiace Hitop
• Built: 2007
• Air Conditioning: Yes
• Power Steering: Yes
• Transmission: Manual
Note we also sell automatic campervans in addition to this model.
Why buy ex-rental campervans for sale from Travelwheels?
Therefore why should you buy from Travelwheels?  There are lots of good reasons for example to name.  First of all we hire campervans in Australia for the last ten years!  We especially know what works, and how to maintain and fix them!  Our range of Toyota ex-rental campervans for sale are fantastic value for money.  To summarise you get the following benefits included in the price when you buy from us
All used campervans for sale will be professionally deep cleaned and all stickers removed from the vehicle.
One year Australia wide multi claim breakdown warranty included with every campervan sold.
24 hour, 7 days a week, Australia wide roadside assistance
Guaranteed buy back up to 50%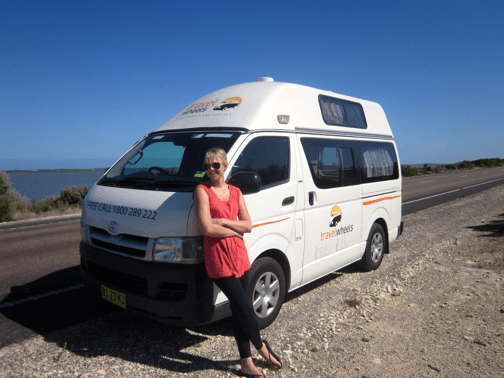 Contact Travelwheels for ex-rental campervans for sale
Contact us for ex-rental campervans for sale in Sydney!  You are especially welcome to view any of these used campervans during the week.  In the meanwhile why not call Shaun on 0421101021 or email [email protected] The address of our depot here in Sydney is 11-15 Clevedon Street, Botany, 2019.