Ex-rental Toyota hiace campervans for sale Ref: 552
Ex-rental Toyota hiace campervans for sale in Sydney
Anybody who is interesting in buying a used campervan in Australia knows how good these used Ex-rental Toyota hiace campervans for sale are!  Travelwheels sells Ex-hire Toyota campervans for sale direct to the public!  All the stickers have been removed and it's now ready to go! Call Shaun on 0421101021 to book a test drive!  Remember we sell both automatic and manual campervans!
Ex-rental used Toyota campervans
As a result of being so reliable, it is easy to see why Toyota are the number one brand in Australia and New Zealand.  These Ex-rental Toyota hiace campervans for sale have everything you need in a compact design that is perfect for Australia.  You don't need a massive motorhome that eats fuel!  This is why it's Australia best value for money used campervan!  Therefore good fuel consumption, comfy living, and clean lines makes this such a great campervan to buy!
Day time configuration
You can really relax in the day time in this great used campervan.  It has everything you especially need for a comfortable and fun camper!  Easy to clean kitchen, comfy benches and space to chillax!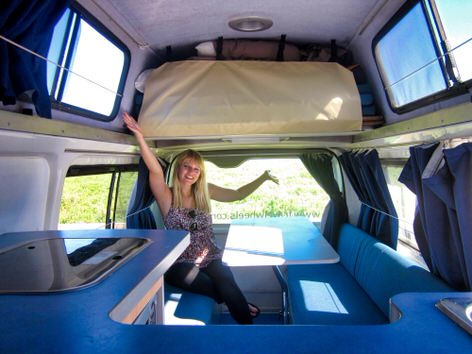 Book test drive of any ex-rental Toyota hiace campervan
To book a test drive or to check out what used campervans for sale we have in stock, call Shaun on 0421101021.  You are especially welcome to pop over to our depot in Sydney and check out what we have left for sale.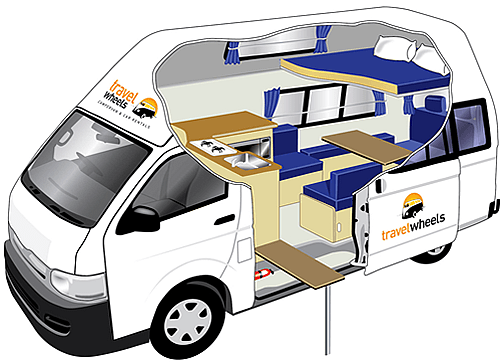 As you can see, these ex-rental Toyota hiace campervans for sale are the perfect choice!  Therefore email us at
[email protected]
to see which campervans suits your personality. Remember we are always available to answer any questions you may have.  Give us a call on 0421101021 for advice and tips how to buy a used campervan in Australia.
Ex-rental Toyota hiace campervan reference no: 552
This is a very clean and well maintained 3 Person campervan for sale here in Sydney.  This is one of travelwheels ex-rental campervans for sale, so therefore comes with full service history.  By the way we can make modifications or add extra USB charger ports for example to the camper.  Travelwheels ex-hire campers are perfect for anyone looking for a
used campervan for sale
with a budget in mind, yet still wants 12 months warranty as well.
Stock no: #552
Built; 2007
Contact our used campervans for sale branch in Sydney
For more information about our used ex-rental Toyota Hiace campervans for sale, then give us a call on 0421101021. You can email our helpful team at [email protected] We can give you plenty of advice on what to look for when buying a used campervan in Australia.  Remember we will de-sticker and do an industrial deep clean to make it look nice and lovely for your first adventure around Australia!  Our address to view any campervans or to arrange a test drive is 11-15 Clevedon Street, Botany, 2019, Sydney.
Join our used campervans for sale mailing list
If this one is sold, then we can add you to our used campervans for sale mailing list.  We get new stock all the time and will email you our latest deals before we put them on our website!