4×4 campervan for sale build – Automatic Campervan Conversion Project – REF: BGP54C
4×4 campervan for sale – Automatic Campervan Conversion Project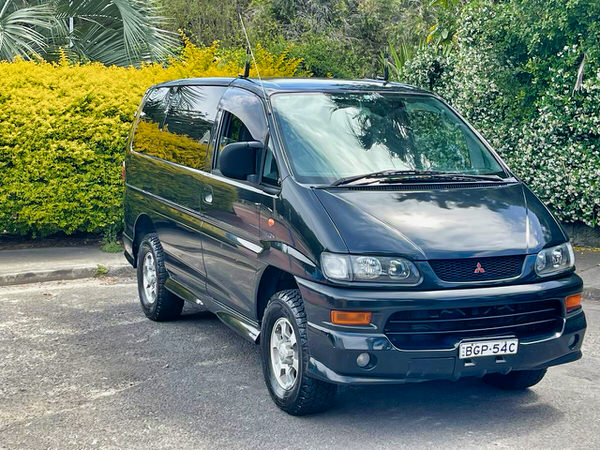 This 4×4 campervan for sale project is waiting for you to convert it and hit the road!  Here at Travelwheels used campervans, we struggle to have any used 4×4 campervans in stock!  The reason why is most people hold on to them and do not put them up for sale!  Therefore an alternative is to buy a base vehicle such as this fantastic Mitsubishi Delica and then do the conversion yourself, saving you loads of cash!  Call Shaun today on 0421101021 for more info on this one before it sells out!
Seven seater family friendly van or campervan conversion?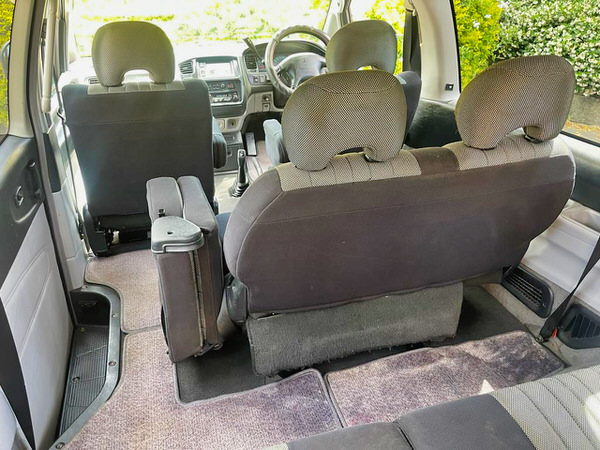 Before we even start talking about this 4×4 campervan for sale project, we often sell these vans to families.  This Mitsubishi Delica is the perfect van for families who need a lot of space!  It has seven seats and plenty of room for storing gear!  Travelwheels have sold a lot of these style 4×4 vans that can be converted to larger families.  They love them do the nunber of seats and with the 4×4 capabilities are great for family holidays as well!  For more information about testing driving this great 4×4 van for your family or your campervan conversion project, call Shaun today on 0421101021.
Super clean and the view from the rear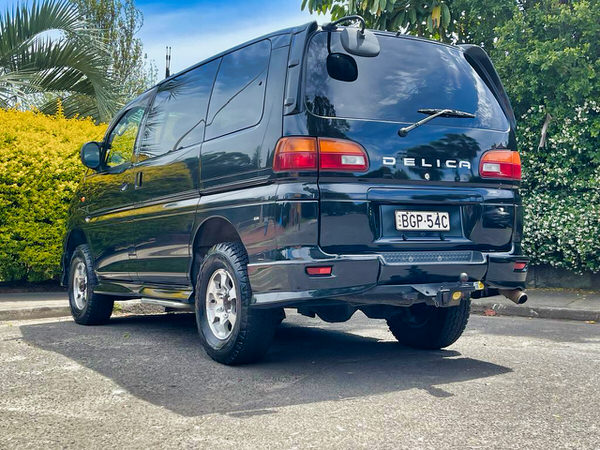 With clean lines, this used Mitsubishi Delica is the perfect base vehicle for a 4×4 campervan for sale project.  The side sliding door is very handy as it is easy way to get in and out of the campervan conversion.  It comes with the colour-coded black bumpers and looks great.
Another bonus is it does not look like a standard campervan in white.  Therefore it is easier to do stealth wild camping and with the handy towbar at the rear of the vehicle you can use it to tow a small boat easily.  This Mitsubishi Delica would make the perfect vehicle for a campervan conversion.   Give Shaun a call on 0421101021 for more information.
Mitsubishi Delica 4×4 vehicle specifications: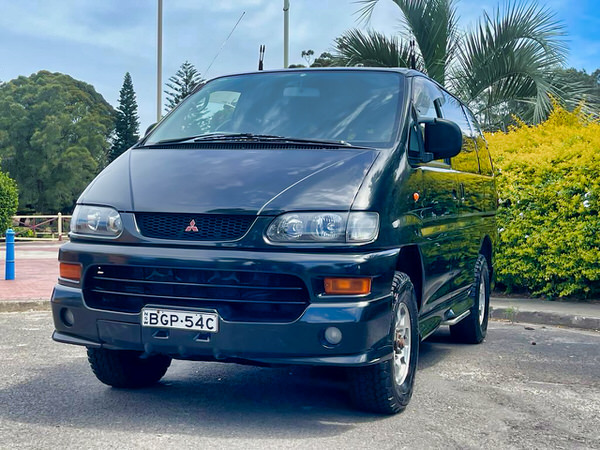 The team here at Travelwheels love using the base Mitsublish Delica for various 4×4 campervan for sale conversion projects.  These vehicles have great online customer reviews and plenty of space inside to make a nice spacious and comfortable campervan conversion.  All our vehicles are available to test drive.  Below are the specifications of this great used 4×4 campervan for sale project.
Model: Mitsubishi
Make: Delica 4×4
Built: 1999
Engine: Petrol
Seats: Seven
Body Type: 4×4 van
Mileage: 126,052 kms
Transmission: Automatic
Colour Black
Test drive this 4×4 campervan for sale project call 0421101021
The view from the driver's seat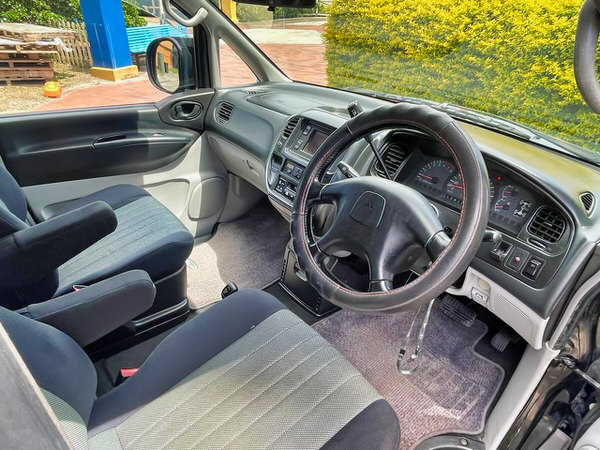 One of the great things about using a Delica van for the base for the 4×4 campervan for sale in Sydney conversion is how comfortable it is.  The Delica feels more like driving a car than a large van.  The seats are so comfortable and have arms rests on both front seats.   Imagine driving up the east coast of Australia cruising in this campervan conversion.  You will be eating up the kms in this van while seeing all Australia's wonders.
Customer Reviews in Australia for Mitsubishi Delica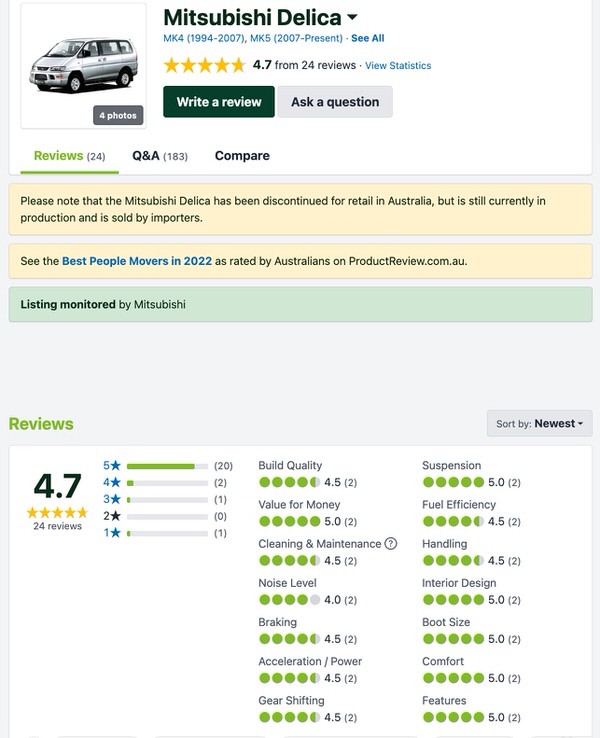 It's easy to see why this Mitsubishi Delica will make a great vehicle for a 4×4 campervan for sale project with online customer reviews.  With 4.7 stars out of 5 you will feel confident knowing the base vehicle you are using is a strong and reliable motor.  These vehicles are so popular with different kinds of customers.  We sell them to larger families, tradies, parcel drop or food delivery companies and of course, to people looking to buy a 4×4 campervan project.  Here are some of the previous customers' reviews for the Mitsubishi Delica 4×4 vans we have sold.
Grewt campervan conversion vehicle!
We love our Mitsubishi Delica campervan conversion.  It's been a super reliable van and we have toured all around Australia in our van.  Not too big or small and easy to park anywhere from the city to the beach.  It has enough space to get a nice-sized double bed and a small kitchen in the back.  We have saved a lot of fuel for this smaller van than a bigger long wheelbase high roof van.  The savings on fuel add up when you put over 20,000 kms exploring Australia.  Great van for a campervan conversion project."
Brilliant family friendly van and so cheap to run!
"We purchased a Mitso Delica van from Travelwheels about three years ago. It's been a great little van and easy to drive and park up in the city. We have been using it to drop the kids off at school and then I used it to deliver parcels around Sydney during the day time. Been a reliable van, cheap to service and had no trouble at all. Anybody looking for a cheap, reliable van then this is a great place to start."
Great city delivery van
"The Delica is very economical to run, and inexpensive to repair and service. Perfect run around town small van with automatic transmission.  Drives more like a car, so great in the city when delivering goods in small spaces."
It drives more like a car than a campervan!
When you are driving around the city centre or out on the freeway it feels more like a car than a mini campervan!  The front seats are super comfortable with arm rests and the auto transmission makes eating up the miles on east coast so much easier than our manual campervan back in German.   Has everything we need in the mini campervan with fridge, cooker, sink and double bed."
Had the van for five years and still going strong!
"Bought a used Delica from Travelwheels five years ago for the family and still going strong. We use the van five days a week to take the kids to school and then drive into Sydney for work.  Comfortable seats, auto transmission and great AC means it feels great on the road.  Very reliable and just do an annual service and give it a wash, which has been over the last five years."
We sell Toyota Hiace Campervans in Sydney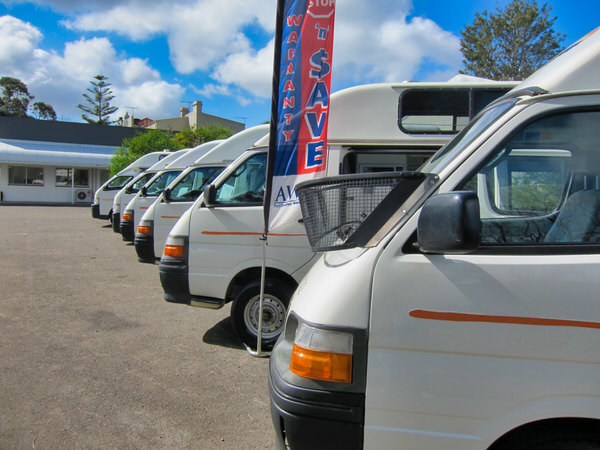 The team here at Travelwheels campervans loves selling this style of campervan conversion project.  Many people ask us about a 4×4 campervan for sale projects from all over the world.  If you need any advice about this, you are welcome to email the team at [email protected]  or call us at 0421101021 to see what campervan conversions we have in stock.
Our main business is renting and selling Toyota campervans as they are reliable and the market leader in Australia.  If you are considering buying a campervan, take our advice and buy Toyota.  They might cost more than other manufacturers, but you are buying a quality vehicle.  To illustrate the care and attention we put into each vehicle, they come with the following warranty included in the price:
One-year warranty on engine and transmission with every campervan sold.
Roadside assistance is included.
Guaranteed buy-back option up to 50% valid for one year.
Twenty years of experience in selling and renting Toyota Campervans in Sydney.
Try before you buy – call 0421101021 for more info!
Roadworthy Certificate (Pink Slip).
Help with purchasing Third Party Insurance.
Advice or help on what is the best vehicle for 4×4 campervan for sale project
We also sell larger automatic campervans for sale
Another popular seller is our automatic two-person campervans,
Similar used Toyota campervans to consider
If you don't have the time to build a 4×4 campervan for sale project, then Travelwheels used Toyota campervans specialise in selling ex-rental campervans! Check out our range at our depot in Sydney at  11-15 Clevedon Street, Botany, 2019, Sydney.  Test drives are more than welcome.  Here are a few campervans we have in stock now, but be quick, as they are selling fast!
Toyota Hiace Hitop Campervan (3 Person)
Call Sydney Campervan Sales for new arrivals on 0421101021
Contact Travelwheels Sydney campervan sales
For more information on our 4×4 campervan for sale projects, email [email protected].  You can call the team on 0421101021, and we are happy to help.  Please send us your questions below, and our team will be happy to answer any questions about buying a good-quality used campervan here in Sydney.