Sydney campervan sales – Toyota Hiace Conversion Project – REF: DF06MD
Sydney campervan sales – Toyota Hiace Conversion Project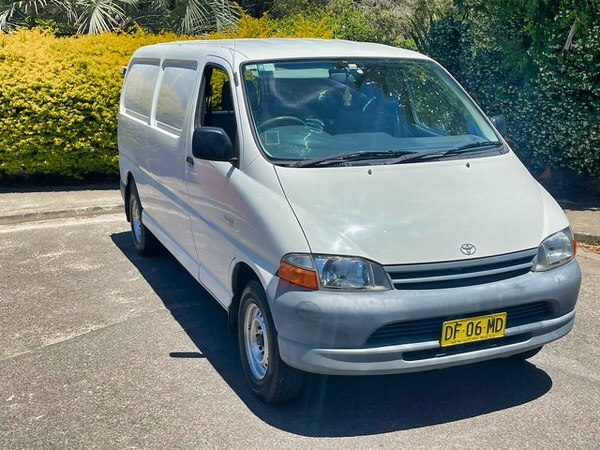 Sydney campervan sales have this fantastic Toyota Hiace Conversion Project for sale.  We have built and converted Toyota Campervans here in Sydney for the last twenty years.  We are flat-out selling off our range of ex-rental Toyota Hiace Campervans.  Therefore, we have decided to sell this model as a project for you.  Therefore you get the rare opportunity to buy a good quality used Toyota Hiace that is the perfect vehicle to convert to a campervan.
Call Shaun on 0421101021 to go for a test drive, and we can help you design your campervan.  We have years of experience building and making campers here at Sydney Campervan Sales.  We are happy to share our knowledge with you for your Toyota Hiace conversion.
Is a Toyota Hiace a reliable van to convert?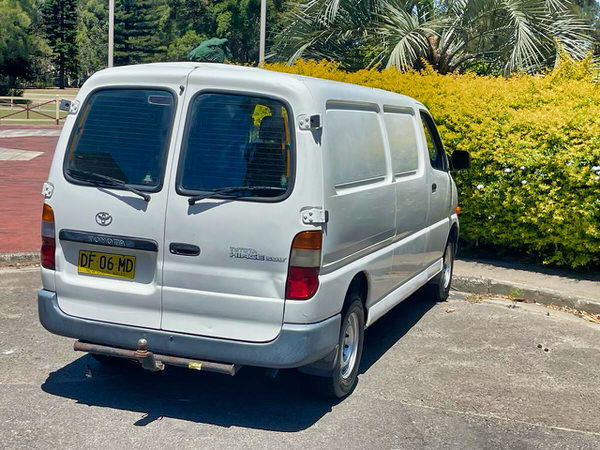 The base unit is the first thing you must consider when converting a van to a campervan.  Is the vehicle you will convert into a campervan of good quality?  Here at Sydney Campervan Sales, we have been building campervans for over twenty years. Therefore, buying the right base vehicle is critical to your project's success.  We recommend spending more time doing your research to get the right base van.   Getting a good quality van will make or break your campervan conversion project.
Toyota Hiace has a fantastic reputation in Australia
The
Toyota Hiace
has a fantastic reputation in Australia and New Zealand! When looking for a reliable vehicle suitable for a campervan conversion project, the team at Sydney Campervan Sales strongly recommends Toyota Hiace vans.
Known as one of the most reliable used vans
If you are thinking about buying a reliable vehicle to convert into a campervan, then the Toyota Hiace is the king of the jungle. Don't take Sydney Campervan Sales word for it and have a look at the number of fantastic customer reviews online.  You can read plenty of reviews about the long-term ownership of these great vehicles.  Plenty of people clocking up over one million kms on the engine!

It is easy to see why these Toyota Hiace vans are so heavily in demand at Sydney Campervan Sales.  Rock-solid reliability and a fantastic reputation for building quality vehicles are two great points.  They are super popular as panel vans and minibuses, and almost every
Australian campervan hire
company rents Toyota Hiace Campervans.  Give Shaun a call on 042101021, and he can arrange a test drive for you today.
Camper conversion can make you money!
If you buy the right base unit and do a good job, you can make money with a campervan conversion.  For instance, it is much cheaper than buying a used Toyota ex-rental campervan.  Another positive thing to note is you can build it to meet your exacting needs.   How often have you seen people who have bought a campervan and never used it anymore?  Normally this has to do with buying a poorly designed van that is a pain to use.
If the campervan conversion is hard to use, uncomfortable or poorly planned out, then you can lose money.  Here at Sydney Campervan Sales, we know what works and how to design a campervan that will last for years.  We have had thousands of people rent out campervans from all over the world.  Therefore, if you need help and advice on building a campervan conversion, we can help you with some advice and planning help.
Perfect for a camper conversion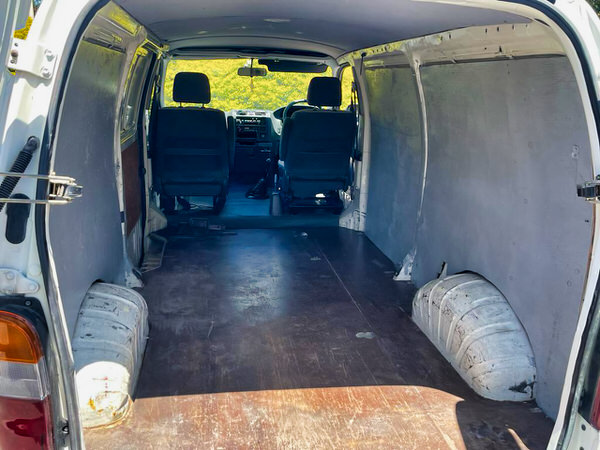 As the Sydney Campervan Sales team mentioned, we love these campervans!  Don't make the mistake of buying a cheaper and inferior van from a manufacturer that does not have a good reputation for reliability.   Remember, all the campervan hire companies in Australia use these vans and have a proven track record for reliability here in Australia.
Best van to convert to join vanlife Australia
The floor plan and the space inside the back of this Toyota Hiace campervan conversion project are perfect for a vanlife campervan. If you want to join in with the vanlife Australia nomads touring this amazing country, this Toyota is perfect!
Example of our campervan-conversion project design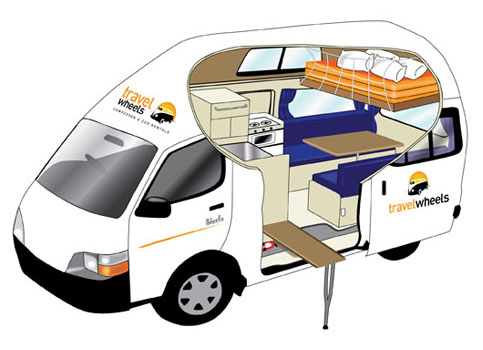 Sydney Campervan Sales have been building campervans for the last twenty years.  This drawing above represents our most popular design.  You don't need to make anything as complicated as this, but we can help you plan how you will build your campervan.  Give Shaun a call on 0421101021, and we can talk you through a couple of simpler designs that still rock and will give you a comfortable campervan to explore Australia.
Handy side sliding door and floor already boarded out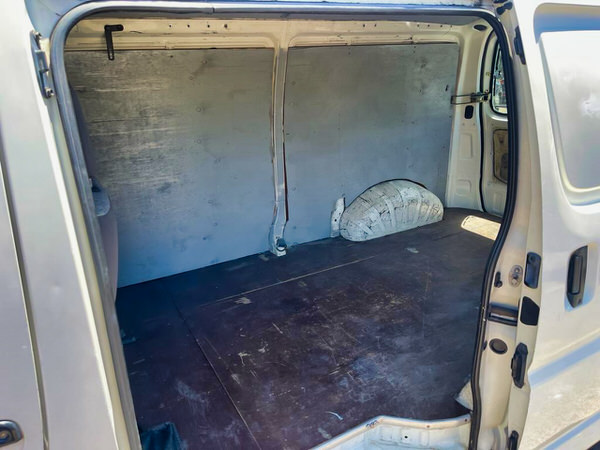 This campervan conversion project is based on the super-reliable Toyota Hiace short-wheelbase chassis.  As a result of upgrading our rental fleet, Sydney campervan sales and selling off some of our ex-rental Toyota campervans,  we don't have time to convert this one. Therefore you have this golden opportunity to buy this quality base vehicle and make your own vanlife Australia campervan conversion!  Here are the specifications for this campervan project for sale.
Make: Toyota
Model: Toyota Hiace
Body type: short-wheelbase chassis
Mileage: 260,500 kms
Air Conditioning: Yes
Power Steering: Yes
Transmission: manual
Fuel: Petrol
Front cab: Has two adults seats in the front cab
Rego – comes with three months' rego included – this can be updated to one year for an extra charge.
To arrange a test drive, call Shaun on 0421101021 at Sydney Campervan Sales
Plenty of space in the front cab and a good place for your esky!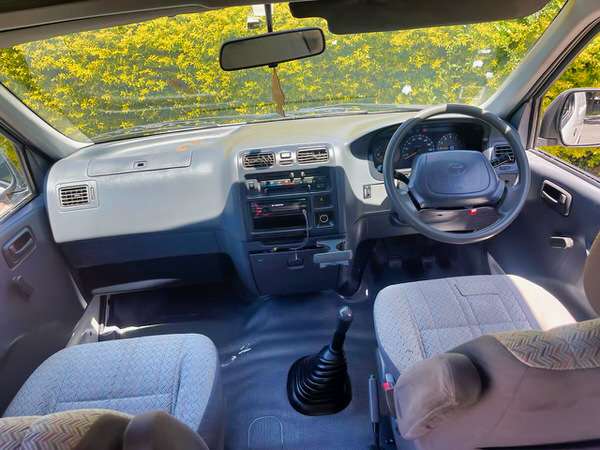 This Toyota Hiace for sale is practical and a big seller with Sydney campervan sales customers looking to buy a good commercial vehicle.  This model is the two-seater version, and there is just enough room to add a portable esky and plug it into the cigarette lighter to have cold drinks on tap!  Many of our customers looking to build their campervan often do this in the front cab. Come on down and go for a test drive today by calling Shaun on 0421101021.
Toyota Hiace Customer Reviews in Australia
Toyota has a fantastic reputation in Australia.  Just go online and read the reviews, and you will see loads of people leaving positive customer reviews for a Toyota Hiace.  Go to all the main campervan hire companies and check out their websites.  They all use Toyota Hiace and travel thousands of kms each year and can take this level of abuse from younger (and sometimes older) drivers!  Here are some of our customer reviews for the Toyota Hiace Campervans we sell at our depot in Sydney.
Super reliable and owned the van for 10 years!
"If you are considering buying a Toyota Hiace campervan, you will have made a very good decision.  We have owned our Toyota Hiace campervan for the last ten years, giving us so much joy and adventure.  Even after ten years of constantly exploring Australia, our camper is still up and running and giving us so many moments of joyAll we do is take it for an annual service and never give us any trouble.  Easy to park compared to those large motorhomes and good on fuel."
Ten years of exploring Australia and still going strong!
"We bought our used Toyota Hiace from Travelwheels campervans in 2010.  The try-before-you-buy scheme was great, and it enabled us to rent the actual campervan you want to buy.  We took it for a road trip to Queensland and back to Sydney and immediately fell in love with it!
We are a retired couple and have spent about six months of the year exploring different parts of Australia for years.  The campervan has never let us down, and we have clocked up over ten years of exploring Australia!  It drives well and has everything we need to explore Australia without breaking the bank."
Toyota Hiace is a great vehicle for campervan conversion
If you are thinking about making your campervan conversion, buy Toyota.  You will do a lot of miles and need a reliable van in remote areas.  Toyota has the best reputation, and parts and servicing is easy anywhere in Australia.
The basic van is spacious, well-built, and perfect for a campervan conversion. I did a lot of research online before buying a Toyota and noticed all the campervan hire companies in Australia use Toyota.  If it is good enough for them, then it is good enough for us.
Been a very good choice, and we have driven all over Australia in the last five years without any dramas.  The van has been great, and the guys at Travelwheels were super helpful when we bought the van from them."
We sell Toyota Hiace Campervans in Sydney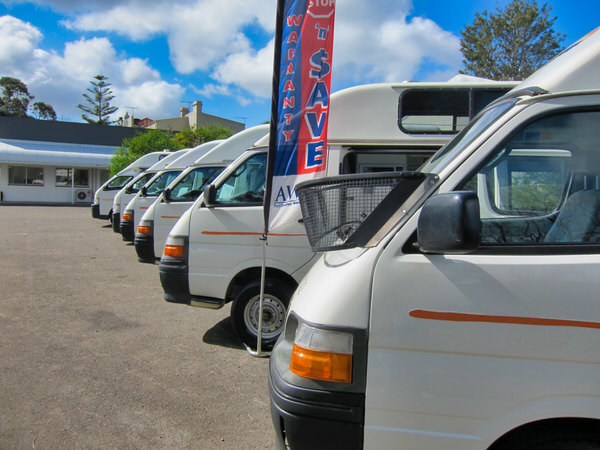 We love selling Toyota campervans as they are reliable and the market leader in Australia.  If you are considering buying a campervan, take our advice and buy Toyota.  They might cost more than other manufacturers, but you are buying a quality vehicle.  To illustrate the care and attention we put into each vehicle, they come with the following warranty included in the price:
One-year warranty on engine and transmission with every campervan sold.
Roadside assistance is included.
Guaranteed buy-back option up to 50% valid for one year.
Twenty years of experience in selling and renting Toyota Campervans in Sydney.
Try before you buy!  Rent the camper for a week and then buy it to make sure you are happy
Roadworthy Certificate (Pink Slip).
Help with purchasing Third Party Insurance.
We also sell larger automatic campervans for sale
Another popular seller is our automatic two-person campervans,
Similar used Toyota campervans to consider
Travelwheels used Toyota campervans specialise in selling ex-rental campervans! Check out our range at our depot in Sydney at  11-15 Clevedon Street, Botany, 2019, Sydney.  Test drives are more than welcome so give Shaun a call on 0421101021 and come on down and jump in one of our ex-rental campervans for sale. Here are a few campervans we have in stock now, but be quick as they are selling fast!
Toyota Hiace Hitop Campervan (3 Person)
Call Sydney Campervan Sales for new arrivals on 0421101021
Contact Travelwheels campervan sales
For more information on our Sydney campervan sales specials, email [email protected].  You can call the team on 0421101021, and we are happy to help.  Send us your questions below, and our team will be happy to answer any questions about buying a good-quality used campervan here in Sydney.