Sydney campervan sales ex-rental campers
Sydney campervan sales ex-rental bargains + 12 months warranty
Sydney campervan sales at low prices with 12 months warranty!  You are right to demand the best when looking to buy a second hand or used campervan for sale.  We have some great new stock of quality ex-rental campers for sale that have just arrived at our depot!  Therefore we recommend calling Shaun on 0421101021 to see what we have left!  Alternatively you can email us for more info at [email protected].
Here above in this photo is one our 2 person campervans for hire.  We are always adding new vehicles, and especially love to sell off our old campers to adventurous customers.   Therefore this is where you step in and have the opportunity to buy one! These campers go through a 100 point check, fully serviced and industrially deep cleaned.  We take the stickers off and they are ready to go on an adventure!  Therefore this is the kind of service we offer at sydney campervan sales.  Here is a photo of the same vehicle de-stickered and ready for sale.
Sydney Campervan Sales – 2 person camper main features:
This ex-hire 2 person campervan is based on Mitsubishi Express vehicle.  As a result of upgrading our rental fleet, Sydney campervan sales has some more stock of these great practical vans for sale.  You've got an important decision to make where to spend your money.  Therefore we highly recommend Australia's favourite small campervan for sale.  These appealing campers have everything you especially need for an adventure!  For example it has 55L fridge, sink, water tank, 2 burner gas stove & gas bottle in the mini kitchen.  As a result of an intelligent design from Sydney campervan sales it has two comfy benches and a table which converts into a big double bed!
– Model:Express
– Make: Mitsubishi
– Built: 2005
– Mileage: 170,000km
– Air Conditioning: Yes
– Power Steering: Yes
– Transmission: manual
– 12 months engine and gearbox guarantee: 12 months warranty included on all used campervans for sale.
Sydney campervan sales – day time configuration
Here is the day time configuration of one our sydney campervan sales vehicles for sale.  As you can see it is an extremely practical design.  Therefore it has clean lines, easy to maintain and great customer reviews from people who have purchased them previously.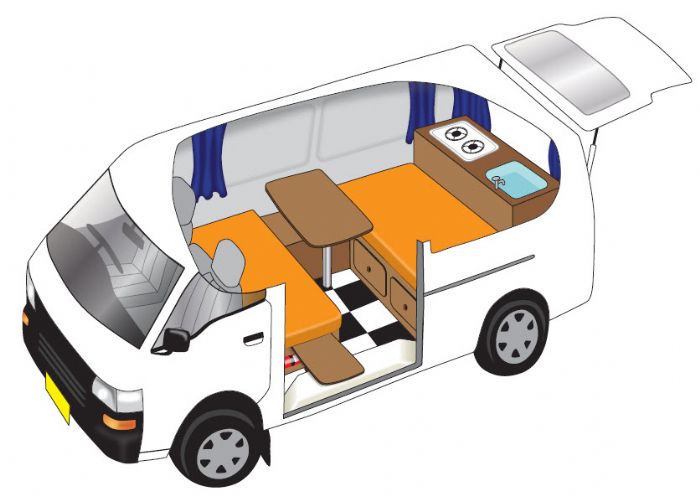 For example during the day time the bed folds away and converts to a table and comfy benches.  The good thing about this design is the storage under the benches.  Very handy when you go to a remote beach and you want to hide ipads, laptops, expensive phones, etc.
Night time configuration
Sydney campervan sales vehicles are highly regarded because of the very practical design.  Our customer feedback especially loves how simple it is to make the bed at night time.  Here is a drawing of the night time view.  Everybody loves how simple and how easy these 2 person campervans are to use.
All Sydney campervan sales vans have following guarantee
Furthermore all our used ex-hire used small campervans for sale come with 12 month warranty.  As a result the benefits of buying a used campervan from campervan sale Sydney are many!  Here are a few reasons why buying a used camper from us is convenient, and sensible thing to do! Therefore for more info call us now on 0421101021 or contact us via email and we will be happy to help.
* Roadworthy Certificate (Pink Slip)
* With Registration (REGO) & Insurance (Green Slip)
* 12 Months Warranty on all campervan sales sydney vehicles
* 12 Months roadside assistance included in the price
* 24 hour, 7 days a week Australia wide Roadside Assistance
* Guaranteed buy back up program if you need to sell the campervan back to us within one year.
* Free and helpful advice and why not call us on 0421101021 for more info?
Contact Travelwheels Sydney campervan sales
For more information on our sydney campervan sales specials, email [email protected]  As a result of new stock arriving give us a call on 0421 10 10 21. to see what we have left!  Remember you are especially welcome to pop by our sydney campervan sales office.  Here is our address on 11-15 Clevedon Street, Botany, 2019, Sydney to view our campervans for sale in Sydney!
Du möchtest einen Campervan kaufen in Australien?
Du kannst uns gerne auch auf Deutsch kontaktieren! Sende uns eine E-Mail auf Deutsch an [email protected] oder rufe uns kostenlos an unter 0421 10 10 21 (kostenlos innerhalb Australiens) oder +61 2 9316 4290 (für Anrufe von außerhalb Australiens). Du findest uns auch auf Skype unter dem Namen travelwheels!