Small camper vans for sale in Sydney – Toyota Automatic 2 Person – REF:DD67GP
Ex-rental Small camper vans for sale at Sydney depot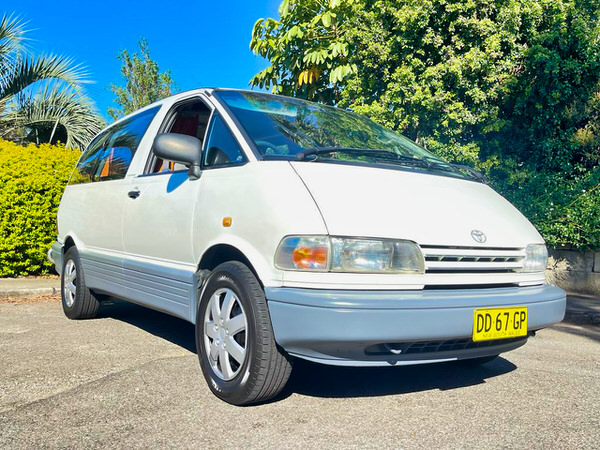 Travelwheels campervans in Sydney are regularly selling our automatic ex-rental campervans to the public direct, thus saving you money by buying directly from the supplier!  These Toyota automatic two-person small camper vans for sale are our most popular seller!  They look and drive like a normal Toyota, but inside they are a fully functioning mini campervan with double bed, kitchen, fridge, cooker and more!  Call Shaun on 0421101021 to arrange a test drive today!
No stickers or marketing messages – just quality used campervans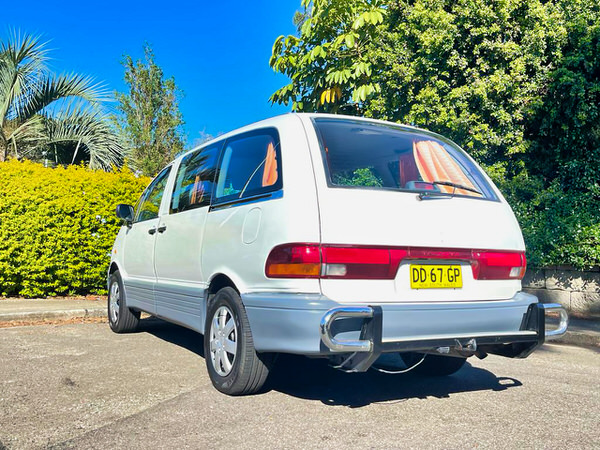 When you buy one of our fantastic ex-rental Toyota automatic small camper vans for sale they are ready to go! Firstly they do not have wild or big graphics plastered all over the sides of the vans! They are not dayglow green or bright orange vans, but plain white. This makes camping in the bush or free camping easier as you do not stand out as a tourist in your own country!
You really have to look closely to even recognise it is a proper Toyota automatic campervan!  The only real giveaway is the curtains on the back windows.  They drive and look like a car, and thus are the most practical solution for anybody wanting a good quality used Toyota campervan in Sydney.  Give Shaun a call on 0421101021 to arrange a test drive today.
Daytime configuration for this Toyota campervan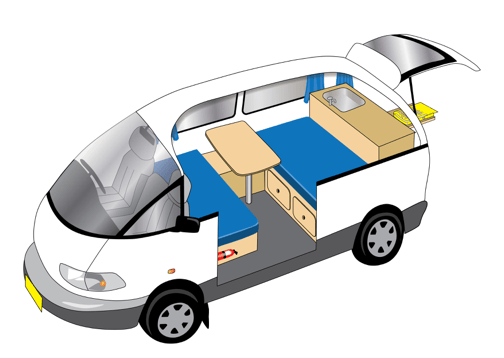 These automatic Toyota small camper vans for sale at our Sydney depot are a lot of fun to drive!  They are the perfect small practical campervan for a couple or two good friends wanting to explore Australia on a budget.  When you factor in the money-saving feature of combining your accommodation and transport, you will save a massive amount of money!   Given all these facts, it's easy to see why this automatic 2 person Toyota campervan is so popular with our customers.
A real-life photo of the lounge in this camper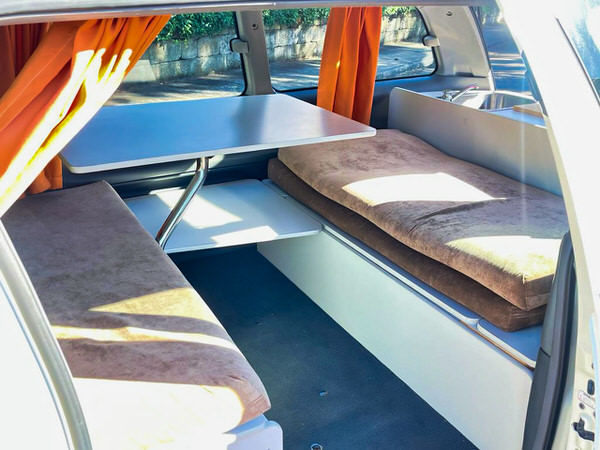 These automatic Toyota small camper vans for sale are a very popular choice with our customers looking for a good quality used campervan.  Remember these campervans are compact but pack a lot of features into this cosy living area!   They can accommodate two people in the lounge which can easily be converted to a double bed in less than a minute!
Daytime configuration of the lounge
During the daytime inside these small camper vans for sale, they have two comfortable benches and a moveable table.  Once inside you can chill out and relax after a big day touring Australia!  It is comfortable enough to enjoy your food, chill or fire up the laptop to watch a movie.
Travelling with expensive electronics – hidden storage included
Are you travelling with expensive electronics and need some hidden storage for valuables when visiting the beach? A point often overlooked is the storage and security of expensive electronics in campervans.  We have incorporated hidden storage in this camper under the seats.  This is a great way to store valuables when visiting the beach and to keep the campervan clean and tidy.
Toyota campervan with Fridge, Cooker and Sink!
This automatic Toyota
mini campervan for sale
in Sydney has been designed for travel around Australia in style!  We designed it to be super practical and have everything you need is right to hand. Let's have a look at how good the kitchen is to use and to keep clean!  The kitchen comes with a 35L fridge which runs off the second battery to keep your food cool.  It has a food preparation area and a two-burner gas cooker.
Real photo of the kitchen in action!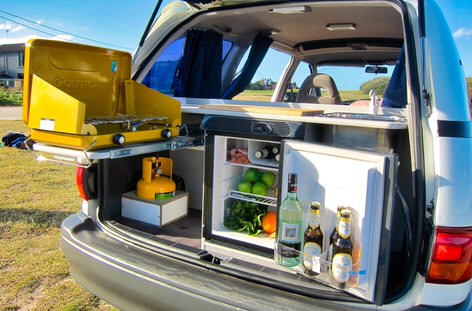 As you can see from the photo of these small camper vans for sale there is plenty of room in the fridge for your food and drink!  Another positive thing to point out is the cooker uses a standard 2 kg gas bottle, and they are super easy to refill anywhere in Australia.  It does not have those silly mini gas canisters which are expensive to replace and hard to recycle as well.
Comes with a two-burner gas stove, not a single hob!
Another very important point to note is this campervan has a two-burner gas cooker using a standard 2kg gas bottle.  It is not a single gas burner which are so impractical to cook on unless you are making instant noodles every night!  With our twin burner gas burner, you can be making your pasta sauce on one hob and boiling the spaghetti at the same time on the other hob!  Super practical and can also be removed and used as a portable BBQ on the beach!
Why buy a campervan from travelwheels?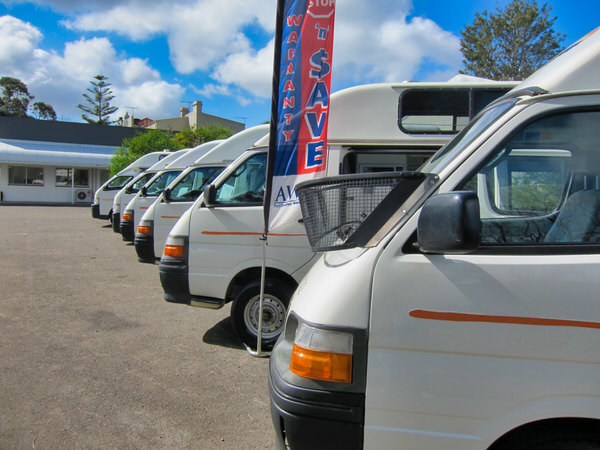 There are lots of good reasons to buy one of our small camper vans for sale from our Sydney depot.  The first thing to consider is brand reputation.  As it is a Toyota, they are known for being reliable, comfortable and will hold their value as they have a high resell value as well.   The team here have been selling Toyota campervans for over fifteen years, so we know how to look after, maintain our campervans and our customers!  To conclude why you should buy from us, check out our benefits below:
Full mechanically serviced with Roadworthy Certificate (Pinkslip)
With six-month Registration (REGO) & Insurance (Green Slip)
12 Months Warranty On Engine and Gearbox
24/7 days a week Australia wide Roadside Assistance
Guaranteed buy back up to 50%
Optional "try before you buy" scheme
If this camper is sold, then check out this small Toyota camper for sale as a good option
We sell a range of Toyota campervans and welcome to test drive a few when you visit
Similar used campervans to consider
These used automatic Toyota small camper vans for sale are a popular choice with our customers.  They are a sought after used campervan and exactly what people looking for good value for money campervan want.  We have a high turn over of stock and sometimes our campervans sell out fast.  If for instance, this one has sold out, then don't worry.  We get new stock in every week, so definitely worth giving Shaun a call on 0421101021 to get an update on new vehicles arriving soon.  Here are a couple of more options to consider:
Contact Travelwheels for used campervan sales
Travelwheels sell a wide range of used campervans, station wagons and used 4×4 bushcampers.  They all come with a warranty and unlimited kms engine and gearbox protection, so this will give you peace of mind.  For more information or to organise a test drive of our used small campervans for sale why not visit our shop in Sydney.  Travelwheels address is 11-15 Clevedon Street, Botany, 2019, Sydney.