Small camper vans for sale in Sydney – REF:792
Ex-rental Small camper vans for sale at Sydney depot
Travelwheels campervans in Sydney are regularly selling our ex-rental campervans to the public direct, thus saving you money!  For example we have these fantastic small camper vans for sale at our depot close the the airport in Sydney.  Furthermore why not give us a call on 0421101021 or email us at [email protected] to arrange a test drive.
Small camper vans for sale cheap to run + easy to sell
The great thing about buying these ex-rental small camper vans for sale in Sydney is they are a lot of fun!  For example they have everything you need for a great holiday in Australia included in the price.  Easy to drive and have been regularly serviced and well maintained.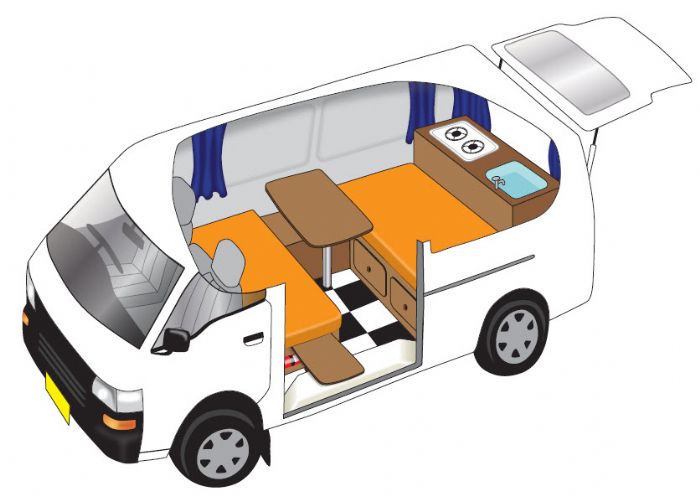 Used small camper vans for sale – main features
Furthermore these mini campers are perfect for a couple or two good friends who want to travel the whole way around Australia.  It's a comfortable little van with all the especially useful practical features and no-nonsense non-essential stuff removed.  Travelwheels used campervan sales has converted these small camper vans for sale with all the features you need.  In this case you have a fast and easy to use double bed that also converts to a table and two benches.  The kitchen in the back of the campervan comes with a fridge, sink, cooker and plenty of space to prepare food!  Hence everything we designed in the kitchen area serves a purpose and especially versatile to make maximum use of the space.
Registration: BF 45 GM
– Small camper vans for sale model available now in Sydney
– Model: Mitsubishi
– Make: Express
– Built:2010
– Power Steering: Yes
– Transmission: Manual
– Stock no. #792
– Built: 2010
– Mileage: 240,000 kms (approx)
– Price: $12,500*
*Price includes 6 months REGO, 12 months roadside assistance (NRMA), one year warranty, full camping kit worth $300
Why buy a used small camper van from Travelwheels Sydney depot?
For example there are lots of good reasons why you should consider buying a used campervan from Travelwheels.  As a result of years in the business of selling campervans, we know what works and know especially what our customers are looking for in a used campervan.  First of all for example we give you a lot of extra warranty which is already included in the price.  Below is the list of main features included when you buy one of our small camper vans for sale from us.
* Fully serviced on a regular basis and comes with Roadworthy Certificate (Pinkslip)
* Registration (REGO) & Insurance (Green Slip) also included
* 12 Months Warranty On Engine & Gearbox
* 12 Months Roadside assistance together with Australia wide cover
* Guaranteed buy back up to 50%
Contact Travelwheels for used campervan sales
If you need additional information about buying used campervan for sale then email us at [email protected]. Furthermore our friendly staff can speak deutsch or Français, so you can send us an in Français or deutsch.
Travelwheels sell a wide range of used campervans, station wagons and used 4×4 bushcampers.  They all come with warranty and unlimited kms engine and gearbox protection, so this will give you peace of mind.
For more information or to organise a test drive of our used small campervans for sale why not visit our shop in Sydney.  Travelwheels address is 11-15 Clevedon Street, Botany, 2019, Sydney. Alternatively you can call us on 0421 101 021 to chat about what used campers we have in stock.