Ex-hire Toyota Hiace Campervan + 12m Warranty + Try Before you Buy in Sydney
Ex-hire Toyota Hiace campervan for sale in Sydney + Warranty
This Ex-hire Toyota Hiace campervan is now available for sale direct to the public for the first time!  Travelwheels campervans in Sydney have a number of ex-rental campers for sale with 12 months warranty!  To begin with, they get a road test, full service, stickers removed and deep cleaned before ready for you to buy this campervan. Therefore call Shaun on 0421101021 for more info or to arrange a test drive at our depot in Sydney.
Clean ex-hire Toyota campervans direct to the public!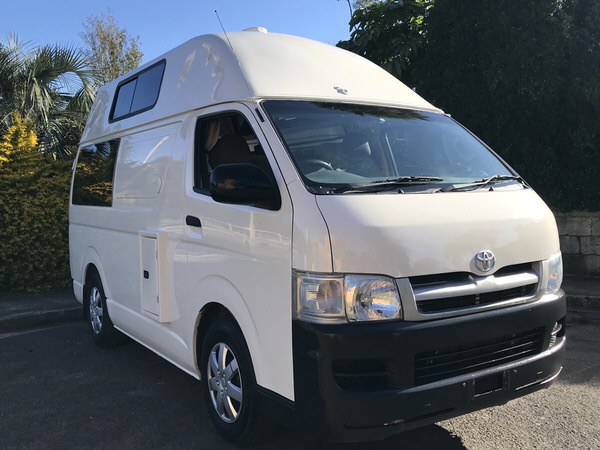 This Toyota Hiace looks a lot different from its rentals days!  Firstly, Travelwheels campervans regularly sell off a percentage of Ex-hire Toyota Hiace Campervans every year.  Therefore we make sure they look nice and fresh for our Australian customers.  We get a lot of positive comments from people searching for used Toyota campervans that our vehicles are in very good condition.
We sell Australia most popular used campervan!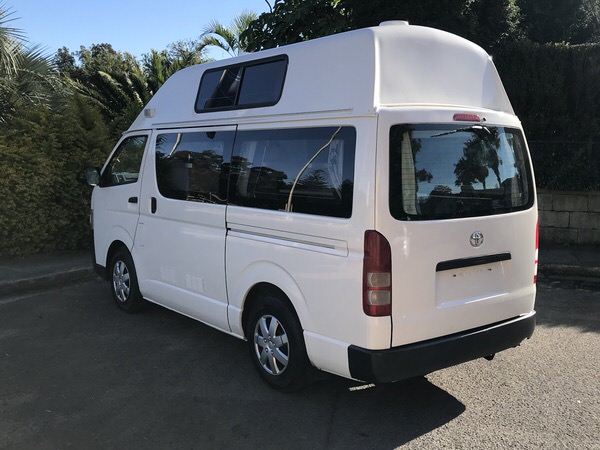 When it comes to the king of the second hand used campervans market, then look no further than this Toyota Hiace.   It is rated as Australia most popular used campervan!  For one thing, everyone is keen to buy a Toyota Hiace campervan when searching for a decent campervan to buy.  The reason why is because they are so strong, reliable, and practical!  Another point worth noting is they hold their resell value!  Factor all these points in with the practical design makes the Toyota Hiace a winner!   It's worth giving Shaun a call on 0421101021 to arrange a test drive soon.
All Ex-hire Toyota campervans come fully serviced
This Ex-hire Toyota Hiace campervan is great value for money.  As a result, it is the most popular ex-hire campervan for sale we sell.  This Toyota Hiace gives you a good balance between price, comfort and of course reliability!  Together with the fact that Toyota campervans are easy to resell; you are making the right choice!  Remember when you want to sell in the future, the Toyota brand is very respected here in Australia!  For the most part, many people are able to get most of their initial investment back when re-selling.  This is due to Toyota reliability and being known as a quality brand in Australia.
Main features:
This ex-hire Toyota Hiace campervan is in great condition, and ready to go!  Take a look inside our 2-3 person campervan features and you will clearly see why it's the most popular campervan in Australia!   This vehicle is a manual Toyota Hiace and if you are looking for an automatic camper, we sell those as well. Here is a link to our automatic Toyota Hiace campervan for sale
Travelwheels used Toyota Hiace centre in Sydney
For one thing, when you buy a used Toyota Hiace campervan from Travelwheels, you will definitely be in good hands. In the first place, we do not pay for expensive adverts in newspapers or magazines.  Another key point we do not display our vehicles at trade shows across Australia.  At these shows, the vans are for display only.  To begin with we want our customers to make the right decision about which used campervan to buy.  Under these circumstances we prefer our customers to pop to our depot and test out the Toyota-Hiace campervans before making any decisions about which is the best-used campervan to buy.

The team here in Sydney have over twenty years of experience in buying and selling campervans down under.  We have all travelled extensively across this amazing country.  Plenty of people in our team have done the dream trip of circumventing the whole way around Australia!  We know what works and what does not!  Without a doubt, our team can help you find the used campervan you have been looking for to tour Australia.
Why buy a used Toyota Campervan from us?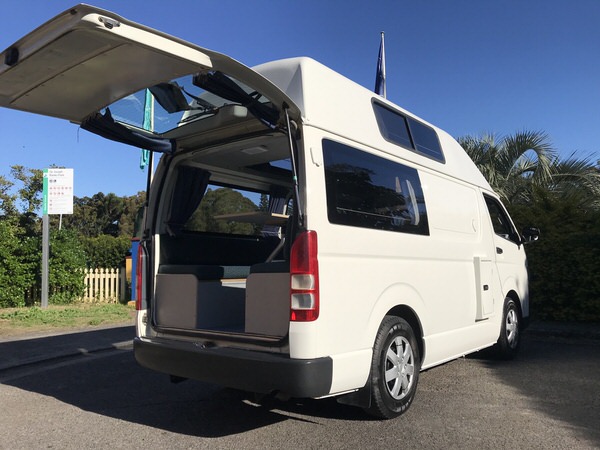 There are plenty of good reasons why you should buy a Toyota Hiace Campervan from Travelwheels.  To begin with, this Ex-hire Toyota Hiace Campervan will be road tested for a week.  At this point, it will go into the workshop and have a full service and be road tested again.  We do this just to be sure the base vehicle is in good shape before we start to tidy up the inside.  The first thing to remember is that all our used ex-rental campervans for sale are professionally deep cleaned both inside and out.  As a matter of fact, we take the time to remove all the stickers and touch up the paintwork to make it look fresh.  To illustrate the care and attention we put into each vehicle, they come with the following warranty included in the price:
One year warranty on engine and transmission included with every campervan sold.
24/7 Australia wide roadside assistance included.
Guaranteed buy-back option up to 50% valid for one year.
Twenty years of experience in selling and renting Toyota Campervans in Sydney.
Try before you buy!  Rent the camper for a week and then buy to make sure you are happy
We speak Deutsch!
Roadworthy Certificate (Pink Slip).
Help with purchasing Third Party Insurance.
We also sell larger automatic campervans for sale
Another popular seller is our automatic two-person campervans,
Contact Travelwheels for a test drive today
Now is the time to contact us and to come on down and see us in Sydney!  Remember you are more than welcome to test drive any of our campers at 11-15 Clevedon Street, Botany, 2019, Sydney. To get in touch please contact Travelwheels on 0421 10 10 21.
Have a question, message us now
Our team is here to help you find the right ex-hire Toyota Hiace Campervan.  You are bound to have some questions, so simply message us below.  The team is here to answer questions and organise test drives of the best looking used Toyota Campervans in Sydney.  Looking forwards to see you soon 🙂