Ex-hire toyota hiace campervan
Ex-hire toyota hiace campervan for sale Sydney
Ex-hire toyota hiace campervan for sale direct to the public!  Travelwheels campervan hire here in Sydney have ex-rental campers for sale with 12 months warranty!  Therefore call Shaun on 0421101021 for more info!  As a result of buying new rental vehicles we now especially need to sell these great campers!
Ex-hire toyota hiace campers direct to the public!
Travelwheels campervans regularly sells off a percentage of Ex-hire toyota hiace campervans every year.  For instance we sell the most popular campervan on the second hand market in Australia!  Everyone is especially keen to buy a Toyota Hiace campervan when searching for a campervan to buy.  The reason why is because they are so strong, reliable, and practical!  Therefore as we regularly keep our fleet up to date, then you can get a bargain!
Main features:
This ex-hire toyota hiace campervan is in great condition.  In this case it is well maintained, and been industrially deep cleaned ready for you. Therefore if you are looking for the most popular campervan in Australia, then this will be especially of interest to you!  Call Shaun on 0421101021 to arrange a test drive, as it is a great camper!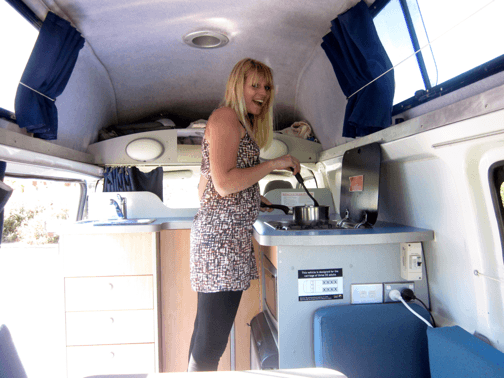 In the meantime, below is a list of the main features of this ex-hire Campervan for sale at our Sydney depot:
Australia's most popular campervan on the 2nd hand market!
Built 2007
Dual battery operated fridge
2 x gas hob stove + microwave
1 x double bed sleeping area, 1 x sing bed upstairs
Air conditioned/Mosquito nets
Water pump +sink area
Kitchen utensil box (includes all pots, pans, cutlery, plates, etc)
Ex-hire toyota hiace campervans with 12 months warranty
Therefore when you buy a used Toyota Hiace campervan from Travelwheels, you are in good hands.  For example all our campers come with the following guarantees included in the price:
* 12 Month Warranty / No Kilometer limit
* 12 Month Road Assistance Service
* Buyback Guarantee up to 50%
* Fully Serviced and Checked Vehicles
* With Pinkslip
* Comes with 1 Year Registration
All Ex-hire toyota campervans come fully serviced
This Ex-hire toyota hiace campervan is great value for money.  As a result it is the most popular ex-hire campervan for sale that we sell.  This Toyota Hiace gives you a good balance between price, comfort and of course reliability!  Together with the fact that Toyota campervans are especially easy to resell; you are making the right choice!  Remember when you want to sell in the future, the Toyota brand is very respected here in Australia!  For the most part, many people are able to get most of their initial investment back when re-selling.  This is due to Toyota reliability and being known as a quality brand in Australia.
Contact Travelwheels
When you are looking to buy a campervan, then contact travelwheels!  Come and see us in Sydney!  Therefore you can try and test drive our campers at 11-15 Clevedon Street, Botany, 2019, Sydney. To get in touch please contact Travelwheels on 0421 10 10 21.  Send us an email us [email protected]