Used Campervan for Sale Sydney – Toyota Hiace campervan
Used Campervan for Sale Sydney – Toyota hiace campervan

Here at Travelwheels campervans we have this ex-hire used campervan for sale Sydney.  When you start chatting to friends for example about buying a used campervan, then your regularly hear the word "Toyota!"  In this case the evidence is especially clear for all to see!  Toyota Hiace Campervans are the number one choice for anybody looking for a second hand campervan in Australia!  Therefore we suggest calling Shaun on 0421101021 to find out more!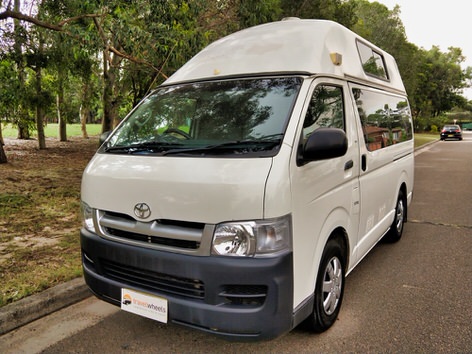 Ex-rental campervans – fully serviced and ready to go!
Here is a great example of a Used Campervan for Sale Sydney!   In the meanwhile it is worth noting all ex-rental campervans come with 12 months engine and transmission warranty.  Furthermore these used Campervan for Sale all come fully serviced and in particular get a deep industrial clean.  We remove all the stickers and graphics and therefore you get a clean looking campervan!  For more information, why not send us email at [email protected]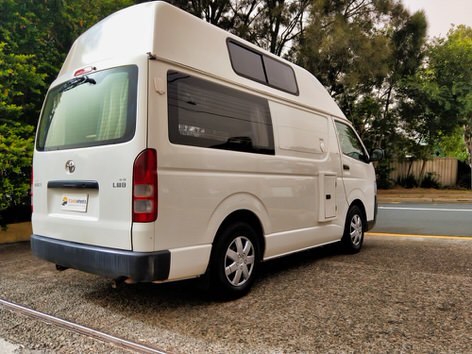 Used campervan for sale Sydney main features:
This great used Toyota campervan for sale is one of our top sellers.  Take for instance the positive customer reviews about the high roof and spacious kitchen!  This for example means you can actually stand up inside the campervan!  This therefore makes preparing food, cooking or especially entertaining more fun!  Another point to note by the way is the clever hidden storage space. Here are the stats for this used Toyota hiace campervan for sale
All used campervans includes 12 months engine and transmission warranty
When you buy a used campervan for sale sydney from us, we give you plenty of extra warranty included in the price:
* 12 Month Warranty / No Kilometer limit on all used Toyota hiace campervan for sale
* 12 Month Road Assistance Service
* Buyback Guarantee up to 50%
* Fully Serviced, road tested and especially ready to go!
* With Pinkslip
* Comes with 1 Year Registration
* Model: 2007
* A/C, Central Looking
* Kitchen with fridge, stove and Microwave, Sink & water tank
* Double Battery System for the fridge, interior lights and water pump
Ask us a question about buying a used campervan in Australia here!
If you have any further questions about buying a used campervan?  Hopefully yes, then simply fill in the form below and our friendly team will answer them for you!  You can always call us on 0421101021 and we will be more than happy to help.  Furthermore if you are in Sydney, why not pay us a visit?  Come on down to test drive any vehicles and here is our address,  11-15 Clevedon Street, Botany, 2019, Sydney.