Ex-hire used campervans for sale in Sydney | Toyota Hiace – Ref: CZ39XH
Ex-hire used campervans for sale in Sydney | Toyota Hiace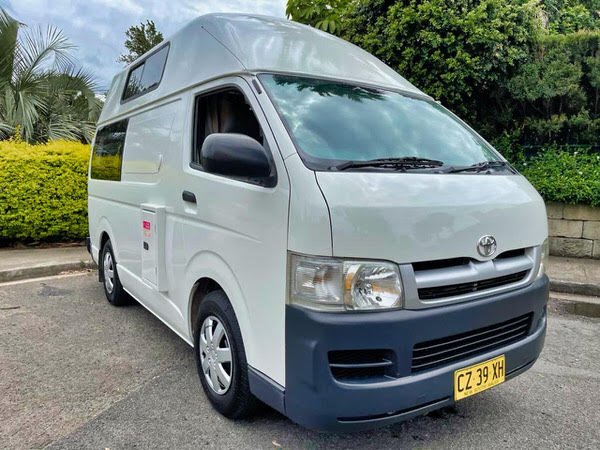 Toyota Hiace Ex-hire used campervans for sale in Sydney are now available direct to the public!  These Toyota's are a fantastic cost-effective way of exploring Australia in style!  These Toyota Hiace's are known as "Australia's most popular 2nd hand campervan!"  These are highly sought after in the used campervan market!  These are our own ex-rental Toyota campervans so we know the service history and maintenance schedules.  They have been well looked after and ready to go!  Therefore, make sure to give Shaun a call on 0421101021 to organise a test drive and see what stock we have left!
Toyota Hiace Campervans – we now sell directly to the public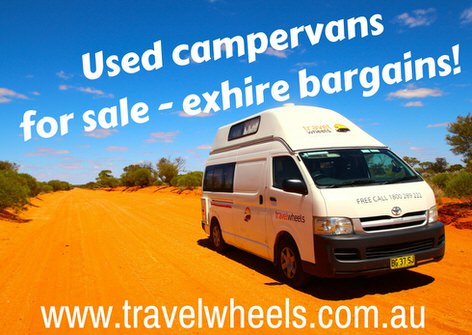 Travelwheels used campervans sell off a number of our Toyota Hiace ex-hire used campervans for sale in Sydney each year.  We do this to fresh up or renew our range of Campervan Hire Australia campers up to date.  Therefore, given these points, these ex-hire used campervans for sale are good value for money!  As a result, this is a golden opportunity to own your own Toyota Hiace campervan with a warranty.  Remember all our stock of Toyota ex-hire used campervans for sale in Sydney can be test driven.
We are not just a website, we have a yard in Sydney!
We are not just a website with no actual stock of Toyota campervans you can try out.  The team have been hiring Toyota campervans for the last fifteen years and been selling them for a lot longer.  Travelwheels have years of experience in hiring and sell these campervans.  Our company sell directly to the public only, so we know how to look after our customers.  Travelwheels does not spend loads of money on Google Adwords for used campervans for sale.  We prefer to invest the money into the campervans and offering great service!  Therefore give Shaun a call on 0421 101 021 to ask us a question or arrange a test drive today.  Out depot has stock ready to go and available to sell asap!
Deep cleaned, stickers removed, ready to roll!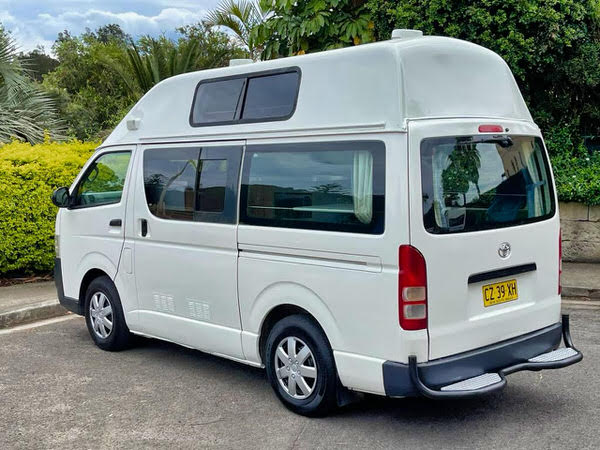 The great thing about buying one of our Toyota Hiace ex-hire campervans for sale in Sydney is the amount of time we invest in each van over its lifetime.  To begin with, we know that buying a used campervan is a big investment.  It's easy to feel overwhelmed by all the various vans out there, and get confused.  We have been in this industry selling good quality Toyota Hiace campervans to our loyal customers for years.
Many of our customers stated they were very apprehensive when they first began searching for a used camper.  However, once they discovered us, they felt at ease.  We are not looking for a quick sale and then forget about you.  We make sure we look after all our customers.  In terms of marketing the best opportunity we have is to make it right for you when you buy from us.  As you will be happy with the campervan you are more than likely to recommend your friends and family to us.
Our marketing strategy is to treat the customer like a king!
The majority of our used campervans sales are from recommendations from previous customers. Therefore, it is super important that we back up our take with real action!  We want to know and make sure the Toyota campervan you are buying is right for you and your family. To emphasize our quality control process, we do the following to each vehicle for sale here in Sydney:
All Toyota Hiace campervans have a proper road test for a week before we start preparing the camper.
Goes through a 100 point safety check to give us a baseline of the vehicle.
The Hiace then get a full service and go for a second longer road-test by our technicians.
We paid close attention to the detailing and the final finish inside the campervan.
All stickers removed and paintwork re-buffed up so looks fresh.
Receives a deep industrial clean (inside and out) so it feels good and clean.
All Toyota campervans are available for a short or a long test drive.
Pop down have a go at making up the beds inside the campervan.
Travelwheels offer a "try before you" one week rental (out of peak season) to give you the ultimate peace of mind.
We sell a range of campervans at our depot, check out our popular automatic two-person automatic campervans for sale.
Larger Toyota Automatic Hiace Campervan is another popular choice.
Open plan kitchen – easy to use and keep clean!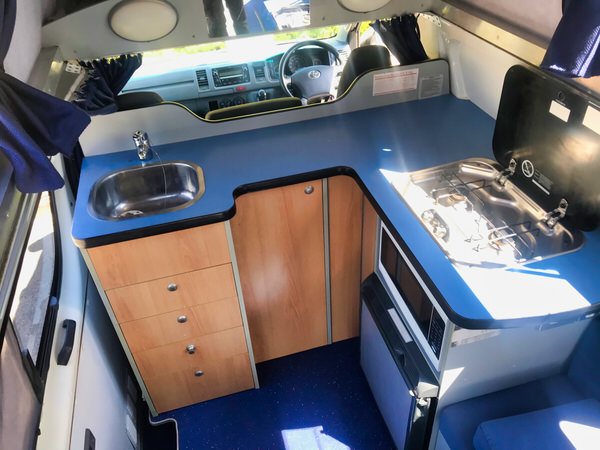 All our ex-rental Toyota campervans for sale have a fantastic open plan kitchen and lounge area in the rear of the vehicle.   Another key point to note is that the kitchen has been completely redesigned in this model.  As can be seen in the photos it is a practical design that makes preparing great meals in this kitchen easy.   Given these points, it's easy to see with the combined kitchen and lounge area, you will really enjoy using this campervan.  It gives you the ability to cook, chat and relax with friends all in the same communal space. Anybody wanting to explore Australia in comfort will love this quality campervan.
Cooking is fun and easy in this camper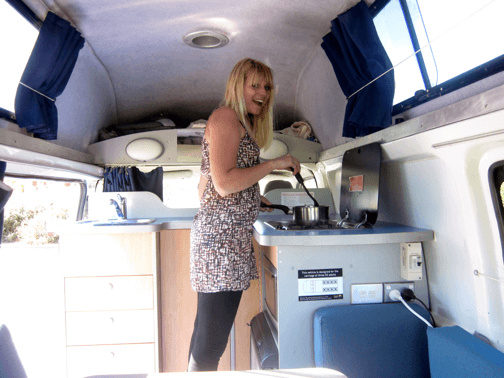 In this Toyota campervan for sale, there is a decent-sized kitchen with easy to clean and solid worktop space. A point often overlooked when searching for a used campervan is how practical is the kitchen layout?  Therefore as you can see the design of the kitchen in this camper is perfect for cooking inside the van.  Firstly the sink is on the left-hand side and good worktop space directly next to the sink to chop and prepare your ingredients. The practical two-burner stove makes cooking nice meals easy.  To summarize the benefits, here are the main features of the kitchen area:
Updated practical kitchen
Easy to use, and easy to clean!
Large 55-litre fridge (12V/240V)
2 burner gas cooker
Microwave (works via mains electric)
4kg gas bottle – cheap to refill anywhere
Internal water tank for washing/cooking
Large kitchen countertop to prepare food
Plenty of hidden storage spaces
Great open plan living in this Toyota Hiace Campervan
The combined comfortable lounge and kitchen area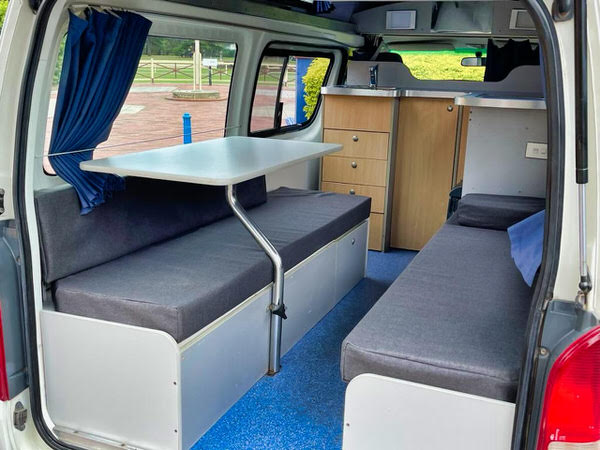 These Toyota Hiace Campervans are known for their practical design, clean lines, comfort both inside and out!  With this in mind, let's check out the comfortable lounge area which has plenty of space to entertain friends in this camper.  A point often overlooked is the strong hardwearing materials used in the construction of the open plan kitchen and lounge area.  It comes with a tough durable floor covering and laminated surfaces which make cleaning the campervan quick and easy. Secondly, under the comfy benches is some handy storage space to keep all your stuff hidden from view.  If you are searching for a quality used campervan with Toyota reliability then you will need this camper!
Ex-hire used campervan main features: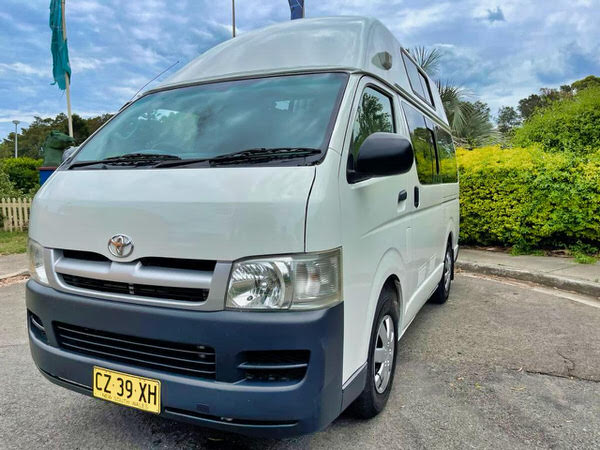 This Toyota Hiace ex-hire used campervans for sale in Sydney has been fully serviced and is ready to roll!  Everything has been taken care of, so it is ready for you to buy.  As a result of being well maintained, and looked after, this means you are buying into a quality product right from the start.   As we are refreshing up the fleet, this is a great way to grab a bargain!
Make: Toyota
Model: Toyota Hiace Campervan
Year built: 2007
12 Month Warranty on engine/gearbox
12 Month Road Assistance Service
Buyback Guarantee up to 50% on all ex-hire campervans for sale
Fully Serviced and Checked Vehicles
Pink slip & Registration (REGO)
A/C, Central Looking
Kitchen with fridge, stove and Microwave, Sink & water tank
Double Battery System for the fridge and interior lights
We also sell automatic and manual Toyota-Hiace campervans
Similar used campervans to consider
Travelwheels used Toyota campervans in Sydney specialise in building and selling our own campervans! Therefore, if this Toyota campervan has already been sold, then do not worry!  As a result of our summer rebuilding program, we will soon have a limited number of ex-rental Toyota-Hiace campervans to sell again.  Therefore, have a look at this list of some of the Toyota campervans we have in stock ready for sale today:
Sydney campervan sales – book a test drive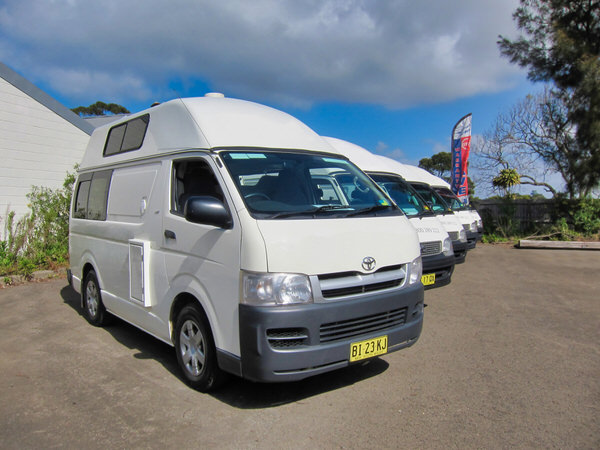 The great thing about buying one of our used Toyota campervans is the ability to go for a decent test drive.  You can swing by and go for a short test drive anytime you want.  If for example, you want to go for a longer test drive, we can organise this as well for you.  To organise a longer test drive give Shaun a call on 0421101021 and he will get organised.
Alternately, you are more than welcome to pop down to our depot and have a look around.  Here is our address on 11-15 Clevedon Street, Botany, 2019, Sydney and we would love to meet you soon!
Welcome to test drive any camper!
Come on down to our depot to try any campervan!  We are not one of those companies where you are allowed to test, touch or try out any of the campervans!  We hate this approach!  Therefore with Travelwheels you can jump in and feel right at home straight away.  Travelwheels is the best place to test drive ex-rental campervans for sale.  Together with our years of experience,  we can help you find the right used Toyota campervan for your family now.
Ask us a question?
Do you have a burning question about our Toyota campervans for sale?  You can email your questions to [email protected] and we will be more than happy to help.  Alternatively, you can fill in our contact us form below and our team will answer any questions you might have about buying a used Toyota campervan.